Global stock markets plunge on coronavirus fears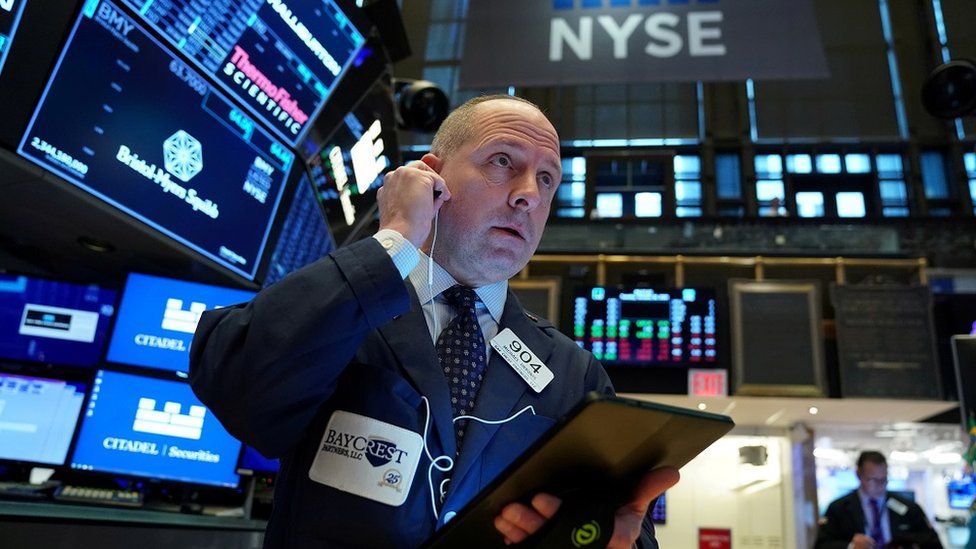 Global financial markets saw some of the sharpest falls in years on Monday after a rise in coronavirus cases renewed fears about economic slowdown.
In the US, the Dow Jones and S&P 500 posted their sharpest daily declines since 2018, with the Dow falling 3.5% or more than 1,000 points.
The S&P 500 ended the day 3.3% lower, while the Nasdaq sank 3.7%.
The UK's FTSE 100 share index closed 3.3% lower, the sharpest drop since January 2016.
In Italy, which has seen Europe's worst outbreak of the virus, Milan's stock market plunged nearly 6%.
In contrast, the price of gold, which is considered less risky, hit its highest level in seven years at one point.
The moves came as the outbreak continued to spread outside of China, with Iran, South Korea and Italy reporting a surge in cases.
About 77,000 people in China, where the virus emerged last year, have been infected and nearly 2,600 have died.
"There has been so much complacency in recent weeks from investors, despite clear signs that China's economy is facing a large hit and that supply chains around the world were being disrupted," said Russ Mould, investment director at AJ Bell.
"Markets initially wobbled in January, but had quickly bounced back, implying that investors didn't see the coronavirus as a serious threat to corporate earnings. They may now be reappraising the situation."
The losses on the Dow and S&P 500 in the US wiped out their gains for the year. Firms such as Nike, Apple and Walt Disney, which do major business in China and rely on it to make goods, were some of the hardest hit, with shares down more than 4%.
Travel companies also continued to suffer. In the UK, the biggest faller in the FTSE 100 was EasyJet, which sank 16.7%, while Tui and British Airways owner IAG were both down by more than 9% at the close.
By Samira Hussain, New York business reporter
Wall Street is spooked. The massive falls on US financial markets shows that pretty clearly.
Part of the answer can be found in the ballooning number of confirmed cases in China and elsewhere. Investors worry this could mean a prolonged economic slowdown around the world.
Tech juggernaut Apple has already warned of a shortage of iPhones and other US companies are also starting to break a sweat. If the impact is as serious as some investors suspect, it could derail the longest economic expansion in America's history.
That means there are political implications too. US President Donald Trump has made a roaring economy a central part of his re-election bid. Any wobbles could make his case for another four years more challenging.
The market moves come as companies continue to warn about the effect of the coronavirus on their supply chains and overall financial health.
Associated British Foods, which owns clothing retailer Primark, warned on Monday that there could be shortages of some lines if delays in factory production in China were prolonged because of virus-related shutdowns.
In China itself, officials have said most small businesses have yet to reopen after the authorities extended the Lunar New Year holiday in an effort to contain the spread of the virus.
Only about three out of 10 small and medium-sized enterprises (SMEs) were back to work, while transport problems were preventing workers from travelling and disrupting shipments of raw materials, said industry ministry spokesman Tian Yulong.
SMEs make up about 60% of the Chinese economy.
Analysts said the gold price - which has risen by more than 10% since the start of the year - could soon breach the $1,700 barrier. On Monday, prices surged more than 2% at one point, before retreating.
"Gold has finally established some serious momentum," said Jeffrey Halley, senior market analyst at online trading platform Oanda.
Oil prices fell by about 4% on Monday, as investors worried about a fall in demand following the temporary factory closures due to the virus.
The price of Brent crude dropped by more than $2 to $55.55 a barrel.