Financial markets drop again on coronavirus fears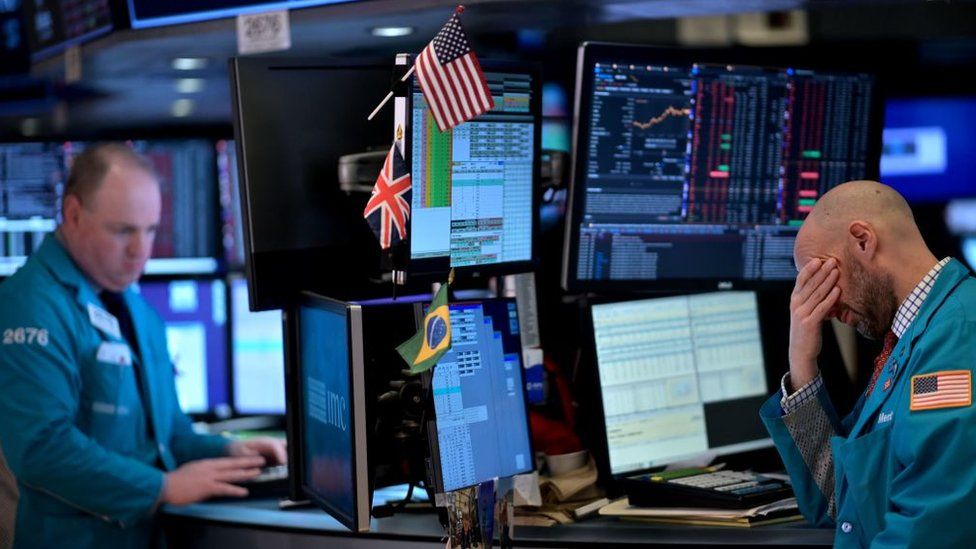 Financial markets plunged again on Tuesday as investors continued to worry about the spread of the coronavirus.
The Dow shed almost 900 points, falling more than 3% to close at 27,081. The S&P 500 also closed more than 3% lower, while the Nasdaq sank 2.8%,
The declines followed drops overseas. In the UK, the FTSE 100 fell almost 2% to a 12-month low of 7,018, while Japan's Nikkei 225 index fell 3.3%.
On Tuesday, airlines and travel companies, as well as firms that rely on China as part of their supply chain, were again among the most affected. Oil prices also dropped.
Losses on US markets accelerated after US health officials warned that the public should expect cases to spread.
"We are asking the American public to prepare for the expectation that this might be bad," said Nancy Messonnier, director of the National Center for Immunization and Respiratory Diseases.
The number of cases of coronavirus outside China is growing.
At least 280 people have been diagnosed with the virus in Italy, where seven have died. A handful of cases have also been identified in Switzerland, Austria, France and Germany.
In the US, which has confirmed 57 cases, the White House sought to calm fears that the spread would derail the economy.
"This is very tightly contained in the US," White House economic adviser Larry Kudlow told broadcaster CNBC. "I think this thing will run its course and the US is in excellent shape."
However, investors continued to sell stocks. Shares in American Airlines fell 9%, while Norwegian Cruise Line Holdings and Marriott dropped almost 8%.
By Samira Hussain, New York business reporter
The mixed messages coming from the federal government are not helping Wall Street.
In an effort to calm panicking investors, the Trump administration's economic advisor Larry Kudlow said the coronavirus will not result in an economic tragedy and that the virus is contained.
That seemed to be at odds with US health officials, who are warning Americans that an outbreak is coming and it will be bad.
But then Mr Kudlow went even further by advising Americans that the current falls in the market meant that it would be a good time to buy stocks.
Forget for a moment that a member of the Trump administration is offering any sort of economic advice at all, and consider that some very well regarded investors are urging people not to buy on the dip and that this is a very unusual situation.
Then President Trump also weighs in to say the virus in the US is under control.
Again, these are very different messages coming from the same government, so it's not surprising financial markets are tanking.
Investors are not being given much to be confident about.
In the UK, cruise company Carnival lost about 6% of its value, while Tui shares shed almost 5%.
Japan's Toyota Motor Corp fell 3.7%, while Uniqlo's parent company Fast Retailing dropped 4.2%.
Some analysts said they expect the spread of the coronavirus to peak in the first quarter of this year, with economic activity rebounding in the second quarter.
"Those who expect the virus to kick off a global recession might be disappointed, as the impact is likely to be temporary," said Margaret Yang, an analyst with CMC Markets. "Central banks around the globe are ready to inject liquidity and cut down interest rates to cushion the headwind."