Disney boss Bob Iger steps down as chief executive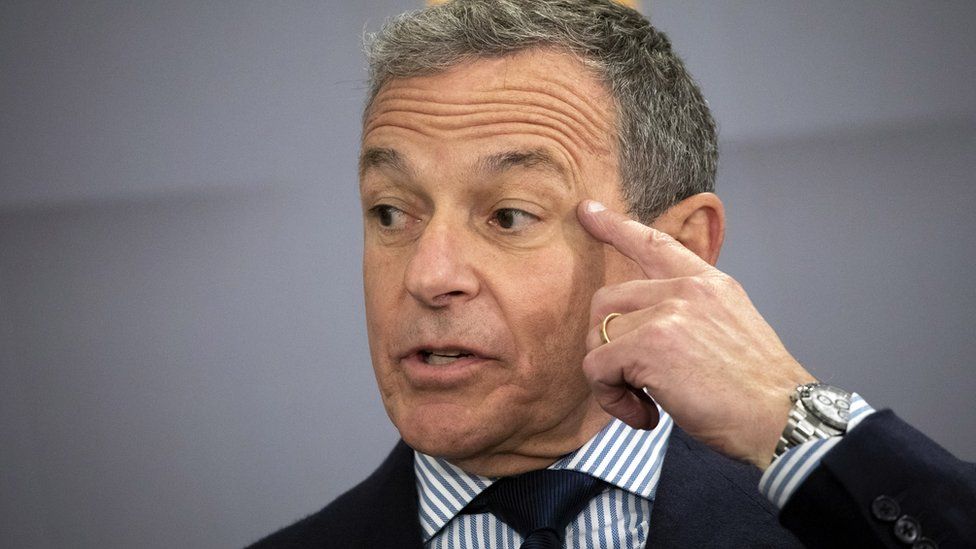 Disney boss Bob Iger, who led the media company through several blockbuster acquisitions and the launch of a streaming network, is stepping down as chief executive.
Disney said it had appointed Bob Chapek, who previously ran the company's parks and products division, to replace him.
Mr Iger will remain Disney's executive chairman until the end of next year to direct "creative endeavours".
The move came as a surprise.
Mr Iger, who is considered by many to be the most powerful man in Hollywood, had served as chief executive since 2005. He has previously announced plans to retire only to push back his departure date.
In a statement on Tuesday, Mr Iger said it was the "optimal time" to begin to hand control of the company to a new leader.
Earlier, Mr Iger presided over the firm's acquisition of Pixar, Marvel and Lucasfilm.
"The company has gotten larger and more complex just in the recent 12 months," Mr Iger said on a conference call on Tuesday.
"I felt that with the asset bases in place and with our strategy deployed I should be spending as much time as possible on the creative side of our business."
Remaining as executive chairman would ease the transition, he added.
Mr Chapek, who joined Disney in 1993, will be the firm's seventh chief executive since it was formed in the 1920s. In his prior role, among other achievements, he oversaw the opening of Disney's park in Shanghai.
"His tremendous understanding of the breadth and depth of the Company and appreciation for the special connection between Disney and its consumers makes him the perfect choice," said Disney board member Susan Arnold.
Shares in the firm fell 2% in after-hours trading after the news was announced.
Mr Iger, who recently published a memoir, is much beloved by investors for his record steering the company to steady profits, despite upheaval in the television and movie industries.
Disney claimed seven of the top 10 box office hits globally last year and the new streaming channel has already attracted more than 28 million paying customers.
The firm's market value has increased five-fold during his tenure, Ms Arnold said. The firm is now worth about $230bn.