Jack Welch: Legendary General Electric boss dies at 84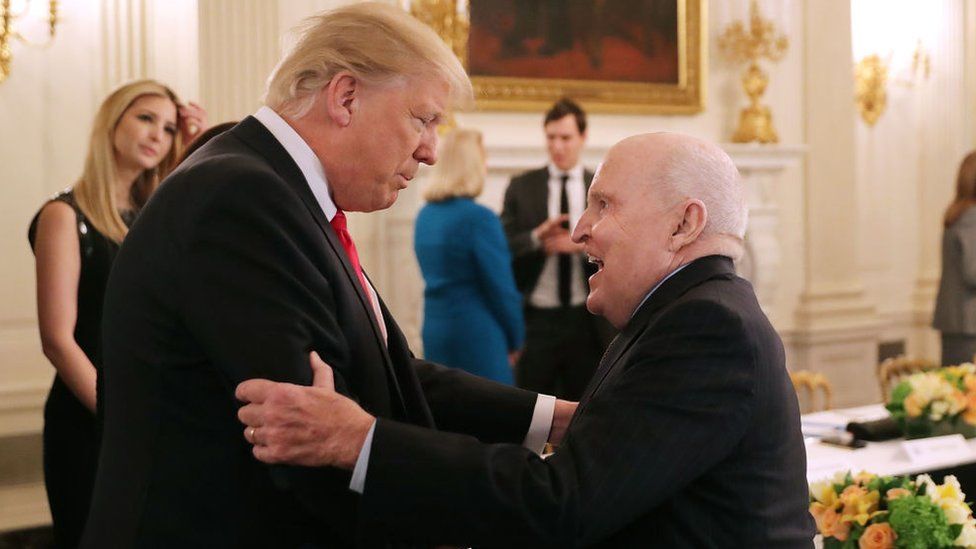 Jack Welch, a titan of American business who transformed General Electric (GE) into America's most valuable company, has died aged 84.
He ran the US conglomerate from 1981 until 2001, and was once named "manager of the century" for his achievements.
Nicknamed "Neutron Jack" for his cost-cutting, he became a best selling author and confidante of US presidents.
President Donald Trump Tweeted that Mr Welch was a business legend and friend.
Born in 1935 to Irish-Catholic parents in Massachusetts, Mr Welch spent his entire career at GE, which he joined as a chemical engineer in its plastics division at Pittsfield, Massachusetts.
Skip twitter post by Donald J. Trump
Jack Welch, former Chairman and CEO of GE, a business legend, has died. There was no corporate leader like "neutron" Jack. He was my friend and supporter. We made wonderful deals together. He will never be forgotten. My warmest sympathies to his wonderful wife & family!

— Donald J. Trump (@realDonaldTrump) March 2, 2020
The BBC is not responsible for the content of external sites.
End of twitter post by Donald J. Trump
Made the company's youngest vice-president in 1972, he became vice-chairman in 1979. By the end of 1980, it was announced that he was to become chairman and CEO of the firm, a position he held for 20 years before retiring in 2001.
While at the helm in the 1980s and 1990s, he bought and sold scores of businesses, expanding GE into financial services and consulting.
He was also known for his focus on straight-talk, efficiency and streamlined bureaucracy. He would regularly cull the lowest-performing 10% of staff each year. "The underperformers generally had to go," he wrote in one of his books.
"In grade school you're graded, in college you make the team or you don't, you graduate or you don't. People are graded all along why at age 22 when you quit school should you stop being evaluated, it's nonsense," he told the BBC in 2001.
This ruthless approach was credited with helping to grow GE's market value from $12bn to $410bn (£321bn).
"Today is a sad day for the entire GE family," GE's current chief, H. Lawrence Culp Jr., said in a statement. "Jack was larger than life and the heart of GE for half a century. He reshaped the face of our company and the business world."
A guru to thousands of management hopefuls, his books "Winning" and "Jack: Straight from the Gut" were bestsellers during his retirement.
More recently, a turn for the worse in GE's fortunes has also prompted a second look at Mr Welch's business accomplishments.
During the 2008 global financial crisis, losses at the firm's financial services arm delivered a blow to the firm, which subsequently scaled back its operations, selling off many of its less-profitable businesses.
Mr Welch's generous retirement package also drew controversy as an example of excessive executive compensation after details of it aired during his divorce from his second wife.
In his retirement, Mr Welch founded a business degree programme, wrote columns with his third wife, Suzy, and spoke frequently, preserving his reputation for delivering unvarnished opinions.
In 2012, he suggested in a Tweet that the government under Barack Obama was fudging economic data - a claim, he later acknowledged as "somewhat incendiary".