Coronavirus: Stocks bounce as volatility continues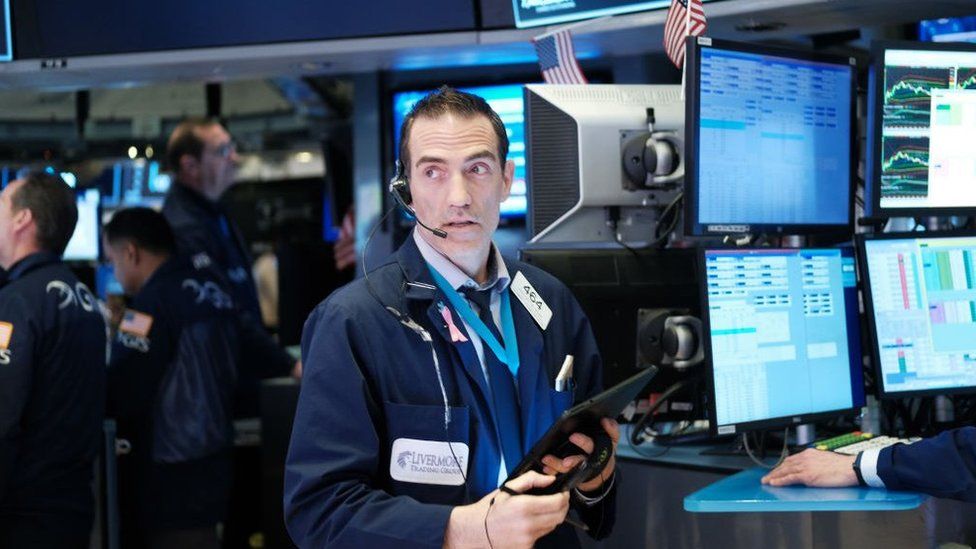 Financial markets remain turbulent as a massive slowdown in economic activity due to the coronavirus takes hold across Europe and the US.
In the US, shares rebounded about 6% after steep falls on Monday.
London's FTSE 100 also jumped 2.7% after being down more than 1% earlier on Tuesday. Other major European markets made similar moves.
It comes amid fresh promises of financial aid to helped bolster growth.
The US Federal Reserve also said it would use emergency powers to purchase up to $1tn in short-term corporate debt directly from companies, reinstating a funding facility that was created during the 2008 financial crisis.
The Dow ended 5.2% higher, while the S&P 500 gained 6% and the Nasdaq rose 6.23%.
The outgoing head of the Office For Budget Responsibility, Robert Chote, has said a temporary spike in borrowing would be sensible.
Speaking to the Treasury Select Committee he said it was better to spend a "little too much" than too little, adding: "When the fire is large enough, you just spray water" (and worry about the clean up after).
On Monday, French President Emmanuel Macron said his government would guarantee €300bn of loans, and pledged that no French company would be allowed to collapse.
Italy, Germany, Japan and Spain have also all announced hundreds of billions of dollars in government relief.
The scale of the US response - from both the central bank and the government - has been the most aggressive, even if many details remain unknown, said Nariman Behravesh, chief economist at IHS Markit.
"The good news is they're talking about it now, which is more than I can say about the Japanese or the Europeans," he said.
"It's too late to do anything to stop the recession. All you can do is limit the pain, limit the damage," he added.
Earlier on Tuesday, Asian shares continued to see volatile trading on with markets in Tokyo, Hong Kong and Shanghai swinging between losses and gains.
That followed the US Federal Reserve making another emergency rate cut on Sunday, prompting central banks around the world to ease policy in the biggest co-ordinated response since the global financial crisis more than a decade ago.
In the last month, the Dow Jones Industrial Average has racked up the five biggest one-day points falls in its 135-year history. In March alone the index has also seen its four biggest one-day points gains on record.
Wall Street's so-called "Fear Gauge" has just topped the levels seen during the financial crisis more than a decade ago. The Chicago Board Options Exchange's VIX, a measure of stock market volatility, surged by almost 43%, surpassing the level seen in 2008.