Coronavirus: PPE provision a 'huge challenge' says Matt Hancock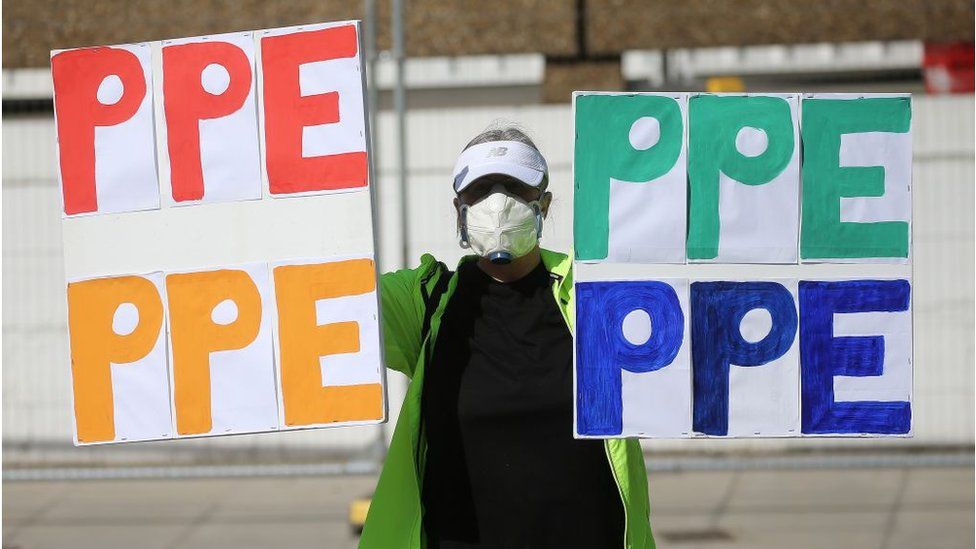 The health secretary has said that thousands of pieces of personal protective equipment (PPE) will arrive in the UK on Friday as the government faces criticism over shortages.
Matt Hancock said that 55,000 more gowns were due to arrive, but admitted there was "a huge challenge".
He added: "We are tight on gowns and that is the pressure point."
The government has been criticised for not providing enough PPE for healthcare workers during the coronavirus crisis.
An earlier version of this story reported that a director of a large NHS trust had contacted the BBC with concerns about the provision of gowns for staff. The person concerned is not a director of a trust - the BBC has since been told he is currently part of a network of organisations helping to source PPE for some NHS trusts during the pandemic.
For a number of weeks, Prime Minister Boris Johnson and government ministers have said during press briefings and interviews that firms including Burberry will begin making personal protective equipment on behalf of the government as one of the answers to a critical shortage.
Asked about the PPE produced by such manufacturers, Mr Hancock praised the "national effort" but urged more companies to come forward.
Mr Hancock said on Friday that PPE was a "precious resource" and that maintaining supplies was challenging due to the "very high" global demand.
Latest statistics revealed the UK recorded another 861 coronavirus-related deaths in hospital, taking the total to 13,729. The overall figure does not include hundreds more who have died in residential and nursing homes.
On Thursday, as Foreign Secretary Dominic Raab announced the extension of lockdown restrictions for "at least" another three weeks, he said there remained "issues with the virus spreading in some hospitals and in care homes".
Among five conditions he said must be met before curbs on daily life could be lifted were making sure the NHS could cope and ensuring PPE supplies could meet demand.
The Duke and Duchess of Cambridge have acknowledged the coronavirus pandemic is "stressful" for many, and urged people to look after their mental health. Prince William also praised NHS workers, saying they were making the nation proud with their "stoicism and determination"
People struggling with payday loans, car finance and pawn shop borrowing will be granted a payment holiday under plans by the Financial Conduct Authority (FCA)
The Chinese city of Wuhan, where the outbreak first began, has raised its death toll by 50% - equal to 1,290 cases - attributing it to updated reporting and more deaths from outside hospitals being counted
Meanwhile, China, the world's second biggest economy, has reported its worst economic performance in decades as the impact of the virus hits, with its GDP figures for the first quarter of 2020 showing its economy shrank 6.8%
US President Donald Trump has issued guidance to governors for how they may gradually ease their state lockdown measures as part of his "Opening up America Again" plan
Last week, Mr Hancock said there was "enough PPE to go around, but only if it's used in line with our guidance", adding there was a "huge task" to make sure those who need it get it.
A gown is a piece of PPE used to protect the body of those who might come into contact with coronavirus.
It should be made of water-resistant material and have long sleeves. If the gown is not water resistant, a waterproof apron is needed underneath to protect the wearer from droplets containing the virus.
The shortage of non-surgical gowns is a critical problem facing the NHS as it struggles to secure enough kit for frontline staff.
A leaked Public Health England document this week advised health workers to reuse protective gowns and masks only as a "last resort".
As the world fights coronavirus, the demand for gowns is at levels never seen before.
Almost all of the UK's gowns used by the NHS are made in China and the Far East.
These decisions have been driven by cost, as all sectors seek the cheapest prices.
But as every country in the world fights for finite supplies, a UK solution has been sought.
The government and management consultancy Deloitte approached well known UK garment brands asking if they could help make PPE.
They also requested that UK manufacturers complete a survey to share what they could make.
Earlier this week, Barbour began distributing gowns from its factory in the north-east of England.
Burberry is still making the final adjustments to its factory and production is expected to start next week.
Getting a supply chain formalised using UK factories has been difficult.
UK garment factories approached by the BBC have said the government does not fully understand what is possible in the UK, and which firms could produce what. This lack of understanding has caused production delays.
Delays around certification of gowns for use is also slowing down the manufacturing process.
Some factories say it could be another two weeks before the necessary paperwork is signed off and they can manufacture the gowns.
This comes as factories around the UK are empty. Machinists and pattern cutters have been sent home and furloughed.
To add to the frustration of factory bosses, they say they're getting upsetting calls from NHS hospitals and workers begging for gowns.
'Working around the clock'
A Department for Health and Social Care spokesman said: "Adequate supply of protective equipment is an international issue facing many countries during this global pandemic."
Nearly one billion pieces of protective equipment had been delivered to the frontline so far, the spokesman said.
"There is also a 24-hour NHS-run helpline where NHS and social care workers can call to report supply disruption.
"We continue to work around the clock to give the NHS and the wider social care sector the equipment they need and it is crucial the guidance for protective equipment is followed closely," the spokesman added.
Correction: An earlier version of this story reported that a director of a large NHS trust had contacted the BBC with concerns about the provision of gowns for staff. The person concerned is not a director of a trust - the BBC has since been told he is currently part of a network of organisations helping to source personal protective equipment for some NHS trusts during the pandemic.
How have you been affected by the issues relating to coronavirus? Share your experiences by emailing haveyoursay@bbc.co.uk.
Please include a contact number if you are willing to speak to a BBC journalist. You can also contact us in the following ways: