Coronavirus: Heathrow trialling passenger temperature checks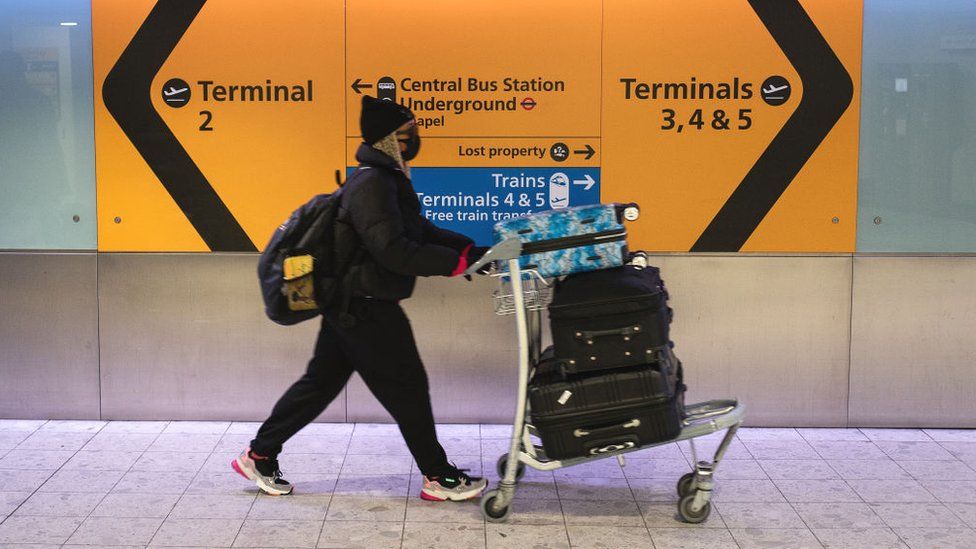 The boss of Heathrow Airport has told MPs that it is trialling large-scale temperature checks as the aviation industry struggles with coronavirus.
He said they are already being carried out at departure gates on people going to places where this is a requirement.
John Holland-Kaye urged the government to produce a plan on what common standards airports should adopt.
"If you want to get the UK economy started again, you have to get the aviation sector started again."
Mr Holland-Kaye said the introduction of common standards would allow airlines to start flying again more frequently. Thousands of flights have been cancelled due to coronavirus-related travel restrictions.
Tim Alderslade, chief executive of Airlines UK, who was also giving evidence, told MPs that airlines have outlined three levels of measures, with the idea that each country adopts a specific level.
Any flight between two destinations would have to comply with the highest level, with staff wearing personal protective equipment and all passengers wearing masks under the strictest level three, for example.
Several airlines have written to the government suggesting such a "graded system" of restrictions to contain the spread while a more lasting solution is worked out.
Mr Holland-Kaye told the Transport Select Committee: "If we are told that the only solution until we can get a vaccine in 12 to 18 months' time is to socially distance in an airport, then tens of thousands of jobs will be cut.
"We cannot afford to wait that long to get flying again," he added.
Mr Holland-Kaye called for additional government support for the aviation sector as it battles with the coronavirus crisis.
He argued that the French, German and US governments, who have provided large, bespoke rescue packages for their aviation industries saw them as "fundamental", and suggested that was not the case in the UK.
Heathrow's boss also revealed that he has not spoken to the UK's Transport Secretary, Grant Shapps, since the beginning of the pandemic.
In comparison, he said the boss of Paris' main airport, Charles de Gaulle, had told him that he has spoken to the equivalent of the French Transport Secretary on every day of the crisis.
John Holland-Kaye said it was a "very different picture" in the UK, although he said the airport had had "regular calls" with the UK's junior minister who is in charge of aviation.
"It's not clear the (UK) government understands the strategic role that aviation plays for the economy", he said.
The Transport Select Committee was told that large numbers of frontline jobs at Heathrow were at risk unless operations resumed soon.
The hearing follows the announcement by Virgin Atlantic on Tuesday that it is cutting more than 3,000 jobs in the UK and ending its operation at Gatwick airport for the time being.
Virgin Atlantic, which is in the process of applying for emergency loans from the government, said that jobs will be lost across the board.
The airline currently employs a total of about 10,000 people.
Meanwhile claims for refunds on cancelled flights are "through the roof", according to Airlines UK's Mr Alderslade.
He said it was impossible to comply with the law, which requires a refund is given within seven days. He said there should be a system in place that tells passengers it is physically impossible to comply.