H-1B among visas hit by Trump's new foreign worker freeze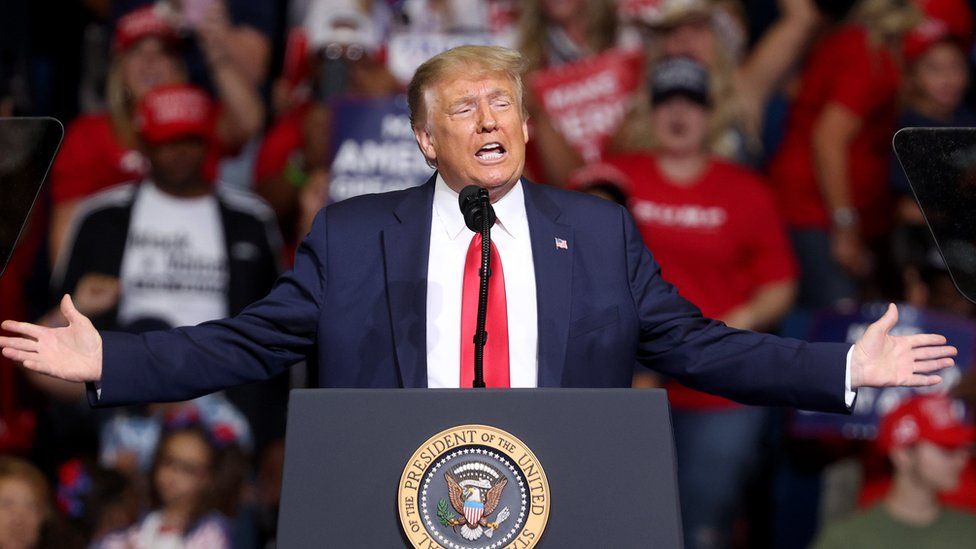 US President Donald Trump has extended a pause on some green cards and suspended visas for other foreign workers until the end of 2020.
High-skilled tech workers, non-agricultural seasonal helpers, au pairs and top executives will be affected.
The White House said the move will create jobs for Americans hurting economically due to the pandemic.
But critics say the White House is exploiting the coronavirus pandemic to tighten up immigration laws.
In a briefing for reporters, the administration said the freeze, in place through the end of the year, would impact about 525,000 people.
That includes an estimated 170,000 people blocked by the decision to extend a ban on some new green cards - which grants permanent residence to foreigners. The White House first announced it was halting those visas in April, an order that had been set to expire on Monday.
Existing visa holders are not expected to be affected under the new restrictions announced on Monday.
The order also applies to H-1B visas, many of which are granted to Indian tech workers. Critics say these visas have allowed Silicon Valley companies to outsource American jobs to lower-paid foreign employees. Last year, there were about 225,000 applications competing for 85,000 spots available through the H1-B visa programme.
The order will suspend mostH-2B visas for seasonal workers, including those in the hospitality industry, except those in agriculture, the food processing industry and healthcare professionals.
The order will restrict J-1 short-term exchange visas, a category that includes university students and foreign au pairs who provide childcare. Professors and scholars are not included in the order. There will be a provision to request exemptions.
L visas for managers and other key employees of multinational corporations will also be suspended.
Tech firms were among the groups condemning the president's action.
Facebook said the order "uses the Covid-19 pandemic as justification for limiting immigration" and warned: "In reality, the move to keep highly skilled talent out of the US will make our country's recovery even more difficult".
On Twitter, Apple boss Tim Cook wrote that he was "deeply disappointed" by the new proclamation, while Sundar Pichai, head of Alphabet - the parent company of Google and YouTube - said immigration was critical to the success of his company and the country.
Immigration has contributed immensely to America's economic success, making it a global leader in tech, and also Google the company it is today. Disappointed by today's proclamation - we'll continue to stand with immigrants and work to expand opportunity for all.

— Sundar Pichai (@sundarpichai) June 22, 2020
Like Apple, this nation of immigrants has always found strength in our diversity, and hope in the enduring promise of the American Dream. There is no new prosperity without both. Deeply disappointed by this proclamation.

— Tim Cook (@tim_cook) June 23, 2020
Amazon, which received more than 3,000 H-1B visas last year - more than any other firm - called the order "short-sighted".
The Chamber of Commerce, a broader business lobby group, also panned the president's order, while some Canadian business leaders used the moment to tout opportunities outside the US.
"If this affects your plans, consider coming to Canada instead," Tobi Lutke, chief executive of Shopify, wrote on Twitter.
Tech companies have been at odds with the president over immigration since his first days in office, clashing with him over travel bans, as well as his crackdown on immigrants brought to the US illegally as children.
But the president, who is up for re-election in November, has made his tough stance on immigration a touchstone of his campaign. He has said the jobs at tech companies should go to Americans.