The apps promising to improve your sex life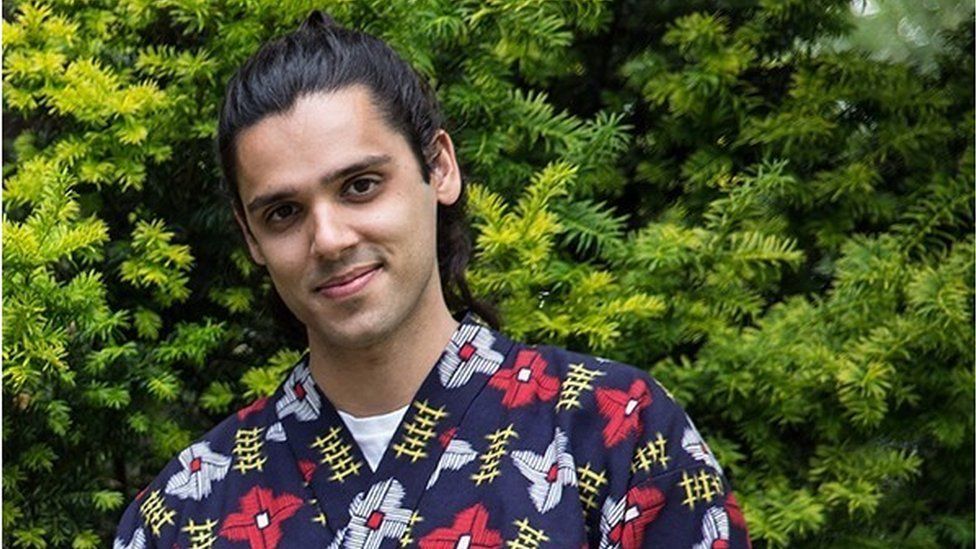 This article discusses adult issues involving sex and relationships.
When Sachin Raoul, 27, encountered a sexual issue following a break-up three years ago, it led to him feeling "distressed".
"It was frustrating not to have control over my body. I really wanted it to behave in a certain way but it was difficult," he adds.
While Mr Raoul sought help through therapy, he admits that at around £100 per session it was tough on the wallet.
However, it did push the entrepreneur to try and find a way to make therapy more accessible, leading him to partner with therapist Dr Katherine Hertlein and co-found Blueheart, a free app designed to help individuals and couples combat sex-related issues. It uses a mixture of audio and text-based sessions focused on areas such as building a positive relationship with your body and communication.
"We want to eradicate the stigma associated with sexual dysfunction by providing an app which acts as a safe space for people to address the issues they are having," says Mr Raoul, who is based in London.
"I could only dream of something like Blueheart existing three years ago. I was willing to jump into anything I could find."
From erectile problems to low libido, many people are unhappy with their sexual wellbeing. A 2017 survey by counselling organisation Relate found that only a third (34%) of UK adults are satisfied with their sex lives, while 32% have experienced a sexual problem. Erectile dysfunction (ED) remains a major issue, with research reporting that more than 322 million men are expected to suffer from ED by 2025.
While there's been a proliferation of apps emerging in areas such as mental health and fitness, sexual wellness has long been ignored despite so many people feeling dissatisfied with their sex life. However, a rising number of start-ups are looking to change this.
Last year Dr Britney Blair, a clinical psychologist and behavioural medicine expert, co-founded sexual wellness app Lover. It describes itself as a science-based app for addressing sexual concerns, increasing pleasure and improving skills in the bedroom. It looks to take on such areas by a series of practical exercises such as orgasm exercises, mindfulness and games through a mix of audio and video content.
One of its courses focuses on erections - a 23-day programme featuring a variety of different exercises and techniques. The company found that 62% of the 600 men who took part in a three-week trial reported improvements in their erections.
Through her clinic in San Francisco, Dr Blair treats clients with issues such as the inability to climax, painful sex, erectile dysfunction and low desire.
"Therapy can change people's lives," she says. "Sexual health is very important and I see relationships changed and lives changed through the work I do [face to face]. Now we have tech as a digital intervention."
The tech means they can reach more people. "The grand plan is we help people to optimise their sexual life and make sure sex stays alive. Sexual disconnection is a reason couples get divorced."
Lover is free but you can pay a monthly or annual subscription for additional premium content.
Another app making waves is Ferly, an audio app and guide to mindful sex, launched by founders Billie Quinlan and Dr Anna Hushlak last year. The app brings together audio erotic stories, guided practices and personalised programmes to help women explore pleasure in a more mindful way and overcome sexual issues.
Ms Quinlan says the founders wanted to create a platform that would "tackle a taboo topic". She adds: "It's not about the sexualisation of sex or sex toys. It's about sexual wellness. Sexual health is another really critical pillar of health that's often neglected until it needs confronting."
The app takes users through different programmes addressing issues such as lack of body confidence, low libido, and the inability to have an orgasm.
"We use a mindful cognitive behavioural therapy approach," explains Ms Quinlan. "Many sexual issues are because there's a physiological barrier. You can't take a pharma approach... you have to take a holistic approach."
Like Lover, Ferly is free but charges for premium content.
One user, based in Edinburgh, turned to the app after her sister recommended it. "I was assaulted when I was a teenager and I didn't have a good relationship around female pleasure. I found it kind of stressful and upsetting for various reasons," she says.
She used the app while also seeking therapy. "I held back a bit during therapy but the app gave me my own space to reflect. It helped me recognise a lot of emotions and it was good for the healing process. It also made me feel better about what I would feel comfortable asking or expecting from a partner. It gave me more confidence."
Like many mental health and fitness apps, the start-ups reported an increase in visits during lockdown. "It showed us that people were starting to evaluate their health and that sexual wellness is an important part of that," says Ms Quinlan.
Blueheart's Sachin Raoul echoes one of the positive knock-on effects of Covid-19. "Lockdown pronounced parts of people's lives and made people take care of their mental health," he says.
Silva Neves, a psychosexual and relationship psychotherapist and couples therapist, says he is really "pro-technology" and can reel off the benefits of such apps, especially for those who can't afford therapy, but he warns people to do their research before downloading.
"Some platforms are better than others," he advises. "Don't just go to Google and find anything. It's good to be directed by others. Some apps will have just sprinted to market and offer a poor service. Look at the names and backgrounds of the people behind the apps. You want people who are experts in sexology and have qualifications."
With the digitalisation of the sector, can the apps replace human intervention with a sex therapist?
"There's a place for both," says Mr Raoul."People have different preferences. Some people are extremely shy and would never talk about their sexual issues with someone. Plus not everyone can afford therapy."
Lover's Dr Britney Blair adds there will be always be a place for doctors working with patients in the office. "We are not going to create an app that is the same as talking in the office. We are not trying to.
"People talk about sleep and mental health but no-one is talking about sex. About 20% of people [with sexual issues] actually need intervention with a sex therapist but if we can help 80% with their sexual problems, then I'll take it."