Coronavirus: 'My bank account request disappeared down a hole'
By Kevin Peachey
Personal finance correspondent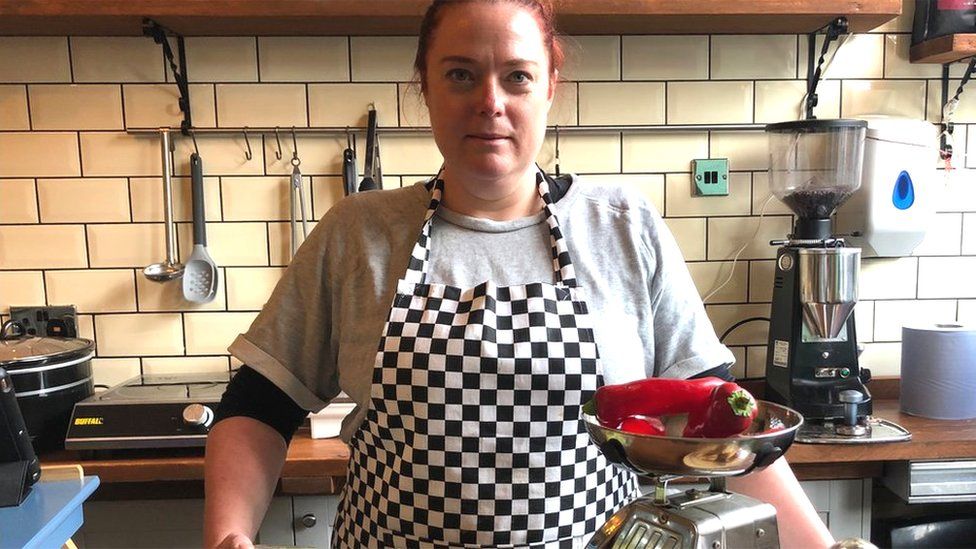 Start-up firms are being "stifled" at birth as they find it almost impossible to open a business bank account.
Major banks are closed to new applications for business current accounts, or warning of long delays.
Entrepreneurs have told BBC News of how requests for a new account "disappear down a black hole".
One lobby group said such firms were fundamental to any economic recovery, but banks say they are busy processing coronavirus loan support schemes.
Sophia Murday has set up a greengrocer in a previously-empty shop in Glasgow just yards from her flat, marking a career shift from working on sustainability projects.
The 39-year-old is selling fruit, vegetables, milk and eggs to locals.
"It serves a purpose and is useful to the community, particularly now, as people want to shop local," she told the BBC.
She had been a customer of one High Street bank for 20 years, but her application for a business current account was delayed, then rejected.
Ms Murday then realised nearly all of the biggest banks were closed to new business customers.
"It is literally impossible to start a business if you can't process cash flow through a bank account, take card payments and run books through connected software," she said.
"There will be a lot of people, like me, who are looking to put savings and redundancy funds into new ventures in an environment where it is more or less impossible to find a job."
A scan of the UK's main High Street banks makes the issue clear. Many state on their websites that they not taking any new business account requests, as they are concentrating on existing customers. Some are warning of weeks of delays for the same reason.
UK Finance, which represents the UK's banking sector, said: "Bank staff are working incredibly hard to meet these significant levels of demand [from existing customers], meaning some new customers may currently face some delays when applying to open a business account."
The spokesman added that businesses were encouraged to shop around a "wide range of providers" to find the best product for them.
Some, smaller, challenger banks are open for business, but the lack of branches to deposit cash, as well as some reputational and practical questions put Ms Murday off.
Bruce Jacobs is also reflecting on months of frustration as he tries to revive a business.
He runs an adventure sailing holiday business - Rubicon 3 - in the travel sector, which has been hit harder than most during the pandemic.
"Small business owners have taken a kicking," he said. "To help to rebuild the economy, we have to be provided with the most basic of tools. A bank account is as basic as it gets."
He, too, found few options, describing some applications as "disappearing down a black hole".
He said he understood the pressures banks faced, and did not blame them for the difficulties, but said there was little appreciation of the problems that were created when people are unable to access an account.
Mike Cherry, national chairman of the Federation of Small Businesses (FSB), said that start-ups and sole traders were fundamental to the UK's recovery from the last recession in 2009.
For a repeat, they would need access to commercial bank accounts, that are vital in maintaining a clear distinction between personal and professional finances.
"We appreciate banks were swamped with bounce-back applications, but refusing to open business accounts for new customers will stifle start-ups just at the moment we need them most," he said.
"We need to see those who are starting-up and seeking to open a commercial account, and those who are established and seeking a bounce back, given guaranteed routes through which they can make applications that will be assessed swiftly."      
In September, the chancellor extended the deadline for the government's coronavirus loan schemes to the end of November.
Bounce-back loans allow small firms to borrow up to £50,000 over nine years at preferential rates, with the loans 100% guaranteed by the government.