CEO Secrets: Juggling kids and a new lockdown business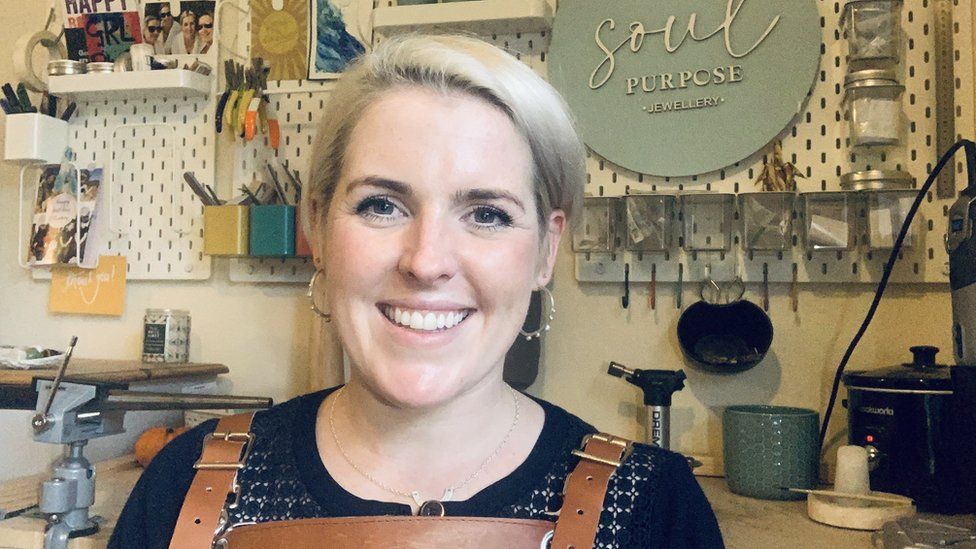 As part of our CEO Secrets series, which invites business leaders to share their advice, we are focusing on start-ups that have launched during lockdown. Each week we will look at a different type of entrepreneur. This week, we hear from mothers with young children.
"I always wanted to set up my own business, because I needed to have something that was mine," says Suzanne Pattinson, 35, from Bury St Edmunds, Suffolk.
She's managed to do that in lockdown, despite the challenges of childcare during coronavirus restrictions.
She and her husband, who's in the RAF, have two boys aged two and three.
Suzanne was balancing working as a freelance PR consultant with looking after the toddlers at home before the pandemic hit.
She was forced to rethink her career goals when the freelance work dried up during lockdown.
"All I knew was that it had to be something creative," says Suzanne. It also had to be portable, because of the military lifestyle.
Suzanne had taken a course in silversmithing in 2019 and loved it. So she decided to set up her own business creating handmade jewellery, calling it Soul Purpose.
"The idea of creating something special for somebody that they would wear day in, day out - it just set off something inside me," says Suzanne.
Realising this dream while looking after two children at home was both a challenge and an inspiration.
"The hardest thing I had to overcome was definitely the guilt. They needed extra attention and didn't quite understand what was going on."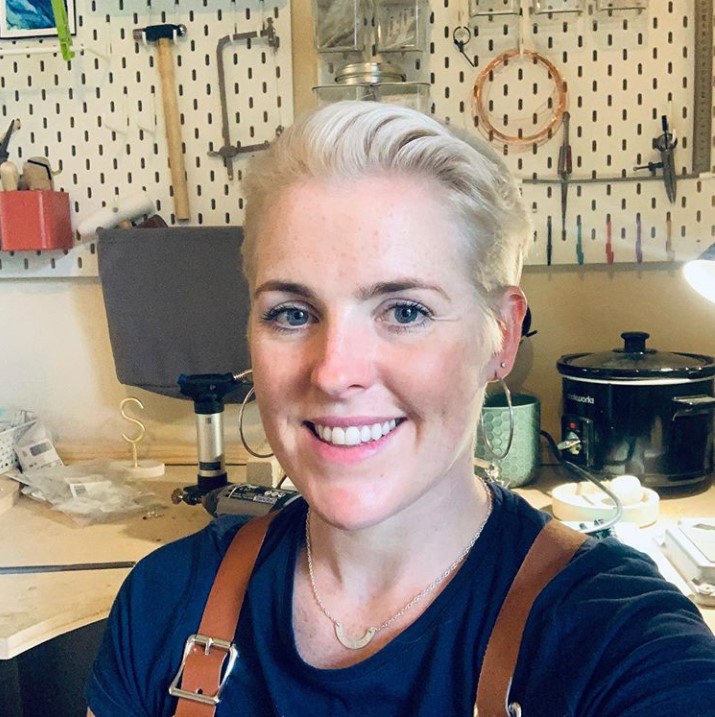 SUZANNE PATTINSON
If you've got a goal, and it's the best thing for your family in the future, you have to push through the smaller hurdles.
The toddlers were also a daily source of motivation (despite choosing lockdown to give up napping).
"I saw how fearless they were, and I thought: 'I'm just going to go for it!'"
Suzanne herself was scared and worried during Covid-19, but wanted her children to see her being positive and focused - starting a business helped her do that.
She's managed to drum up more than 50 orders and several commissions since launching the business officially in mid-May.
"My advice would be to think about the bigger picture. If you've got a goal, and it's the best thing for your family in the future, you have to push through. Your kids will thank you for it in the future as they'll see you living your dream."
Lockdown and working parents
Lockdown and the extra childcare that came with it put an "immense" burden on parents, according to a report by the Institute for Fiscal Studies released in May. The average amount of time spent each weekday on paid work dropped from 6.5 hours in 2014-15 to 3 hours during lockdown.
However, women have borne more of this burden than men. Of parents who were in paid work prior to the lockdown, mothers are one-and-a-half times more likely than fathers to have either lost their job or quit since the lockdown began and are also more likely to have been furloughed. Mothers in employment are also working fewer hours than men and their pay has dropped proportionally during lockdown.
We are keen to hear from fathers who have set up businesses during lockdown while juggling this with childcare. If this is you, you can contact CEO Secrets producer Dougal Shaw
"The biggest battle was my children," says Sarah Furness. "Though even in the craziness of setting up a business, being a mum was my first role."
The 35-year-old from Ascot has a son and a daughter, aged four and five. She had given up her career as an accountant after starting a family, but decided to get entrepreneurial in lockdown.
She was inspired by an experience with her daughter, who was diagnosed with coeliac disease in June 2019. This means she cannot eat gluten, which is often found in wheat, barley and rye.
Sarah was looking for some pick 'n' mix sweets for her as a treat during lockdown. Unable to find any that could guarantee they were safe, she had the idea of creating Curly Cow, a gluten-free sweets firm.
"I wanted to be able to provide for everybody and make sure nobody's left out," she says.
Sarah says she's been "overwhelmed" since launching the business in July, both by orders and by positive comments from customers.
She's currently turning a profit sending out about 50 to 100 compostable pouches of sweets each week, which are sourced from a range of suppliers.
Balancing being a parent and a budding entrepreneur has been a challenge, especially when home-schooling during lockdown, says Sarah.
"Before the launch, I made the most of my evenings doing research while the kids were in bed, and at weekends my husband would take them out so I could fulfil orders.
Between herself and her husband they were able to juggle childcare during weekdays too.
"There were a lot of late nights from me, but we managed to get there," she says.
For Sarah, the risk paid off - and her daughter is thrilled. The five-year-old even gets involved in the business. She created her own "princess" range of sweets.
"We were playing a game the other day and you had to give a reason why you loved everybody," says Sarah.
"She loves me because I own a sweet shop apparently!"
Recent figures suggest that many people have set up their own firms during lockdown.
Almost 50% more businesses were created in June 2020 than in June 2019, according to the Centre for Entrepreneurs, which examined data from Companies House.
July set a new record with more than 81,000 businesses registered.
Anna Wilson, 37, and Alice Macfarlane, 36, hope to make their fortune in lockdown from luxury socks.
The friends - and now business partners - first met at a baby and toddler group in Perthshire, Scotland.
Both had stepped back from high-pressure finance jobs after starting families, but were looking for a new challenge on their own terms. So they went into business together just as coronavirus struck, creating Pairs Scotland.
The company wants people to ditch their cotton socks and invest in their alpaca and mohair ones, which retail from £20 a pair. Their business taps into the trend for durable, "slow fashion".
Alice has a one-year-old daughter, so childcare has been a challenge, especially during lockdown, when nurseries were closed.
"When I used to work as a fund manager, my time was my own," she says. "Whereas now, I'm trying to cook fish fingers and I have a small person's hands around my thighs gripping me, while I'm on the phone with Anna talking about two different types of packaging."
Her advice is to take steps to divide your time carefully.
"I have mornings doing business things, and in the afternoon I'm a mother. In the evenings I might catch up with a few emails, that's how I've made it work."
Anna has three boys aged eight, five and one, so is in a trickier predicament.
"When lockdown hit I realised I would have to run not only my business, but a crèche, while also becoming a teacher to two kids at home, and become a chef cooking 500 meals a day!" she says.
Both women's husbands worked from home during lockdown and were able to help "juggling childcare".
Anna is not surprised that many working parents were tempted to "mothball their careers" during Covid-19, but she thinks it is important for people to carry on - especially women, who still take on most of the responsibility for childcare in the majority of families.
"I would highly encourage mothers to set up enterprises. I think it's really important for them to keep something of themselves. There's a huge workforce of skilled women out there who have put aside their careers for children and during lockdown have taken a [further] step back.
"It's really important those skills are not lost."
Additional reporting by Philippa Goodrich