Fraud victim: 'I got the shakes every time I went online'
By Kevin Peachey
Personal finance correspondent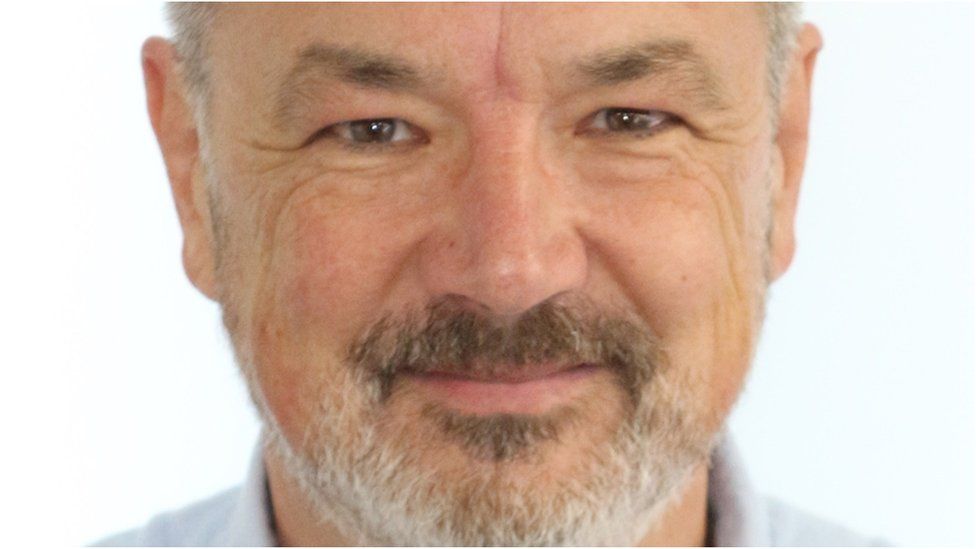 When Jonathan Leakey first realised he was the victim of fraud, he felt the ground open up before him.
Next came the horror, the trauma, the despair, and then the unshakeable feeling of foolishness.
Criminals had sent a text claiming to be from his bank and within minutes had stolen £25,000 from his account.
Some time later, he still got the shakes every time he went onto the internet, fearing something would go wrong.
Online anxiety has been heightened during the coronavirus outbreak.
A survey by Get Safe Online, a public and privately funded advice organisation, found that 30% of those asked felt more vulnerable to online fraud owing to the greater use of digital channels during and after lockdown.
More people are spending more time internet shopping, online banking, and video calling family and friends - with some doing so for the first time in their lives.
But what Dr Leakey's story makes clear is that it is not just vulnerable or elderly new adopters of the technology who may be caught out by con-artists and have to suffer the long-term consequences.
The 58-year-old, from Ballymena, is a former university lecturer who specialised in computer-assisted language learning.
Dr Leakey's bank account had been boosted after he and his wife Patricia had taken early retirement. There was some money from a redundancy payment and some of their occupational pension.
Understandably, he was concerned when a text arrived claiming reports of fraudulent activity on his debit card. The message appeared in the same text stream as genuine messages from his bank, but was a spoof.
He rang the number on the message, thought he was talking to the bank, but was actually giving vital information to the fraudsters.
"I thought they were blocking the card transactions. Instead, they were emptying my account," he said. "Only afterwards did I realise they were questions the bank would never ask you."
The shocking reality dawned on him when he tried to log into online banking, was unable to do so, but instead saw a scam warning.
The bank's fraud team soon confirmed £25,000 had gone.
"I feared I had let down my wife," he said, as he become overwhelmed with guilt and trauma," he said. "I knew I had to take charge of my recovery. For me, that was a campaign to get the money back."
It was a nine-month battle to get the money refunded by his bank, but eventually it was a successful one.
Now he has written a book - Scam Survivor: How One Victim Fought Back - highlighting what can be done to prevent and mitigate fraud.
He worries about the omnipotence of smartphones among the younger generation, and the risks as they live their lives online.
He is concerned too about the growing pool of potential victims that the coronavirus crisis has created.
However, he said there was support for scam victims who may have believed there was no hope. Developing "a suspicious mind" and educating our nearest and dearest would also stop many people from falling into the fraudsters' traps, he said.
He called on the authorities to ensure a scheme designed to compensate victims, when neither the bank nor the individual was to blame, was made mandatory - something the banking industry's trade body, UK Finance, has also called for.
In the meantime, he is also supporting a cross-border day of action on Thursday, organised by Get Safe Online, which sees the promotion of an international code of conduct for businesses and individuals to ensure the best possible protection.
"Our dependency on digital has meant many of us are now much more vulnerable," said Tony Neate, chief executive of Get Safe Online.
"Our defences are down, distracted by the demands of dealing with Covid-19. It is therefore vitally important that we all know simple measures to stay safe online."
The day's events include advice broadcast to the Tongan business community, a national radio competition in the Republic of Kiribati and a social media campaign in St Lucia.
Foreign Office minister James Cleverly said: "It is more important than ever that the international community co-operates to face the challenges posed by those using Covid-19 as an opportunity to undertake malicious cyber activity."
Stop: Taking a moment to stop and think before parting with your money or information could keep you safe
Challenge: Could it be fake? It is OK to reject, refuse or ignore any requests. Only criminals will try to rush or panic you
Protect: Contact your bank immediately if you think you've fallen for a scam and report it to Action Fraud