Heineken fined for forcing pubs to stock too many of its beers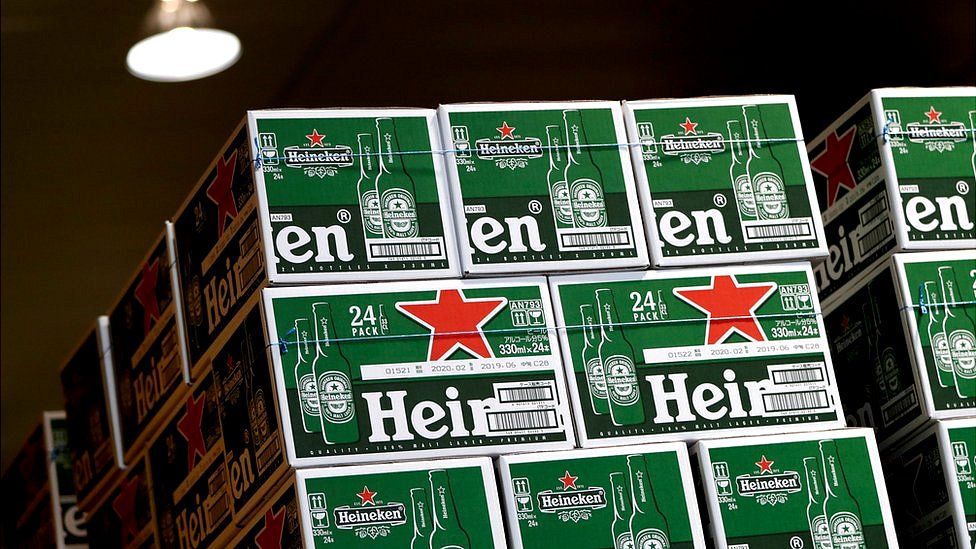 Heineken's pubs business has been fined £2m by the industry watchdog after forcing tenants to sell "unreasonable levels" of its own beers and ciders.
Star Pubs and Bars "seriously and repeatedly" broke rules for three years, the Pubs Code Adjudicator said.
It found several pubs who had asked to no longer be tied to Heineken were told that 100% of the keg beer they sold had to be Heineken brands.
Star Pubs said it was considering an appeal, calling the fine "unwarranted".
Star has an estate of 2,500 pubs, with 1,900 in England and Wales covered by the Pubs Code Adjudicator (PCA).
Heineken's brands include Amstel, Birra Moretti and Bulmers cider.
Announcing the fine, the PCA's Fiona Dickie, said: "The report of my investigation is a game changer. It demonstrates that the regulator can and will act robustly to protect the rights that Parliament has given to tied tenants.
"My message is that if anyone previously had any doubts about my resolution to act when I find breaches, they can have no doubt now."
Ms Dickie's investigation covered the period from 21 July 2016, when the Pubs Code came into effect, until 10 July 2019.
During this period she found "multiple breaches" by Star over stocking demands.
Up to August 2018, she said that 96 pub tenants who asked to sell competing brands were told that 100% of the keg beer they sold had to be Heineken brands.
The investigation also found Star called for its own code compliance officer to "ensure the code is interpreted to the commercial benefit of Heineken UK".
If pub managers agree to a tied lease, they must agree to sell drinks supplied by their landlords.
However, they can ask to pay a higher rent and arrange their own supplies. If they do, while they must still stock a proportion of their landlord's drinks they can also sell different brands, and there are limits on how much the landlord can force them to sell.
The Pubs Code came into force in 2016 after new laws were passed. It covered pub companies owning 500 or more tied pubs in England and Wales. That includes Greene King, Marston's, Star Pubs and Bars, Punch Taverns, Stonegate and, Admiral.
It demands lawful dealing by landlords with tied pub tenants and says that tied tenants should be no worse off than if they were free of the tie.
'Unwarranted and disproportionate'
The PCA said Star Pubs and Bars had been given opportunities to improve matters "but intentionally or negligently failed to do so".
"It failed to heed statutory advice, the PCA's regulatory engagement and learnings from arbitration awards. It did not engage frankly and transparently with its tenants or meet the standards required of a regulated business when engaging with the PCA.
"Where it did change its approach, the efforts it made to comply were for the most part inadequate and not credible."
However, Star Pubs and Bars said it was "deeply disappointed and frustrated" at the outcome of the investigation.
"There are many aspects of the report that we fundamentally disagree with and we are actively considering an appeal," said Lawson Mountstevens, the company's managing director.
"This penalty is unwarranted and disproportionate, and comes at a time when the entire sector is in serious financial crisis as we work around the clock to support our pubs and licensees to keep their businesses afloat.
"We are dedicated to the Pubs Code in both word and spirit, and do not believe the outcome of this investigation accurately reflects the culture of our business or the good working relationship we have with the vast majority of our licensees."