Britain and Japan sign post-Brexit trade deal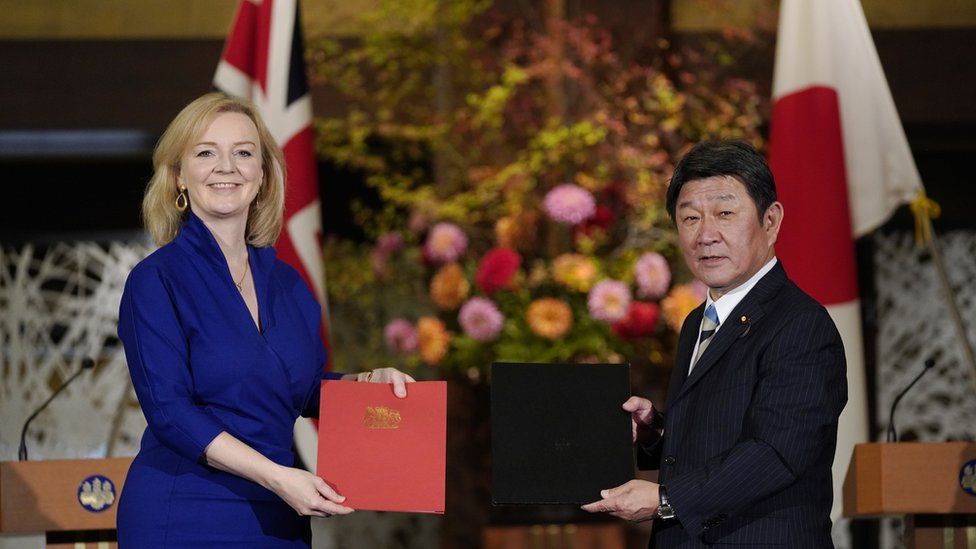 Britain and Japan have formally signed a trade agreement, marking the UK's first big post-Brexit deal.
The deal, unveiled last month, means nearly all its exports to Japan will be tariff free while removing British tariffs on Japanese cars by 2026.
UK International Trade Secretary Liz Truss called it a "ground-breaking, British-shaped deal".
But critics have said it will boost UK GDP by only 0.07%, a fraction of the trade that could be lost with the EU.
The deal, which was negotiated over the summer, will take effect from 1 January 2021.
But some experts said it was a missed opportunity between the UK and its 11th biggest trading partner.
Dr Minako Morita-Jaeger, international trade policy consultant and fellow of the UK Trade Policy Observatory at the University of Sussex, said: "Given that Japanese FDI (Foreign Direct Investment) has been playing an important role in the UK economy and retaining its existing investment in post-Brexit is crucial, the UK government should have shown a strong commitment to Japanese investment by including a comprehensive investment chapter encompassing investment protection and dispute settlement."
She added that Japan was the largest investor abroad in the world, accounting for 14% of the world total in 2018.
The new deal is very similar to the existing EU-Japan deal, but has an extra chapter on digital trade.
"It used to be said that an independent UK would not be able to strike major trade deals or they would take years to conclude," said Ms Truss at a joint press announcement with Japan's Foreign Minister, Toshimitsu Motegi.
Mr Motegi said a deal between the UK and the EU was still crucial for Japanese business, particularly carmakers such as Nissan and Toyota who use parts from across Europe in vehicles they assemble in the UK.
"It is of paramount importance that the supply chain between the UK and the EU is maintained even after the UK's withdrawal," he said.