Coronavirus: Is virtual reality tourism about to take off?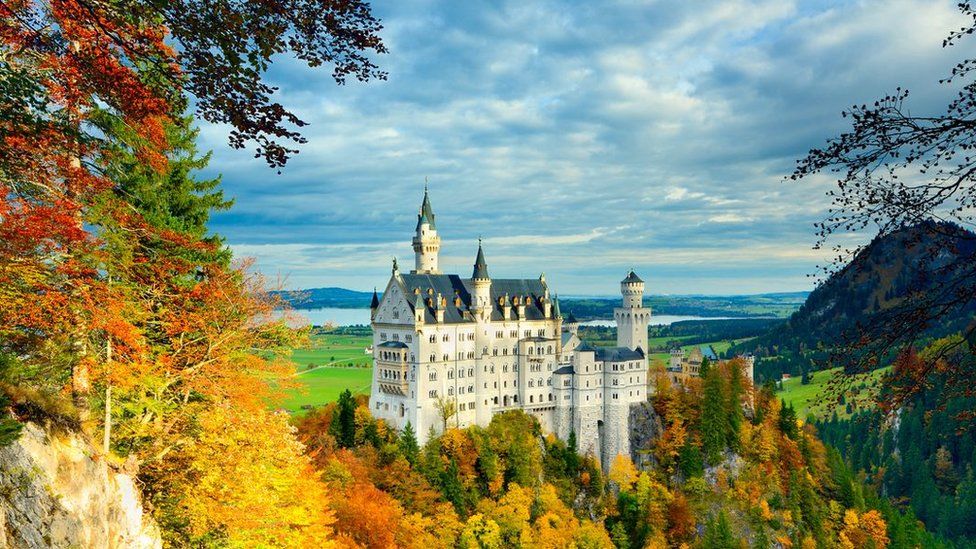 For many people, a trip to Germany's fairytale-like Neuschwanstein castle, the Republic of Ireland's stunning Cliffs of Moher, or the pristine waters of the Maldives are a bucket list ambition.
Plans for these and other international trips in 2020 were brought to an abrupt halt by the Covid-19 pandemic. Around the world, once-crowded sights lay dormant, with hotels empty and not a tourist in sight.
The statistics speak for themselves. On 13 October, the International Air Transport Association (Iata) said that international traffic "has all but disappeared", with airlines carrying only about 10% of normal levels.
By Iata's estimate, Covid-caused disruptions put more than 41 million jobs at risk across the travel and tourism sector.
In the absence of travellers, tourism boards, hotels and destinations have turned to virtual reality (VR) - a technology still in its relative infancy - to keep would-be visitors interested and prepare for the long road to recovery.
What began for many as a temporary stop-gap measure may now be a long-term tool. Iata predicts that travel will not resume to pre-pandemic levels until 2024.
Faced with a new reality of diminished tourism, many believe that Covid-19 might be the watershed moment for VR that changes perceptions from a clever and occasional marketing trick to a permanent fixture of tourism marketing.
"The impact of Covid-19 may have allowed VR to somewhat shake off its image of being a gimmick in tourism," says Ralph Hollister, a tourism analyst at Global Data and author of a report on VR's applications in tourism.
"The further this pandemic goes on for, the higher the chance that VR may become a valid form of alternative travel as consumers get more used to this technology."
Steve Perillo is boss of Travel World VR, a US-based VR and 360-degree video marketing and production company that works with tour operators, destinations, cruise lines and hotels.
He says the pandemic has been a "shot of adrenaline" for a technology that to date had "not yet really arrived".
Now he says VR can whet a potential audience's appetite. "The momentum has really picked up. It's really launched the concept of travelling remotely."
In this environment, a number of countries have stepped up VR marketing efforts to prepare for the gradual recovery of their tourism industries.
Among the most prominent is Germany, which has unveiled a number of immersive projects to highlight the country's potential as a travel destination.
In 360-degree videos designed to be seen on Oculus Rift headsets, for example, the German National Tourist Board (GNTB) has taken viewers on trips across the country, as well as to parts of its Baltic and North Sea coasts.
Another set of videos - for the Microsoft Hololens - includes views of six of the country's most famous castles and palaces.
"Digital applications cannot, and are not intended to, replace the experience of real-world travel," GNTB chief executive Petra Hedorfer told the BBC.
"But VR and AR (augmented reality) applications are essential elements in keeping interest in Destination Germany alive during travel restrictions, getting potential customers excited about our product and providing inspiration for real-world travel."
Some 1,200km (745 miles) to Germany's west, VR was being explored by Irish tourism officials even before the pandemic began.
In November 2019, Tourism Ireland launched a two-part VR experience designed to promote sights in Northern Ireland.
The Embrace a Giant Spirit campaign - which involved collaboration with Pulitzer Prize-winning poet Paul Muldoon and Oscar-nominated cinematographer Seamus McGarvey - included the famed Giant's Causeway and highlighted the country's role as the setting for HBO's Game of Thrones.
"We know technology is already changing how we travel, and it's only going to accelerate with VR in a post-pandemic environment," says Siobhan McManamy, Tourism Ireland's director of markets.
With travel still largely at a standstill, it remains too early for Ireland and Germany to gauge their return on investment: that is, the number of people who, having seen a destination virtually, actually book tickets and visit.
Thoyyib Mohamed, managing director of the Maldives Marketing and Public Relations Corporation, says while VR will indeed help boost tourism, the direct correlation may be hard to measure.
In the case of the Maldives, VR has been used to showcase various experiences on island properties, such as morning yoga by the beach, snorkelling, or cooking lessons.
"An increase in investment in VR does not directly translate to an increase in visitors in the future," he says.
"However, the amount of times… VR is utilised, either on websites, in print or even during [travel] fairs, can translate to potential conversion.
"Each medium provides a different return value, but is assisted by the investment done on VR marketing."
Boosting traveller confidence?
Some, however, believe the benefits of VR in travel might be felt much sooner.
They include Miguel Flecha, a Madrid-based travel and hospitality expert for the multinational consulting firm Accenture.
He thinks that as restrictions ease in the next few months, VR will be a vital tool in helping familiarise travellers with a new environment and help slowly rebuild consumer confidence.
"As we start to recover, there will be segments of the population that will be willing to travel like crazy. Younger people will be booking flights as soon as possible, but other segments of the population won't be very comfortable," says Mr Flecha.
VR technologies, he adds, can be a cost-effective and potent way to help clients feel more comfortable - and more willing to travel.
New Tech Economy is a series exploring how technological innovation is set to shape the new emerging economic landscape.
"They [travellers] could be shown health and safety measures, or the check-in process at a hotel in the new reality so that they feel safer, or the boarding process on a flight or cruise.
"If you're able to increase the comfortability of a client to travel, in the end they'll book. They'll stay in a hotel, or they'll fly with you. That's the return on investment - you're incentivising the client to travel."
An airline using VR to replace travel isn't without precedent. Since 2017, Japan-based First Air - which bills itself as the "first virtual aviation facility"- has been offering VR "flights" from Tokyo, complete with boarding passes, in-flight meals and programmed destination countries from Italy to New Zealand.
With the onset of the pandemic, the company's bookings spiked 50%, it told reporters this summer.
There are, however, a number of limitations that experts say are currently holding the technology back, including large, unwieldy headsets and high costs.
The most important limitation, according to Mr Flecha, is that there has yet to be a trusted global brand to place its bets on VR. "The industry needs to believe in the technology [for it to succeed]," he says.
That may have begun to change with the September launch in the US of Amazon Explore, a platform that gives access to one-on-one virtual experiences with tour guides and local residents in countries around the world.
Experiences offered on the high-tech giant's public beta version range from tours of Kyoto neighbourhoods in Japan to artisan shopping in Costa Rica and fish taco cooking lessons in Mexico.
As Mr Flecha sees it, Amazon Explore may foretell the success or failure of VR in the travel industry.
Serious investment by a high-tech giant and a trusted brand - Apple and Samsung are also looking into virtual reality - could, he believes, be the "great accelerator" needed.