Lockdown: 'We will have to throw our beer down the drain'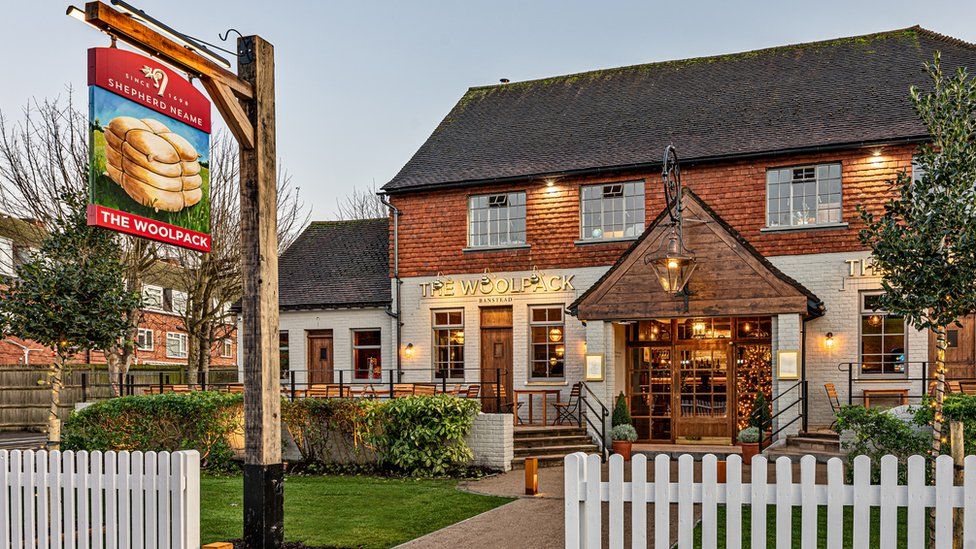 "Anger, soul-destroying, disheartening, disillusioned": everything about the latest lockdown fills pub and brewery boss Jonathan Neame with dismay.
"This is the fourth change of strategy affecting hospitality within the last six weeks, and I don't think it will be the last," the chief executive of Shepherd Neame told the BBC.
At least during the last lockdown, his 320-pub group in the south east of England could sell takeaway beer alongside takeaway meals, he said. Not this time.
"We're now being told that we cannot even sell a pint of ale as a takeaway. So we have got to tip that all down the drain."
The company, which says it is the oldest brewery businesses in the UK, has already made about 10% of staff redundant. It had been planning to bring back other staff when furlough ended last week.
"We are now telling them they have got to stay on furlough. I really worry for their mental health," Mr Neame said. "The premise for lockdown now is to save the NHS. Once again we're sacrificing our freedoms and our economy because of what I think is a failure of public health.
"The people that are paying for it are people who are very fragile already, having gone through one lockdown and are just beginning to find a way back."
Nor does he believe the one-month lockdown announced on Saturday is the end of it, believing there is now a real threat Christmas trading will be lost.
"I feel there will be a substantial number of more redundancies and particularly in city areas. It's difficult to see how city centres are going to be revived any time soon," he said.
"During lockdown one, there was terrific support for local pubs from local communities," he said. "People want their pubs, they came back in droves. They want to see the pubs survive and thrive.
"They want them to be there for their children's generation, so they bought into the take-home thing." He said the government must review its restrictions on not allowing takeaway beer immediately.
Mark Newcombe, chairman of Craufurd Arms Society, which runs the community-owned Craufurd Arms in Maidenhead, Berkshire, said it was "ridiculous" that his pub cannot serve takeaway pints when supermarkets can still sell alcohol.
"Last time we did a delivery service and a takeaway service and, although we weren't breaking even, at least it was bringing money in to the pub," he said.
The Craufurd Arms, which specialises in real ales, does not serve food. "Real ale does not have a long shelf life. Come Thursday, what hasn't been sold will have to be thrown away," said Mr Newcombe.
"Our unique selling point is our fine real ales. It's terrible. The takeaway pints kept the community involved," he said.
"We had spent so much money and time getting our pub safe for reopening, and now this. How do you plan? It could be four weeks, it could be five weeks, it could be until next January, we just don't know."
To try to avoid throwing its beer away, pub chain Wetherspoons is offering real ale on tap for 99p a pint at 750 venues in England until Wednesday night, in an effort to clear open barrels before the lockdown begins.
Wetherspoon spokesman Eddie Gershon said: "The reality is that any real ales not sold between now and lockdown will have to be thrown away, so it is better that customers can enjoy it at a great price while the pubs remain open.
"Each and every one of our pubs has all Covid safety measures in place and the numbers of people allowed in our pubs is restricted, so the lower price for real ales will have no effect on the safety of customers and staff."
Tom Stainer, chief executive of the Campaign For Real Ale (Camra), said: "Offering alcohol for takeaway was a lifeline for many pubs, and particularly breweries, during the first lockdown.
"It is a baffling and damaging decision to remove this option, particularly when other businesses such as supermarkets are able to continue to sell takeaway alcohol.
"Pubs and breweries were already reporting losses and the risk of closure before Christmas, and this will only add to the risk of permanent closures within the next few months.
"Camra and the entire pub and brewery industry is now urging the government to reverse this bizarre decision and ensure the survival of our pubs and breweries."
James Calder, chief executive of the Society of Independent Brewers (Siba), said urgent clarification on sales restrictions was needed from the government.
"As if a second national lockdown in England wasn't disastrous enough for pubs and independent breweries, the government has gone further this time around and introduced an unjustified restriction banning pubs from selling takeaway beer, a service which was the only source of income for many businesses during the summer lockdown," he said.
"This is baffling considering supermarkets will presumably still be allowed to sell packaged beer, whilst small breweries and pubs will not.
"It is nonsensical to impose these new restrictions when pubs have time and time again proved that they are Covid-secure, both during lockdown when takeaway was their only option and since pubs reopened on 4 July."
Mr Calder added that, in addition to clarification on sales restrictions, further support was needed for pubs, including the extension of business rate holidays and grants to breweries, and a VAT cut on independent brewery beer.