Covid-19: Nintendo profits triple as games boom continues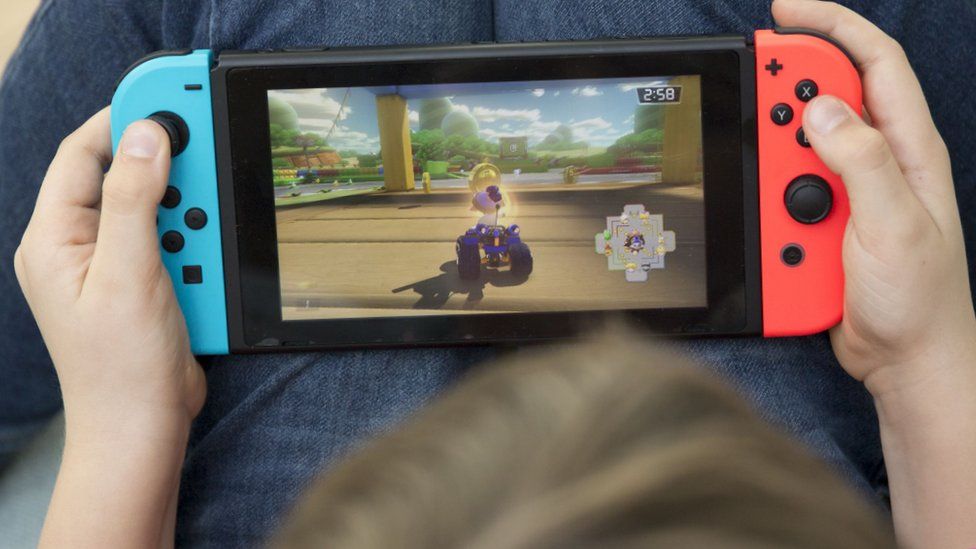 Japanese gaming giant Nintendo's profits are soaring as a coronavirus boom in video games continues.
The industry has been enjoying runaway sales during the pandemic as lockdowns and restrictions on movement have left many looking for entertainment.
Sales of Nintendo's Switch console helped profits to more than triple in the half year to end of September.
Rival Sony said last week that pre-release demand for its Playstation 5 was higher than expected.
The video games industry is one of the few sectors that is doing well globally during the pandemic, said Joseph Evans, head of technology at Enders Analysis.
"That is directly linked to people being locked down and having to social distance," he said.
Global industry sales have topped $10bn (£7.6bn) each month since March, with sales growing each month, he said.
Nintendo is one of the firms riding the crest of this wave, and its games have capitalised on different lockdown trends, Mr Evans said.
Its Animal Crossing games lets users interact in a virtual world, which appeals to people who cannot meet up face-to-face. "You can visit people in the game, and it's become a way to socialise," he said.
Meanwhile, its Ring Fit games tap into people wanting to exercise while at home, he added.
The big seller for Nintendo in terms of hardware was its Switch consoles, where it sold 12.5 million units in its first half.
Switch software sales also soared, with Animal Crossing: New Horizons shifting 14.27 million units. This contributed "significantly to the overall growth in software sales" and drove hardware sales, Nintendo said.
Nintendo profit before tax jumped to almost 300bn yen (£2.2bn) in the six months to 30 September, up from 85bn yen in the same period a year ago.
Sony and Microsoft will release next-generation consoles next week, adding to competition for the Switch.
However, Nintendo raised its forecast for Switch sales in the year ending March 2021. It now expects to sell 24 million consoles up 26% from a previous forecast of 19 million.
The games industry in the UK has also "proved resilient in the face of the pandemic" according to industry body UK Interactive Entertainment.