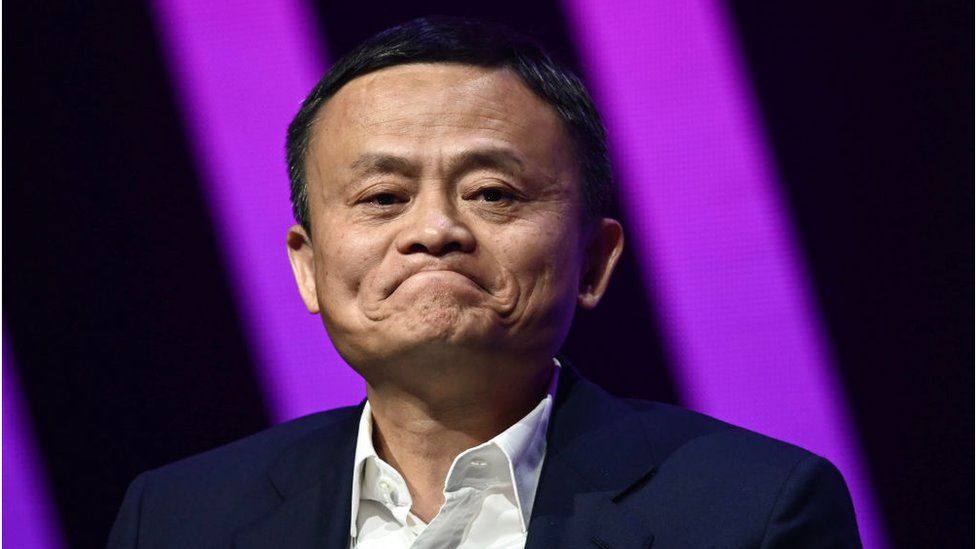 This week should have made Jack Ma China's richest man again, and the stock market debut of his company Ant Group should have been the largest ever.
Things didn't quite go according to plan though.
Ant was set for a dual listing on Thursday in Hong Kong and Shanghai worth about $34.4bn (£26.5bn).
Mr Ma's shares were reportedly worth about $17bn, and would have taken his net worth to roughly $80bn.
"This deal was not only cleared for take-off, the wheels were literally off the ground," says Drew Bernstein, co-managing partner at Marcum Bernstein & Pinchuk, which advises Chinese companies.
Some analysts saw the move as an attempt by Beijing to humble a company that had become too powerful and a leader who had become too outspoken.
So how had Mr Ma - a man who came from meagre beginnings to become a symbol of China's potential and its growing technological strength - become a threat?
Mr Ma raised the ire of Chinese government officials at a financial technology conference last month in Shanghai, where he likened China's state-dominated banking sector to "pawn shops" and lamented their lack of innovation.
In some ways it was vintage Jack Ma, according to Duncan Clark, the author of Alibaba: The House that Jack Ma Built.
"This is not the first time he's gone off the leash. He just doesn't like to follow a particular script or narrative. And he likes to be provocative, like any great storyteller," he says.
And like many great storytellers, he often draws on autobiographical detail. He tells his own story as a tale of perseverance, but he never omits his failures and struggles.
He grew up poor in Hangzhou, struggled in school and failed his university entrance exams twice. When he tried to get work, he was knocked back by dozens of employers. He applied to Harvard 10 times, but never got in.
Perhaps most famously, he applied to work at KFC, only to discover later that of the 24 people they interviewed, he was the only one that didn't get a job.
He passed his university entrance exam at the third attempt and went to teachers college. He stayed on for several years afterwards as an English teacher. And it was on a trip to the US as a translator that he first discovered the internet.
After one failed internet venture, he founded Alibaba in 1999 with loans of $60,000 he cobbled together from friends.
Nowadays, of course, he is not always regarded as David taking on Goliath.
"He's made his living out of being underestimated. That's getting harder. As you get more rich, and more powerful, expectations build," says Mr Clark.
'Sheer scale of interest'
Expectations had certainly built for Ant Group's market debut.
Ant's best known service, Alipay, started as Alibaba's payment platform. It held payments in escrow until buyers had received their purchase. It was central to Alibaba's growth, because it enabled buyers to feel safer shopping online. Now, it's more widely used than cash or credit cards in China.
The company was spun off in 2011 and later rebranded as Ant Financial and then Ant Group. Alibaba suggested at the time the move was due to regulatory changes in China. Jack Ma took a large stake in the spin-off company, which expanded into other financial services such as insurance, wealth management and consumer loans.
Many analysts think it's not vindictiveness by officials that scuppered Ant's debut. Mr Ma's comments may have been impolitic, Mr Clark says, but they weren't the only reason regulators were concerned.
"My gut feel was that it was the sheer scale of the interest in the offering, and the way in which people were raising money, often through debt, to invest," he says.
News agency Reuters reported that banks were lending vast amounts of money to retail investors.
Ant's consumer finance division is more of a matchmaker than a bank. It makes loans to small businesses and retail customers, but passes those loans on to banks, which underwrite them.
Ant earns fees from the banks, but without the requirement to hold on to reserves, and with less risk to its own balance sheet.
Cautious Chinese regulators have been concerned for some time about the growing number of online lenders in China, and how they might affect the broader financial system.
Under draft rules published on Monday by the People's Bank of China, online lenders must provide at least 30% of any loan they fund jointly with banks.
When the IPO was suspended the Hong Kong Stock Exchange said it was because the company "may not meet listing qualifications or disclosure requirements" and also suggested "recent changes in the fintech regulatory environment" might have been an obstacle.
"This is a really, really big deal. But I don't think that China is going to bend for any one deal. They're not going to put their financial systems at risk for one deal," says Drew Bernstein.
It seems almost inconceivable that Ant won't come back with a new prospectus and attempt another share market debut.
"The company's going to have to restructure somewhat. Maybe commit some more capital to the loan division, apply for more licences. Then they'll be able to come back to market," says Mr Bernstein.
Some analysts think there will be pressure to spin off the consumer lending division altogether.
According to some estimates, Mr Ma personally lost billions when the share launch failed. But determination is a defining feature of his story.
A man who applied to Harvard 10 times seems unlikely to be dissuaded by a single rejection from regulators.