Global markets rally as Biden heads for White House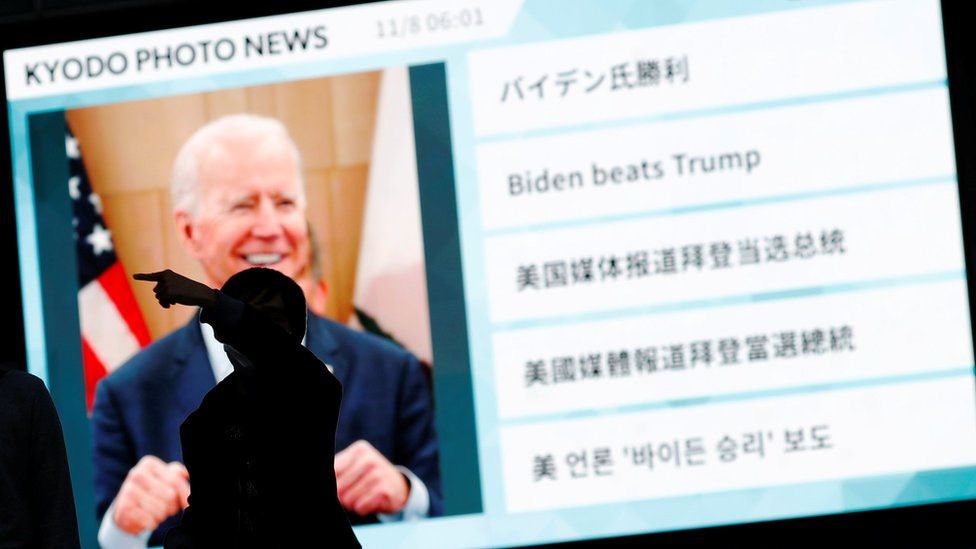 Global markets have rallied in response to Saturday's declaration that Joe Biden has won the US election.
The end of uncertainty about the race's outcome saw London's FTSE 100 rise 1.5% to 5,994.58 points in early trade, with similar gains seen across Europe.
Asian shares also jumped, with Japan's Nikkei 225 climbing 2.1% to 24,839.84 - it's highest level since 1991.
There were similar gains in Australia, China and Hong Kong while oil and currency markets also climbed.
Donald Trump has yet to concede and Mr Biden's win remains a projection as key states are still counting votes.
However, the Democrat is forging ahead with his plans for assuming power in January after major US networks called the election in his favour on Saturday.
Randeep Somel, director of global equities at M&G, told the BBC: "First and foremost it looks as if the uncertainty of who is going to be the president is going away, with world leaders coming out and openly congratulating Joe Biden and Kamala Harris.
"I think the markets can focus now on the policies that Joe Biden is likely to enact going forward as opposed to this constant, 'is it going to be litigious? Are we looking at another potential Bush-Gore event like we saw in 2000, where it took 6-7 weeks to realise what was going to happen."
Mr Biden has already said he will reverse many Trump era policies, including rejoining the Paris Climate agreement on his first day in office in January.
There are also hopes that the new administration will expand fiscal stimulus in the US and widen measures to reduce the spread of Covid-19.
However, Mr Biden could struggle to enact key planks of his agenda as its looks unlikely the Democrats with have control of both houses in Congress. This means the Senate may be able to block any big regulatory or tax policies, a plus for some businesses.
In China, the main shares benchmark - the Shanghai Composite - rose almost 2% on Monday, as investors viewed the Biden win as positive for trade and technology policy.
Relations between Donald Trump and China deteriorated during his four-year tenure, sparking a tariff war in 2018 that imposed taxes on imported goods from both countries.
"The market is taking the Biden win as a positive, as he is not very likely to fight a new trade war with China. The chance for a new tech war is also drifting lower," said Larry Hu, head of China economics at Macquarie bank.
Bruce Pang, an economist at Hong-Kong based China Renaissance, agreed: "We think the Chinese authorities might be betting on a less confrontational but more predictable Biden administration that they can work with."
The best performer in Asia was Japan's Nikkei 225, which hit a near 30-year high - although the index remains well below the highs of the late 1980s.
Alongside the election result, strong earnings from Japanese car makers such as Toyota were credited for the gains.
"The Nikkei 225 is breaking out and is a poster child of strength and momentum," said Chris Weston, head of research at brokers Pepperstone.
However, it was a different story at Japan Airlines, which saw its shares sink after saying it would raise as much as 168bn yen (£1.2bn) by selling new shares to support its finances during the coronavirus crisis.