Amazon charged with abusing EU competition rules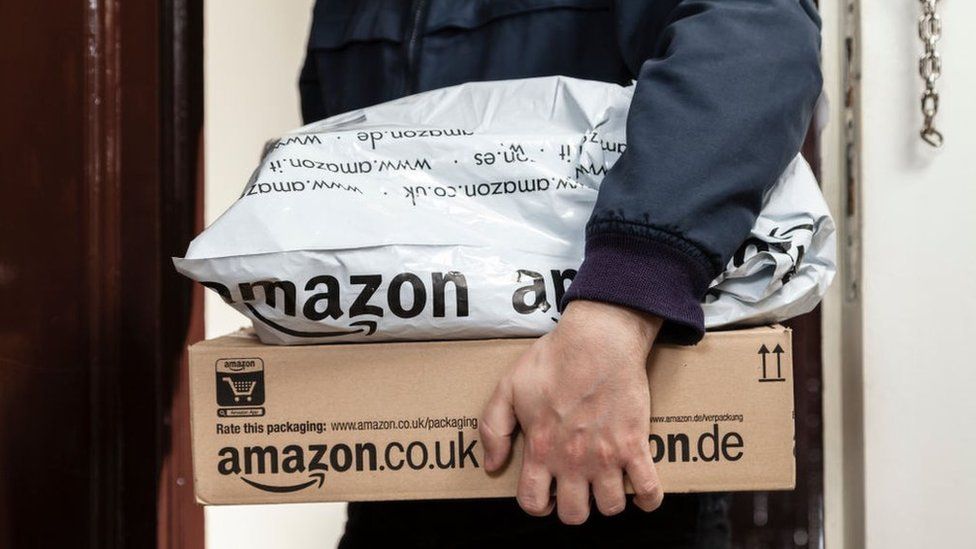 The European Commission has charged Amazon with abusing its dominant position in online retail to gain an unfair advantage over competitors.
It said Amazon had used data on third-party sellers that use its marketplace to boost sales of its own-label goods.
The Commission also launched a fresh probe into the possible preferential treatment of sellers that use the tech giant's logistics services.
Amazon rejected the charges, saying no firm "cared more" for small businesses.
It faces a potential fine as high as 10% of its global turnover if it is found guilty of breaching competition law - about £15bn ($19bn).
In a statement, the EU's Competition Commissioner Margrethe Vestager said it was vital that platforms with "market power" did not "distort competition".
"Data on the activity of third party sellers should not be used to the benefit of Amazon when it acts as a competitor to these sellers," she added.
"With e-commerce booming, and Amazon being the leading e-commerce platform, a fair and undistorted access to consumers online is important for all sellers."
The European Commission has been investigating Amazon since July last year, following complaints from traders.
It says the tech giant accesses sensitive data from small and medium-sized companies that use its platform, such as sales figures, page visits or shipping information.
It then uses this to help with sales of its own-label products, or in choosing suppliers, the Commission says.
In a press conference on Tuesday, Ms Vestager said: "We do not take issue with the success of Amazon or its size."
In a statement Amazon insisted that - far from being anti-competitive - its private-label products were good for customers and offered more choice.
"Amazon represents less than 1% of the global retail market, and there are larger retailers in every country in which we operate," it said.
"No company cares more about small businesses or has done more to support them over the past two decades than Amazon."
It also pointed out that there are more than 150,000 European businesses selling through its online marketplace.
In August, boss Jeff Bezos became the richest man in the world with a fortune of more than $200bn after the firm's share price rocketed in the early months of the pandemic.
'This is about platform power'
She has led the way in tightening the regulatory screw on the US tech giants, taking on both Google and Apple. Now Europe's Competition supremo Margrethe Vestager has Amazon in her sights - and once again this case is about platform power.
Her concern is that tech giants which own a platform - Apple's iOS operating system, Google's Android or Amazon's Marketplace - can have great power over the businesses that are completely dependent on it.
In Amazon's case, her focus is also on its access to huge amounts of data about which products from the third-party sellers on its Marketplace are selling well.
Commissioner Vestager says Amazon is "a highly automated company, where business decisions are based on algorithmic tools", and she believes those tools are used by the company to compete unfairly against its own business customers.
This case won't be settled quickly - Amazon claims it makes more money from third-party sellers than from its own products. There will also be questions about whether there is any real harm to consumers.
But don't expect this to be the only investigation into the might of Amazon - a Biden administration in the United States looks eager to follow Europe's lead in tackling the power of the platforms.
Ms Vestager has taken a tough stance on US tech firms and what she sees as their grip on the digital landscape.
Search engine Google, for example, has been fined more than €8bn in three separate cases, all relating to alleged abuses of power in the EU.
The report found that Amazon possessed "significant and durable market power" in online shopping, which it furthered in part by "anticompetitive conduct in its treatment of third-party sellers".
In October Amazon hit back in a blog post on its website: "The fact that third parties having the opportunity to sell right alongside a retailer's products is the very competition that most benefits consumers and has made the marketplace model so successful for third-party sellers".