University staff urge probe into e-book pricing 'scandal'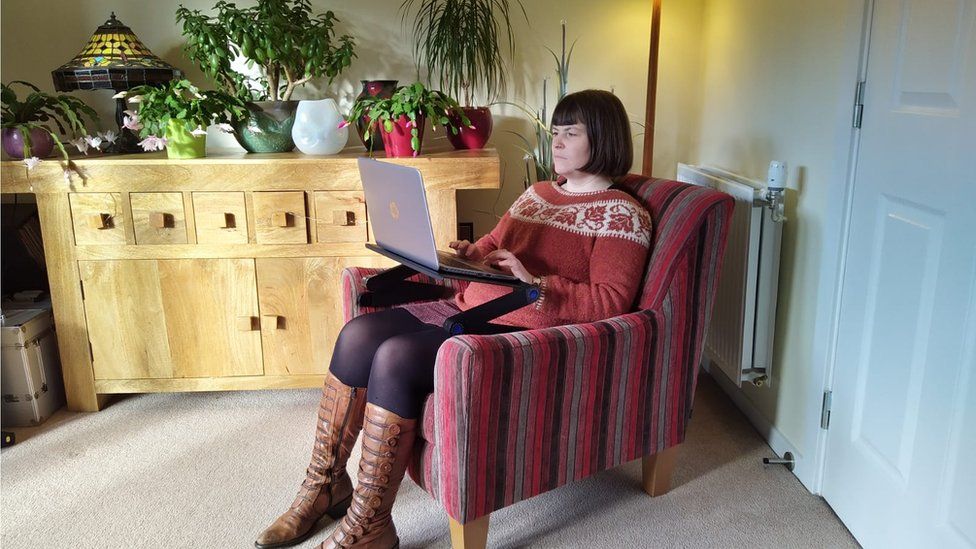 More than 2,500 UK university staff have called for an investigation into the "scandal" of excessive pricing of academic e-books.
Organiser Johanna Anderson said some e-texts can cost 10 times print copies, with taxpayers and students the losers.
Publishers say the costs are due to the different formats and shared-use.
But Ms Anderson said the situation had become so financially serious for university libraries that it was time for MPs and competition authorities to hold publishers to account.
She cited the example of an economics book that costs £44 for a print copy but is £423 for a single e-book user and £500 for three users. An employment law book costs £50 for a hard copy, but is £1,600 for three users of the digital version.
In another case, a book on working in childcare is listed at £30 for a hard copy but online costs £1,045 for unlimited access for a year. "There are many, many more examples," Ms Anderson said.
Prices have been rising for some time, but the University of Gloucestershire librarian said there were reports of increases during lockdown, when access to libraries and bookshops was restricted and getting course material difficult.
"It's a scandal. It's public money," she said. "Students are shocked when I tell them just how much it costs to get them their texts.
"People just assume we can get books for the prices they see on Amazon and Kindle. It just doesn't work like that for universities.
"The academic publishing business model is broken, and as you can see from the number of people who have signed the letter we think it is time for an investigation," she said.
Lectures are increasingly having to be designed around what texts are available and affordable, not what is best for learning, Ms Anderson said.
Buying multiple copies of print books is not the answer and simply not practical in the digital age when so much is moving online, she added.
Licensing, copyright, book-buying "middlemen" and a trend for publishers to "bundle up" access to books into one expensive package all play a role in what texts are available and at what cost. "In some cases, it's like having to buy the whole of Waterstones to get access to a couple of books," Ms Anderson said.
A monopoly created by copyright law is the root cause of "these huge pricing differentials" and there is no justification for it
Earlier this year at least two well-known academic publishers raised the cost for a single-user e-book by 200% with no warning
Licences of e-books are often confusing and frequently restrictive
Publishers can withdraw e-book licences previously purchased by universities and enforce new ones.
The letter says: "Given that much teaching will be conducted online this term, and university spaces will not be fully open, university librarians are once again examining reading lists and finding that much of the e-book content is either unavailable, or prohibitively expensive.
"A few key players monopolise the market and with the lack of competition or alternative options, we can either pay the extortionate prices, or not purchase the e-books at all. University library budgets are finite, and are frequently prone to cuts."
Publishers rejected claims of excessive pricing and of using the pandemic as an excuse to raise prices.
Stephen Lotinga, chief executive of the Publishers Association, said the industry understood the budgetary pressures facing libraries, but added: "Many of the examples cited by this campaign are not comparing like for like.
"Prices will vary according to the level of use a book receives and the investment made in creating the product. A digital textbook is often put together using multiple authors over a long period, is regularly updated, has additional functionality and might be used by entire cohorts of students on a course or lent thousands of times."
Some publishers declined to comment or did not reply to emails.
However, publisher Taylor & Francis, which also owns Routledge, said: "Comparing individual print costs to a digital licence which gives access to many readers does not represent the reality of how the different formats are used.
"Taylor & Francis believe our e-textbooks are fairly and competitively priced for the library market."
The company also pointed out that during the pandemic and lockdown it had provided some free e-book access to students as well as free upgrades to libraries from single to unlimited user access.
Helen Kogan, managing director of publisher Kogan Page, said the firm's pricing was "consistent with industry standards".
"It allows flexible options for multi-user and perpetual access licences which provide a fair return to authors and ensure investment in high-quality, rigorous academic e-books to support students' learning."
Kogan Page had also been working with educational institutions during the pandemic to ensure increased access to texts, she added.
A spokesman for the Education Committee said its process was to review the letter and issue, and then decide how to take the matter forward.