Coronavirus: Retail workers 'scared' as cases surge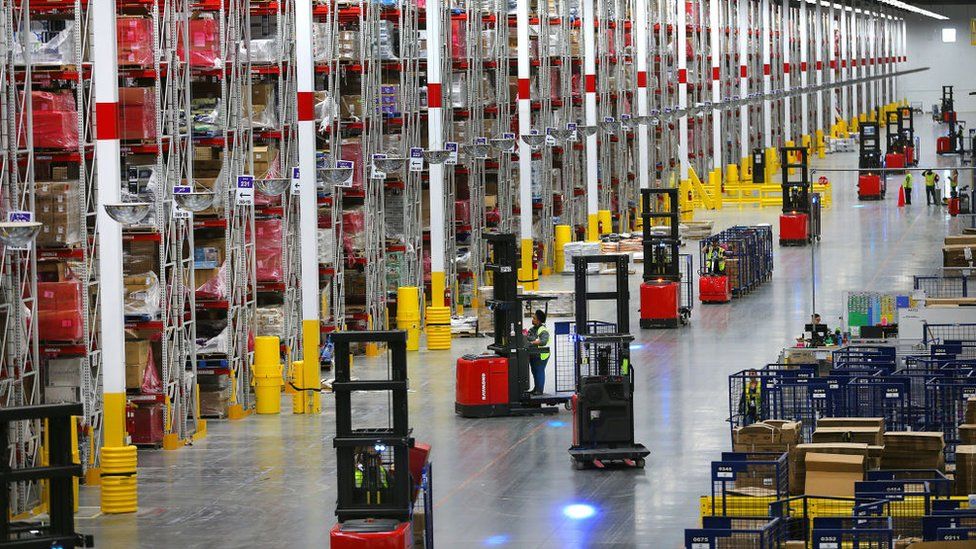 Labour activists in the US say big retailers like Amazon and Walmart must do more to protect workers as surging coronavirus cases coincide with the holiday shopping rush.
They are calling for hazard pay, paid sick leave and better communication about outbreaks, among other things.
The campaign comes as workers across the US have spoken out about condition and concerns over their health.
"Associates like me are scared," said Walmart worker Melissa Love.
The workers rights campaign launched on Monday was organised by United for Respect, a workers rights non-profit that says it represents more than 16 million people across the US.
Separately, the labour union UFCW, whose members include grocery and meatpacking plant workers, also called on employers to do more to protect staff.
"Simply put, frontline workers are terrified because their employers and our elected leaders are not doing enough to protect them and stop the spread of this virus," UFCW International President Marc Perrone said.
"As holiday shopping begins this Thanksgiving, we are already seeing a huge surge of customer traffic. Unless we take immediate actions beginning this holiday week, many more essential workers will become sick and more, tragically, will die."
Ms Love, a member of United for Respect who has worked at Walmart for five years, said on a call organised for reporters that she feared a rush of holiday shoppers could turn Walmart into a "super-spreader" hub.
"Working Black Friday this year comes with an obvious danger," said Ms Love, who is based in California. "I do not believe Walmart should be trying to entice crowds into our stores on Friday and risk a super-spreader event."
Courtenay Brown, another member of the group, who picks groceries for Amazon, said the company has had to send out repeated notifications in recent days about infected staff. Amazon had boosted pay for frontline staff by $2 (£1.50) an hour, but that policy ended in June.
"Right now it's what we call the turkey apocalypse, where we are forced to just push out as much as we possibly can," said Ms Brown, who works in New Jersey.
She said she's happy to have a job, but to Amazon "my life doesn't really mean much - it's just a means for Bezos to continue making billions off of us".
Workers said the companies had the means to spend more to protect and compensate workers, noting the way profits have soared during the pandemic, which has shifted purchases to essentials and kept many smaller competitors closed.
Additional safety measures
Amazon and Walmart did not respond to requests for comment on Monday, but they have defended their practices in the past.
Walmart has changed how it is handling Black Friday discounts, offering the deals online and over several days to try to avoid crowding at its stores.
Amazon last month said nearly 20,000 people, or 1.4% of its staff, at Amazon and Whole Foods, the grocery store it owns, had tested positive for Covid-19 in the US since the start of the pandemic.
It said that was lower than would be expected given wider infection rates.
"All in, we've introduced or changed over 150 processes to ensure the health and safety of our teams, including distributing over 100 million face masks, implementing temperature checks at sites around the world, mandating enhanced cleaning procedures at all of our sites, and introducing extensive social distancing measures to reduce the risk for our employees," the company said.
More than 250,000 people in the US have died from coronavirus since the start of the pandemic. In recent weeks, case numbers, death rates and hospitalisations have soared, straining the health system and prompting many places to re-impose restrictions.
Some major retailers, including Amazon and Walmart, have posted strong results this year as many customers opted to buy online instead of venturing out to the local store.
A recent analysis by the Brookings Institute, a Washington think tank, found that company profits at 13 of America's biggest retailers increased by an average of 39% this year, while pay for frontline workers had increased by just $1.11 per hour - "a 10% increase on top of wages that are often too low to meet a family's basic needs".
Workers said they are well aware of the disparity.
"They closed the corporate office until July 2021 because of the virus meanwhile we're expected to keep risking our lives to pay for their big salaries," Ms Love said.