'Fear is the only thing that stops you. I had to give it a try'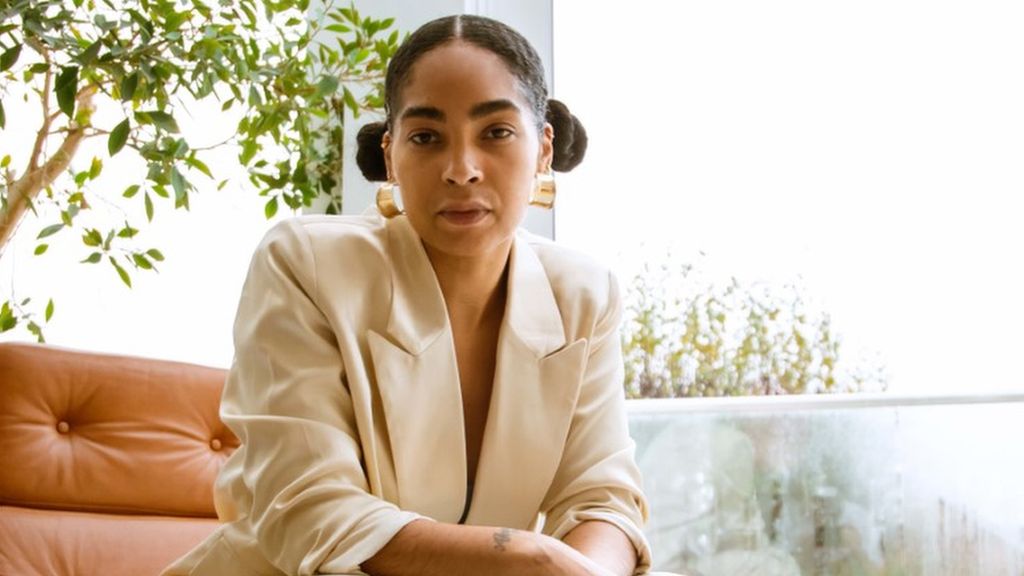 As part of our CEO Secrets series, which invites business leaders to share their advice, we are focusing on start-ups that have launched during lockdown, looking at different types of entrepreneur. This week, we hear from people who worked in the retail sector.
Tracey Curran, 33, started the year by landing her dream job: an assistant menswear buyer for online fashion retailer Asos.
Having previously lost her job in a similar role at Debenhams in 2019, when the department store went into administration, she felt her luck had turned.
But then in March coronavirus struck. Asos put Tracey on furlough, which lasted until June.
Tracey, who lives in Enfield, north London, has two young children, and a third on the way. Her husband was also furloughed.
She knew she was lucky to still have a job in that time and 80% of her pay, but still the experience left her feeling powerless - and restless.
Although she hadn't been in the job at Asos for long, she had quickly come to realise that the role was all-consuming, putting a strain on family life. "You'd go to bed with your head swimming with retail figures and projected sales," she remembers.
It occurred to her that if work was going to dominate her life, she'd rather it was her own company and vision, and began thinking about starting her own fashion label for women.
In October she took the plunge and left Asos to start her business, Sunday Archives.
The original designs come from her love of vintage clothes, inspired by old movies, fashion cuttings and her father-in-law, who she says has "some of the most amazing blazers I've ever seen".
Launching a fashion start-up during lockdown has been challenging.
Normally a designer would be face-to-face with fabric suppliers when explaining their visions and would visit the factories that will make their creations, but none of this has been possible.
Nevertheless, she will unveil her first collection in February.
To pay the bills in the meantime she took a zero-hours contract at an Amazon logistics centre and tops this up with work for Deliveroo.
"I know I had a job to go back to," says Tracey. "I'm mad, right? I know me and my family are suffering for this now, but I can see the end goal."
She thinks running her own business will make it easier to balance family and work life in the long run.
"It's been the most beautiful year for me, growing as a person," says Tracey.
"You see, I've realised that fear is the only thing that stops you, I can't go to my grave knowing I didn't give it a try."
The UK is in the midst of a "retail massacre", according to Prof Joshua Bamfield, director of the Centre for Retail Research.
Nearly 160,000 jobs have been lost in the sector since the start of the year (140,000 of those since the first lockdown), according to his organisation.
It also calculates there have been 15,443 actual and announced store closures this year, of both chains and independents. This figure will rise significantly when the likes of Debenhams, Edinburgh Woollen Mill and Arcadia Group reveal their plans, with a further 25,000 jobs at stake.
"We had zero online presence when Covid struck," says Kirby Bryant, 34, director of the Cambridge Wine Royston shop in Hertfordshire. In the course of the pandemic that situation turned on its head.
Her shop has been a successful business for more than 15 years - but it's always been very much a bricks-and-mortar affair that relies on good footfall, loyal customers and a steady stream of wholesale trade to pubs and restaurants.
When the first national lockdown was announced in March, Kirby and shop owner Lisa Pilgrim, 60, realised that they were in big trouble.
Although they were allowed to remain open as essential retail, they thought their tiny shop would endanger staff and customers who visited, so they closed their premises.
With no web presence, in order to keep trading they started taking orders by phone and email. Their six staff would deliver orders by car.
"Emails came piling in and at one point we were so busy we had to disconnect the phone," remembers Kirby.
After that first hectic week, Kirby's sister Carley built the wine company a website, which helped to streamline orders.
However, as lockdown drew on longer, the team had another idea. Why not start a new spin-off business that is completely online? The shop used to host drink tastings twice a month in-store, which were always popular. However, they had found that people often couldn't commit to specific dates and times.
So they launched a company called In House Tasting in June that posts out tasting kits for people to sample drinks at home. Customers are given access to a pre-recorded online video with a host, who is usually a local distiller.
The idea is you "drink along" to the video.
They created 100 tasting packs for their first experience and these sold out within two hours.
Kirby's advice for other business owners is: "Get feedback from people you respect, but know your vision, because people will try and pull you in different directions."
Victoria Gordon, 41, had worked as a sales assistant for the same High Street fashion retailer in Newcastle for a decade. She was put on furlough in March - shortly after, she lost her job.
She bears no ill will towards her employer and feels what happened to her may have been a blessing in disguise.
"With lockdown I started to look inwards," explains Victoria. "You look at what matters to you and for me it's making things."
Having studied textiles at university, Victoria started upcycling old bits of furniture during the first lockdown. She had inherited a sewing machine and other equipment from her grandmother, who had owned a haberdashery shop.
She then jumped on a new trend that emerged during the pandemic: sewing colourful face masks, setting up a business called HeartOfChard on the online craft-selling platform Etsy.
She found that people wanted personalised masks with friendly messages stitched on the outside for strangers to read, like a bright "Hello".
Some customers also wanted bespoke, private messages stitched on the inside of the mask. One woman ordered one for her mother, a lifelong Liverpool football fan, which read: "You'll never walk alone."
Victoria could barely keep up with demand by the summer, but soon the face mask market became saturated so she started to design other products.
"I'm making a sequined ornament that looks like a hand sanitiser that you can hang on the Christmas tree, embroidered with 2020 on it," she says.
"I still keep old baubles that remind me of Christmases from my childhood," says Victoria. She thinks one day people will want a memento to mark the Christmas of 2020, since it will be like no other.
Her advice to others is: "Don't see competitors as rivals, you should build connections with other similar businesses. Female creative entrepreneurs in particular have been great at sharing their highs and lows with me."