Uber sells off flying taxi unit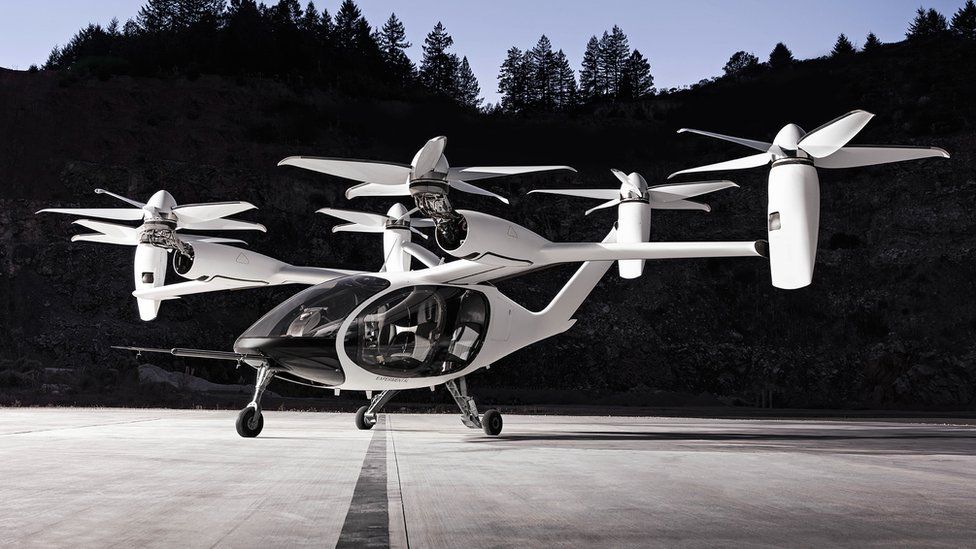 Ride sharing business Uber has sold off its flying taxi unit Elevate to California-based electric aircraft developer Joby Aviation.
Elevate is the second business Uber has sold off this week as the company seeks a path to profitability.
On Monday, Uber announced the sale of its self-driving unit to autonomous vehicle start-up Aurora.
Joby and Uber, however, described the latest transaction as an "expanded partnership".
"This deal allows us to deepen our partnership with Joby, the clear leader in this field, to accelerate the path to market for these technologies," Uber's chief executive Dara Khosrowshahi said in a statement.
Under the deal, Uber will also invest and additional $75m (£56m) in Joby Aviation.
Elevate began in 2016 and, until earlier this year, its team had promised the launch of flying taxi services in Los Angeles, Dallas and Melbourne in 2023.
Joby was a partner in Elevate before taking over the business, and the two companies said they would each integrate the other company's services into their own app.
"These tools and new team members will be invaluable to us as we accelerate our plans for commercial launch," said Joby founder JoeBen Bevirt in a statement.
Joby said its "zero emissions" aircraft will seat four passengers and will feature vertical take-off and landing.
It will have a range of up to 241km and a top speed of 321kmh, the company said.
The company is currently still testing the aircraft.
The latest move comes as Uber tries to cut costs in an effort to become profitable.
Although Uber had promised investors that it will achieve profitability by the end of 2021, the company still reported a $625m loss last quarter.
Uber was initially hit hard by the Covid-19 pandemic, with rides - its main source of income - plummeting by about 80% in April, before rebounding.
In order to reach profitability, the company has vowed to focus on its core ride-hailing and food delivery platforms, while cutting costs.
In May, the company said it would slash thousands of jobs, while closing or consolidating more than 40 offices.
In addition to selling off Elevate, Uber also sold off its driverless car subsidiary to Aurora Technologies on Monday, while taking a 26% stake in the driverless start-up.
Driverless technologies were once seen as a key priority for Uber, but the program has faced numerous setbacks.
One of its cars was involved in a deadly crash in Arizona, though officials blamed human error for the accident and declined to bring criminal charges against the company.
The driverless car unit was also tangled up in legal fights over allegations of technology theft.