Brexit: UK and Singapore sign free trade agreement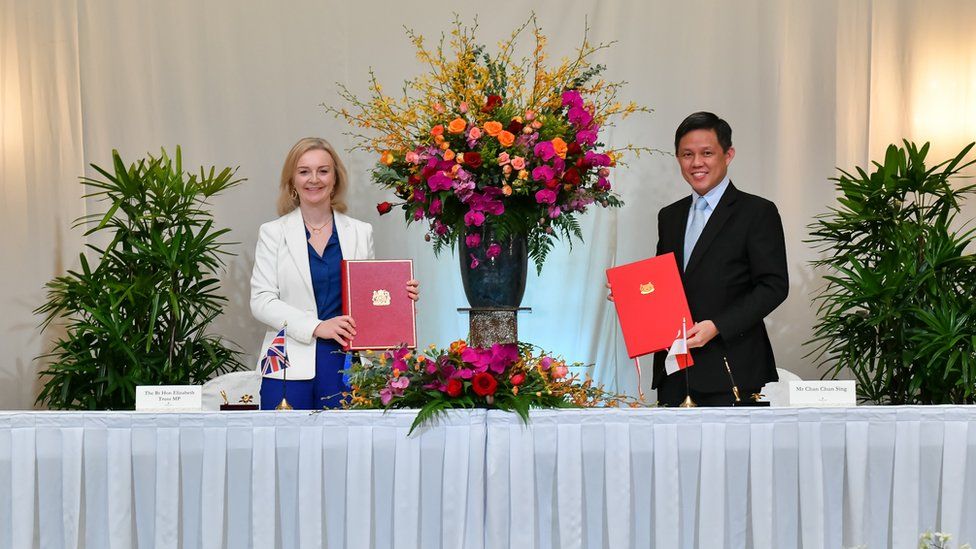 Singapore and the UK signed a free trade deal in the Southeast Asian city-state on Thursday.
The deal will cover a trade relationship worth more than $22bn (£17bn).
The agreement largely mirrors an existing deal between Singapore and the European Union (EU).
It is part of a broader set of trade negotiations for the UK, as it tries to replicate trade pacts which will cease when the EU transition period ends.
Britain's secretary of state of international trade, Liz Truss, and Singapore's trade minister, Chan Chun Sing, signed the deal at a ceremony in Singapore.
The deal comes as British Prime Minister Boris Johnson and the European Union's chief executive gave themselves until the end of the weekend to seal a new trade pact, following a three-hour dinner that left the two sides "far apart".
The agreement removes tariffs and gives both countries access to each other's markets in services.
It will also cut non-tariff barriers for electronics, cars and vehicle parts, pharmaceutical products, medical devices and renewable energy generation.
Duties will be eliminated by November 2024, the same timeline as the pact between the EU and Singapore.
"Beyond the significant benefits to our respective businesses, the (deal) is a strong statement against protectionism and nativism," said Mr Chan.
He added that it will be "crucial in ensuring a strong and resilient post-pandemic recovery for the world".
The deal will be important for Singapore, which counts Britain among its top trading partners for goods and services globally, and its top investment destination in Europe.
The agreement is also the UK's first with a member of the Association of Southeast Asian Nations.
The 10-country bloc is home to 650 million people and, prior to the pandemic, was a key growth region.
Although Singapore is a small country, it's a key financial and trading hub which serves as a regional headquarters for many multinationals operating in Southeast Asia.
Prawn dumplings and spicy anchovies are just some of the food products Singapore will be able to sell more of to the UK - and in return Singaporean companies will get a chance to bid for more government projects there.
But while both sides are keen to tout this deal as a success - it is effectively a rollover of the EU Singapore free trade agreement.
And it's not massively significant in terms of size and scale: Singapore accounts for just a fraction of the UK's total exports.
But what the deal lacks in size, it might make up in symbolism.
The two countries have always had strong historical links.
Singapore is a former British colony, and many in the city-state study in the UK or work there.
It's also a gateway for businesses to access the rest of the region.
As Brexit edges closer, the UK needs all the friends it can line up and time is running out.
While it was an EU member, the UK was automatically part of around 40 trade deals which the EU had with more than 70 countries.
In 2018, these deals represented about 11% of total UK trade.
So far, more than 20 of these existing deals have been rolled over and will start next year.
The UK also signed a trade deal with Japan in October, ensuring 99% of UK exports there will be free of tariffs.
Any country without a deal will trade with the UK under World Trade Organisation rules.