Four-day week means 'I don't waste holidays on chores'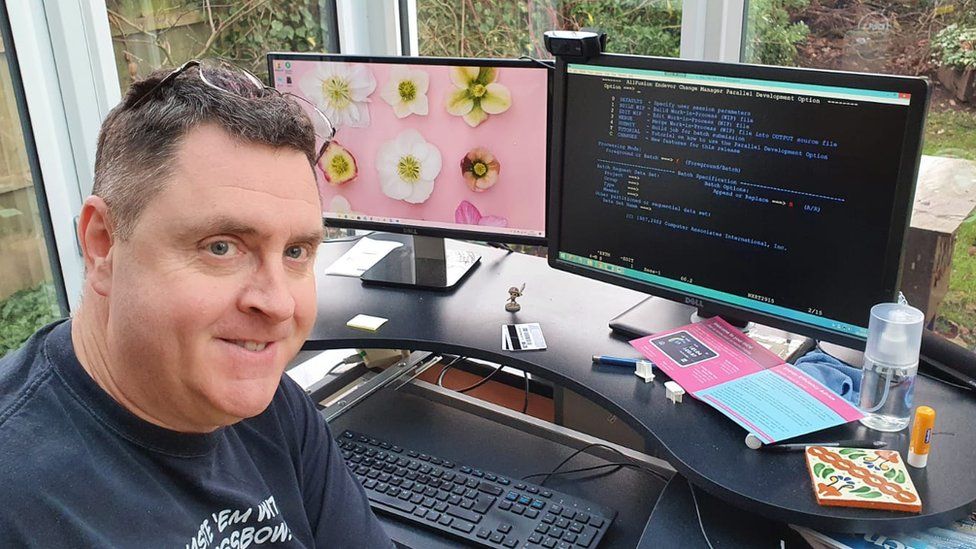 Phil, an IT worker in the Midlands, has worked a four day week for two years.
"I fit my 36 hours into those days, which works very well," he said.
"The biggest bonus is being able to schedule personal chores - those 'must be done on a week-day jobs' for the Friday, so I don't have to waste precious holiday on them."
Many firms are resistant to the idea of a four-day week but the think tank Autonomy, which looks at work-related issues, reckons it would work well.
It claims a reduction in hours would be entirely offset by increases in productivity and price increases, in the best-cases.
Even under the worst-case, a four-day week with no loss of pay would be affordable for most firms once the initial phase of the Covid-19 crisis has passed, it said.
However it warned that some firms in high-labour cost industries could experience cash flow problems if a four day week was implemented too quickly.
"For the large majority of firms, reducing working hours is an entirely realistic goal for the near future," said Will Stronge, director of research at Autonomy, which is campaigning for a shorter working week with no loss of pay.
He said the government should investigate ways of rolling out a four-day week, starting with the public sector.
While IT worker Phil has enjoyed working just four days a week, he conceded it has its challenges for workers.
"Days can be long, especially if something crops up that needs me to work until stuff is complete or can be left," he told the BBC.
"Also being on call can be a challenge, but it's nothing that's not fixable."
The best days are when he works from home, he said. "It means the working day isn't top and tailed with an hour each-way commute."
Alan Rae works in Switzerland for a tech start-up specialising in the Internet of Things.
"I work a four day week, or 80% job as it's called here in Switzerland," he told the BBC.
"Monday-Thursday is super productive, and I spend Friday with my children."
Alan's wife works a similar 50-70% of the working week, "which means we both get to have careers and spend full solo days with our children during the week. Weekends are longer too, which means we have a great work/life balance.
He, however, is technically part time. "The downside is I earn 80% of a 100% salary, but with my wife working too and us both sharing childcare, it works for us."
The Autonomy report believes four day working, properly arranged, is possible on full pay. It used profitability statistics drawn from a database of more 50,000 UK firms and simulated best- and worst-case scenarios regarding profit rates under a sudden imposition of a four-day week.
"By providing a hypothetical 'stress test', we can dispel any myths about the affordability of a four-day working week," said Mr Stronge.
"Any policy push will have to be carefully designed, and different strategies would need to be deployed for different industries," he said, adding that if it happened overnight, with no planning, most firms would still remain profitable.
"Covid-19 has thrown the world of work totally up in the air and we must take this opportunity to move away from the outdated and old ways of working," said Joe Ryle, a campaigner with the 4-Day Week Campaign.
"The four-day working week with no reduction in pay is good for the economy, good for workers and good for the environment. It's an idea whose time has come."