Neil Young sells song rights in '$150m' deal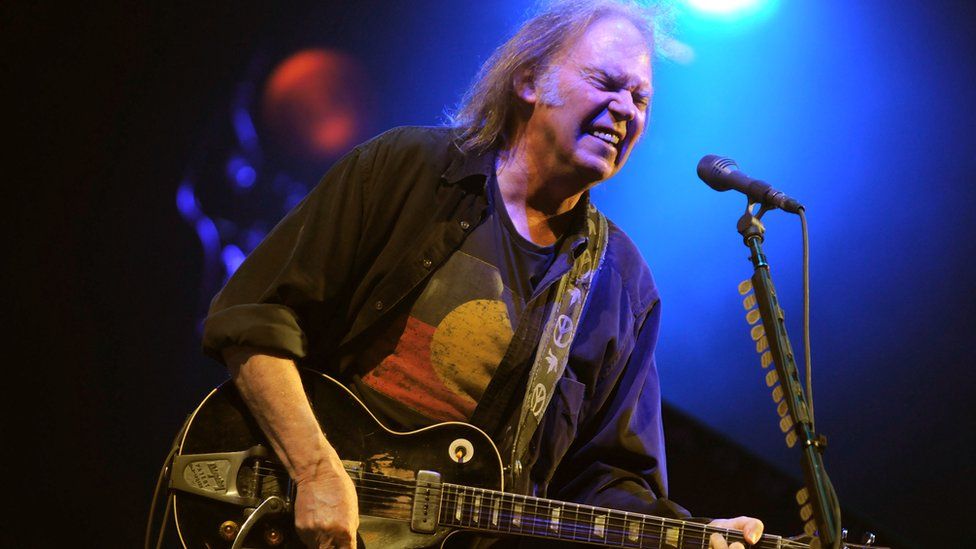 An investment firm has bought 50% of the rights to all Neil Young's songs.
Hipgnosis Songs Fund spent an estimated $150m (£110m) on 1,180 songs written by the Canadian folk rocker.
The fund, which lets people invest in hit songs, has previously splashed out about £1bn snapping up rights to songs from the likes of Mark Ronson, Chic, Barry Manilow and Blondie.
Founded by music industry veteran Merck Mercuriadis, Hipgnosis turns music royalties into an income stream.
"This is a deal that changes Hipgnosis forever," said Mr Mercuriadis.
"I bought my first Neil Young album aged seven. Harvest was my companion and I know every note, every word, every pause and silence intimately.
"Neil Young, or at least his music, has been my friend and constant ever since."
Hipgnosis has been listed on the London Stock Exchange since July 2018. When songs owned by the fund get played on the radio or placed in a film or TV show, it makes money.
Before setting up Hipgnosis, Mr Mercuriadis managed artists such as Beyoncé, Elton John, Iron Maiden and Guns 'N' Roses.
In his view, songs are "as investible as gold or oil".
He says hit songs are a stable investment because their revenue is unaffected by fluctuations in the economy.
The sale of song catalogues has become a booming business during the Covid-19 pandemic, with investors seeing music as a relatively stable asset in an otherwise turbulent market.
Earlier this week, Hipgnosis bought 100% of the rights to Lindsey Buckingham's 161 songs for an undisclosed amount.
The songs include hits that Buckingham wrote or co-wrote for Fleetwood Mac, including Go Your Own Way and The Chain.
The group's Stevie Nicks sold 80% of her publishing rights last year to Hipgnosis rival Primary Wave for about $80m.
Last month, Universal Music Group announced it had bought 100% of Bob Dylan's 600 songs for between an estimated $200m and $450m (£150m-£340m).
The singer-songwriter was the latest of a number of artists to join up with the Los Angeles-based Universal, following other big names such as Bruce Springsteen, Billie Eilish, Kendrick Lamar and Post Malone.
Neil Young rose to prominence in the 1960s and 70s and is one of the most influential songwriters of all time.
He is known not only for his work as a solo artist, but also with the bands Buffalo Springfield, Crazy Horse and Crosby, Stills, Nash & Young.
Young has released almost 50 studio albums and more than 20 live albums, of which 18 have been certified gold, seven are platinum and three are multi-platinum.
Seven of his albums were included on Rolling Stone Magazine's 500 Greatest Albums of All Time chart: Everybody Knows This is Nowhere, After The Gold Rush, Déjà Vu (with Crosby, Stills, Nash & Young) Harvest, On The Beach, Tonight's the Night and Rust Never Sleeps.
"I built Hipgnosis to be a company Neil would want to be a part of," said Mr Mercuriadis.
"We have a common integrity, ethos and passion born out of a belief in music and these important songs.
"There will never be a 'Burger of Gold', but we will work together to make sure everyone gets to hear them on Neil's terms."