Covid-19: China's economy picks up, bucking global trend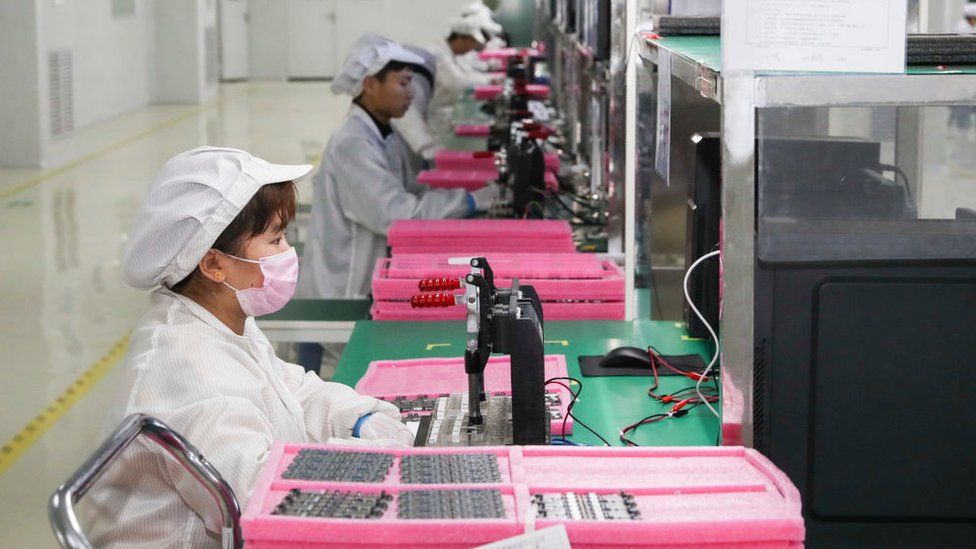 China's economy grew at the slowest pace in more than four decades last year, official figures show, but remains on course to be the only major economy to have expanded in 2020.
The economy grew 2.3% last year, despite Covid-19 shutdowns causing output to slump in early 2020.
Strict virus containment measures and emergency relief for businesses helped the economy recover.
Growth in the final three months of the year picked up to 6.5%.
"The GDP data shows the economy has almost normalised. This momentum will continue, although the current Covid-19 outbreak in a couple of provinces in northern China might temporarily cause fluctuation," said Yue Su, principal economist for the Economist Intelligence Unit.
China's mainland share markets as well as Hong Kong's Hang Seng posted modest gains on the latest figures, which exceeded economists' expectations, according to a Reuters poll.
However, Covid-19 was still a major drain on growth in 2020, with nationwide shutdowns of factories and manufacturing plants forcing economic growth down to its slowest rate for four decades.
China's manufacturing sector appears to have recovered, with Monday's data showing a 7.3% increase in industrial output.
Exports have also led the way. Data last week showed Chinese exports grew by more than expected in December, as coronavirus disruptions around the world fuelled demand for Chinese goods.
That is despite a stronger yuan, which makes Chinese exports more expensive for overseas buyers.
China's economy has seen a strong rebound, while the rest of the world struggles with anaemic demand, millions of job losses, and businesses shutting down.
China's economic engine roared back to life after a brutal lockdown that saw the Chinese economy contract by a historic 6.8% in the first quarter of 2020.
We should always be circumspect about Chinese data - with the usual caveat that the trajectory of the data rather than the figures themselves are a useful guide to how China's economy is growing.
What these numbers show is that China's strategy of locking down cities hard and quickly has worked.
A combination of government-led investment and global demand for Chinese goods also helped to power a rapid recovery, and boost exports.
Still - this is the lowest rate of annual growth in more than 40 years for the economic giant. Worries over a resurgence of the virus are also clouding China's growth outlook, with consumer demand still weak.
And Beijing is trying to navigate a prickly trade relationship with the US, with the incoming administration unlikely to be softer on China than President Donald Trump.
All of these challenges will no doubt weigh on Chinese growth in 2021 - but they seem to be in a better place than the rest of the world's major economies.
It was not all good news from the latest figures.
Li Wei, a senior economist at Standard Chartered Bank, said pandemic-related exports and credit-fuelled car and housing sales accounted for much of the growth, while domestic demand lagged behind.
"Domestic household consumption of food, clothing, furniture and utilities remains below pre-pandemic levels, while the hospitality and transportation sectors continue to face capacity and travel restrictions," he told Reuters.
Although retail sales grew by 4.6% in the fourth quarter of 2020, they fell by 3.9% for the year.
Many analysts are tipping growth to accelerate in 2021, but the China Bureau of Statistics has warned of a "grave and complex environment both at home and abroad", with the pandemic having a "huge impact".
China still faces many challenges, including continuing trade tensions with the US and how they might play out under the administration of President-elect Joe Biden, who takes office later this week.