Google says goodbye to giant internet balloons idea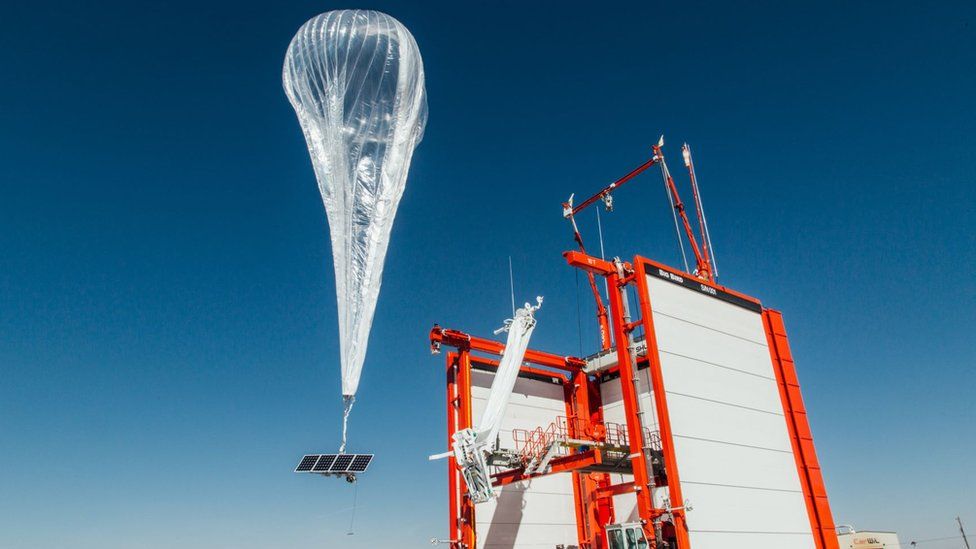 Google's parent-company Alphabet is scrapping a company set up to build giant balloons to beam the internet to rural areas.
Loon was a long-term experimental bet from the tech giant's "X" business unit.
But it failed to get costs low enough to make it sustainable, its chief executive said in a blog post on Thursday announcing the winding-down.
The balloons were the size of tennis courts and self-navigating.
"While we've found a number of willing partners along the way, we haven't found a way to get the costs low enough to build a long-term, sustainable business," Loon chief executive Alastair Westgarth wrote.
"Developing radical new technology is inherently risky, but that doesn't make breaking this news any easier. Today, I'm sad to share that Loon will be winding down."
Loon was set up nine years ago but has struggled to make a profit from bringing the internet to remote places via high-altitude balloons.
"The arc of innovation is long and unpredictable," Mr Westgarth added in the blog.
The scrapping of Loon comes one year after Alphabet shut down another experimental business called Makani, which provided wind power from gigantic kites.
These were part of a wave of eye-catching projects that helped to forge Google's image as one of Silicon Valley's most ambitious tech companies.
Technology experts said one of the problems with Loon was that many people in rural areas couldn't afford the 4G phones that Loon required or weren't interested in getting access.
However, Loon wasn't a total failure as it signed a major deal with a Kenyan telecommunications company, Telkom, to bring 4G to remote parts of the country.
In 2017, it helped bring internet connectivity to Puerto Rico after Hurricane Maria destroyed the island's telecommunications infrastructure.