Working from bed: 'I don't even have to get dressed'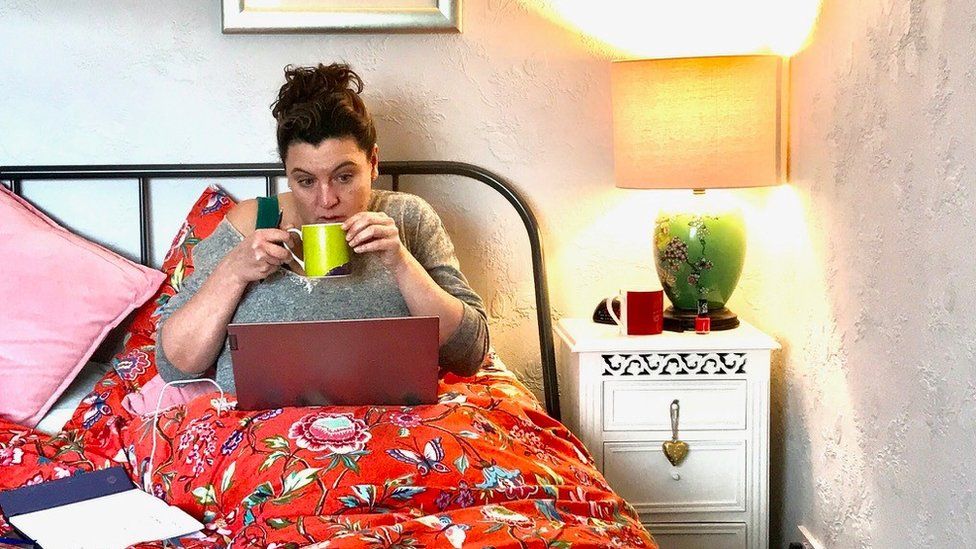 Some mornings Susan Booth, a property developer in Yorkshire, doesn't bother getting dressed.
Instead, she makes herself two cups of tea (to save going up and down the stairs for more) pulls on her favourite baggy grey jumper and, laptop at the ready, watches through the window as the sun rises over Swaledale.
Ms Booth, who until last March worked full-time in an office, but now works for herself, never stays in bed longer than a few hours. Once she's had her sixth cup of tea she knows its time to get up and get on with the rest of the day.
Maybe it's because it's deep mid-winter, and we're all finding it a struggle to drag ourselves out from under the covers already.
Maybe it's that after 10 months of working, living, learning-from-home, we've had enough of every other room in the house (or because your kids are hogging the kitchen table). But working from your bed seems to be in vogue.
A rash of newspaper articles suggest that we're buying "over-bed" tables and pillows to prop ourselves up.
Online retailer Etsy said there has been a 606% increase in searches for laptop stands compared with last year and a 347% rise in laptop tray searches, the Times newspaper reported.
On social media we're confessing to curling up with the cat on the eiderdown, with laptop, phone and notebook to hand. Almost 10,000 people have used the hashtag #workingfrombed on Instagram.
Another fan of staying tucked up is film maker Stephen Robert Morse.
"I love it," he says "I don't want to get out of bed, so I don't have to."
Since the pandemic started, this is where the New Yorker, now based in London, does most of his work. He can reach the kettle, he checks his email, answers messages, then moves on to previewing film footage or thinking about musical scores.
There may be little more than a pair of boxers between Mr Morse and his duvet, but that doesn't give him pause.
"I've definitely closed deals in bed." he says. "I've definitely talked to lawyers in bed. I've definitely had some pretty intense negotiations from bed."
And neither he nor Ms Booth find it stops them getting things done. On the contrary.
Over the past year Mr Morse's production company, Lone Wolf Studios, has finished two films started before the pandemic and he's hoping to start filming again soon.
"I'm an Olympic standard procrastinator," Ms Booth says.
"If I have something that needs my whole attention, I find bed is a good place. I'm not side-tracked by the laundry or putting the dishwasher on. It's a good place to really focus."
The morning she spoke to the BBC she had picked out a bathroom suite for a property - it needs to fit both the space available and the budget - while sitting in bed.
On the other hand, plenty of health practitioners from osteopaths to sleep experts sound the alarm over this new trend.
"If you have a good relationship with sleep then it's a probability you are going to feel more relaxed and comfortable in your bed which is a good thing in the short term," says Sophie Bostock, founder of The Sleep Scientist.
But over time it can undermine your ability to sleep well, she points out.
"If you don't have a good day at work you start to change your associations with your bed as being about stress, deadlines, an awkward conversation with your boss.
"The positive relationship you used to have can be displaced by a relationship with work. Then when you go to bed those frustrations, thoughts, can start to invade your nights."
Ms Bostock always sticks to the rules: "My bedroom is for sleeping and sex but nothing else."
But then she's lucky she admits, that there's room at home for her to choose a different room to work in.
"Some people have no choice. Then it's a matter of how can you psychologically make a separation between your sleep zone and work zone," she says.
She suggests throwing a different coloured bedcover over the bed, changing the lighting, or swapping with your kids - letting them study in your bedroom while you work in theirs. If you have to work in your bedroom, ideally, bring in a desk and put it under the window, she adds.
But that could meaning missing out on some distinct advantages of working from bed, argues Stephen Morse.
When he's up and about he has a tendency to "jump into things too early" he says, cutting other people off with his thoughts. He's a better listener, he reckons, with his head on the headboard and his legs outstretched.
"At a desk you're very rigid. Maybe that creative edge can come through in bed. You think more clearly when you're calm."
There's certainly a vein of thought that says having a nap, another thing Stephen readily admits to, can boost creativity. And Ms Bostock agrees that sometimes, especially if you're a sleep deprived shift worker or parent of young children, what used to be known as a "power nap" can be just the rejuvenation you need.
"If you need to be alert then 15 minutes gives you lighter levels of sleep, but you don't fall into deep sleep," she advises. "The short nap gives improvement in mood and cognition, but not the deep sleep that gives sleep inertia. When you wake up after 40 minutes deep sleep it could take hour to feel alert."
It's not just us, cooped up in the pandemic either, turning to our beds in extremis. The habit has a long and illustrious history.
The Mexican painter Frida Kahlo, produced masterpieces in hers. American writer Truman Capote claimed he "couldn't think if he wasn't lying down".
Louis XIV of France converted the drawing room at the palace of Versailles into a bedchamber, and gave audiences to dozens of people each day from bed.
Prime Minister Winston Churchill dictated letters propped up on the pillows. And eminent Victorian Florence Nightingale spent nearly half a century bed-ridden yet developing hospital policy from her chamber.
Yet it still isn't wholly respectable. You'd still hesitate to tell your boss you were tuning in for the nine o'clock meeting in your pyjamas.
In fact this could be part of the attraction, Stephen confesses.
"I love being an American in the UK, I love breaking the rules. You have too many rules. When you don't hurt anyone and it's legal you should break rules."