UK firms told 'set up in EU to avoid trade disruption'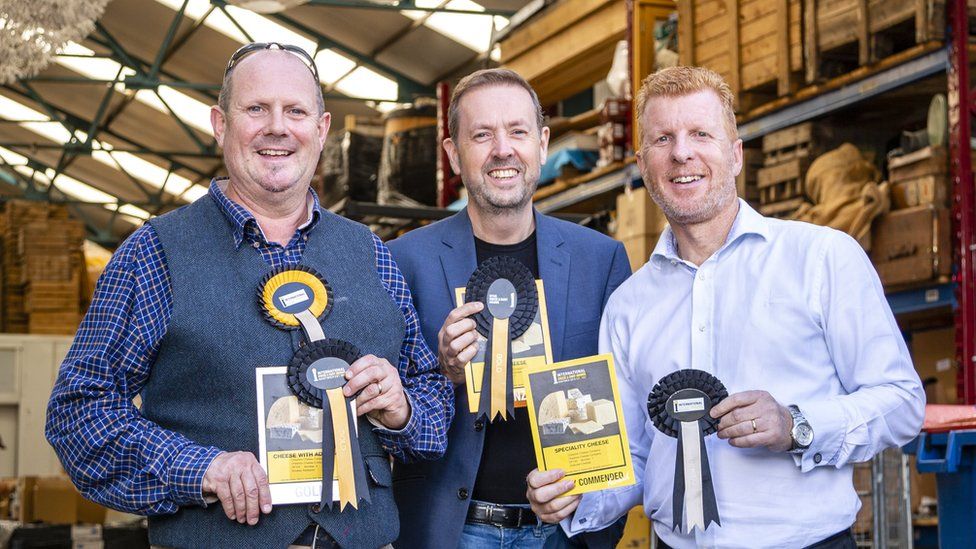 UK firms that export to the EU say they are being encouraged by the government to set up subsidiaries in the bloc to avoid disruption under new trade rules.
Firms have been hit by extra charges, taxes and paperwork, leading some to stop exporting to the EU altogether.
But several say they have been told that setting up hubs in Europe would minimise the disruption, even if it means moving investment out of the UK.
The Department for International Trade said it was "not government policy".
"The Cabinet Office have issued clear guidance, available at www.gov.uk/transition, and we encourage all businesses to follow that guidance."
The Cheshire Cheese Company said it had been advised by an official to set up in the EU after it was forced to stop its exports to the bloc due to trade rules that came in on 1 January.
The firm, which sold £180,000 of cheese to the EU last year, found that every £25-30 gift box of cheese it sends to consumers on the Continent now needs a veterinary-approved health certificate costing £180.
"I spoke to someone at the Department for Environment, Food and Rural Affairs for advice. They told me setting up a fulfilment centre in the EU where we could pack the boxes was my only solution," co-founder Simon Spurrell told the BBC.
The firm, which had been optimistic about Brexit, is now looking at setting up a hub in France where it would "test the water".
But it has also scrapped plans to build a new £1m warehouse in Macclesfield employing 20-30 people.
"Instead we might end up employing French workers and paying tax to the EU," Mr Spurrell said.
"I left the EU as a UK citizen but now they are suggesting I rejoin my company to the EU, so what was Brexit for?"
The issue, he said, was that the under the post-Brexit trade deal, a vet must approve every consignment of fresh food that his company ships to the EU.
UK retailers who export to the EU have also complained about being hit with unsustainable costs when customers in the bloc return goods bought online. This is due to new customs clearance charges incurred by shipping firms.
Some retailers have even warned they could burn clothes stuck at borders as it is cheaper than bringing them home.
Ulla Vitting Richards, who runs her sustainable fashion brand Vildnis from the UK, told the BBC last week she had stopped exporting to the EU, which was her fastest growing market, because of the new processes.
She also said that she had been advised - this time by a Department for International Trade (DIT) representative - that setting up a subsidiary distribution hub might help.
"He told me we'd be best off moving stock to a warehouse in Germany and get them to handle it," she said.
However, experts say EU firms exporting to the UK - which currently enjoy a grace period over the imposition of some rules - will soon face the same issues.
The DIT said it was not government policy to advise UK firms to set up EU hubs and that it was "ensuring all officials are properly conveying" the right information.