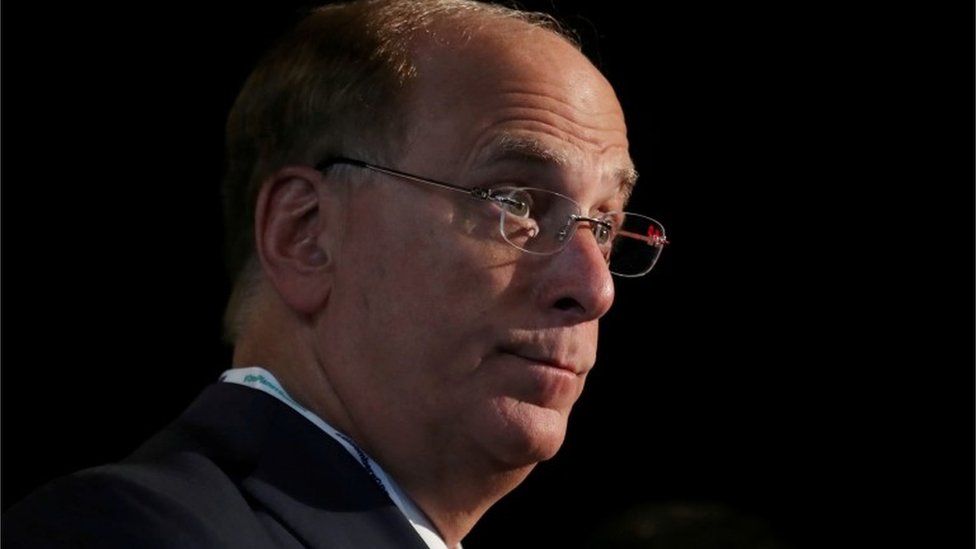 The pandemic has exacted a terrible toll on human life and livelihoods. It is hard to see how anything that could possibly be described as positive could come out of such a devastating crisis.
But the world's biggest money manager suggests there may be one.
Blackrock manages $8.7 trillion dollars of savers' money. It is probably the most influential financial firm in the world.
"I believe that the pandemic has presented such an existential crisis - such a stark reminder of our fragility - that it has driven us to confront the global threat of climate change more forcefully and to consider how, like the pandemic, it will alter our lives."
He argues this is not just talk: you can measure it and that it has accelerated a re-allocation of global capital towards environmentally sustainable businesses.
When the pandemic hit, investors ran to the hills. They dumped their shareholdings and turned them into cash. The Dow Jones index of the biggest companies in the US lost 10,000 points, nearly a third, in a matter of days.
The stock market has rebounded as investors look hopefully to a post-pandemic world - their moods enhanced by enormous amounts of emergency financial drugs such as money printing and massive government borrowing and spending.
But when the investors came out of the hills they came down a different route - investing in different companies than they ones they used to own. Larry Fink notes that investors pumped $288bn globally in sustainable assets, a 96% increase over the whole of 2019.
Managing people's money is not a camp fire sing song. You need to deliver results or the pension funds will take their money elsewhere.
Here again, Larry Fink insists you don't have to sacrifice a good return for a clean planet and a clear conscience. The value of companies with better environmental, social and governance profiles increased faster than others during 2020.
A lot of this may be dismissed as "greenwash" - tokenistic attempts on the part of businesses to keep the money coming.
It's also true that Blackrock invests hundreds of billions in "index trackers", which mean they will have a holding in a company as long as it is in a big global index - like the FTSE 100, which is chock a block with oil, gas and mining companies from which an independent sustainable investor would recoil.
Some of the sustainable investment outperformance may also be due to it being the new look you have to copy to look current.
However, all businesses go bust unless they go where their customers tell them to go. Last week, the Church of England dumped shares in FTSE stalwart BP despite the new bosses pledges to make the energy company carbon neutral by 2050.
Big UK money managers like Legal & General and Aviva have their own lists of companies they will not invest in, and report that investing attitudes on the part of their customers are moving fast.
It has proved irresistible for governments around the world to promise they will "build back better" - it may also prove hard to resist the yearning to return to what we had before - and if cheap oil for example helps us do that then so be it.
But when the man with the $9 trillion purse strings speaks direct to company chief executives, they tend to listen. And Larry Fink says the pandemic has kicked in a window that was already ajar - a chance for capitalism to reappraise where its headed.