GameStop: Meet the amateur traders fighting Wall Street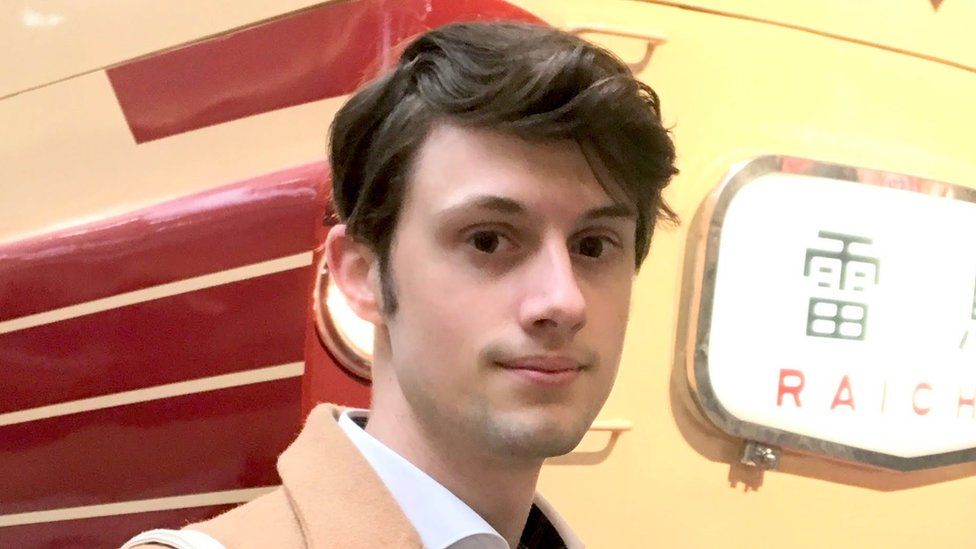 Until the start of the pandemic, it had never occurred to Alex Patton that he could become an amateur trader.
But now, in the wake of the GameStop shares frenzy, he is something of an unlikely veteran of the financial markets.
"Before Covid struck, I didn't know the first thing about investing," says the 28-year-old railway cyber-security engineer, of Kingston upon Thames, south-west London.
But after the stock market took a bad tumble in March last year and dealt his pension savings a blow, he decided that he should, as he puts it, "take a more active role in managing my money".
As a dual national with British and American citizenship, he had no difficulty in setting up an account with US trading platform Robinhood, which has found itself at the centre of the GameStop furore.
And, encouraged by friends, he started checking out Reddit's chat thread wallstreetbets.
"I thought, 'This is crazy,'" he told the BBC. "Lots of people losing lots of money."
"I didn't give it much thought until my friend said, 'You should check out GameStop.' And I realised that some of the people on Reddit do some really impressive work in researching those stocks."
Major hedge funds had bet billions of dollars that GameStop's shares would fall. And some of the research on Reddit indicated that positions taken by short-sellers accounted for more than 100% of existing GameStop shares, Alex says.
"People had done research showing what a risky position those hedge funds were in. And we thought, 'We can exploit that. This is an opportunity.'"
In the ensuing mania, amateur investors drove up the share price by more than 700% in a week.
Alex did well out of the deal, investing $1,000 in GameStop shares and making $2,000 profit on top of that. But he was one of the fortunate ones who got out in time.
"The theory was that as the price continued to go up, the people who shorted the stock would be forced to buy those shares at whatever price to close their short," he says.
But as the activity drew regulatory attention this week, retail investors found themselves suddenly shut out by their trading platforms, unable to keep buying shares in GameStop and certain other companies.
"They assume we retail investors can't manage our risk, whereas hedge funds have taken a huge risk, an unbelievable risk, and they're just allowed to carry on, business as usual," says Alex.
Although Alex emerged financially unscathed, he is still smarting at what he sees as injustice.
"There's a huge gap between ordinary middle-class, working-class people versus hedge funds that have billions," he says. "Other people are hurting from this a lot more than me."
Eighteen-year-old Myron Sakkas,of Coventry, who is studying at Warwick University, lost £30 on GameStop shares, which he owned for "a couple of hours" and sold when he saw what was happening.
He has had an account on the Trading 212 platform since August last year and is hoping to go into investment banking after he gets his degree.
But for now, he is disillusioned by what he sees as "market manipulation" directed against people like him.
For him, there was a definite target in the GameStop share wars: as he puts it, "the people that were responsible for [the financial crisis of] 2008 and were never held responsible".
"We understand that there are risks, but this wasn't an actual crash. It was caused by people protecting corporate interests and normal people lost again.
"When ordinary people try to make money in a system where only rich traders can make money, that's what happens," he told the BBC.
"They support a capitalist free market only when it works for them. What we saw today was not a free market and it forced an awful lot of people to lose an awful lot of money."
Myron says he has been locked out of his account and is unable to use it while his identity is being checked. But when he gains access again, he plans to take out the £1,000 he has in it and call a halt.
"Maybe I won't trade for a while, to be honest," he says. "I've got other stuff to do."
On social media, investors rallied their fellow traders, urging them to hold onto shares to avoid further losses, while attacking the platforms for the restrictions.
Melissa Holdren, a 43-year-old nurse who lives in the US state of Massachusetts, was so angry about the clampdown by the trading platforms that it spurred her to buy into one of the companies affected.
She used her account at Fidelity, a major brokerage known for its mutual funds, to purchase about $500 worth of shares in AMC Entertainment, which like GameStop has had its share purchases restricted by some brokerages.
It was a first for the 43-year-old nurse, who has always relied on big companies to manage her retirement investments for her.
"I find it very questionable that a private corporation could one-way block the purchases of stock," she says. "It doesn't seem right. If you're worried about market volatility why are you only blocking one side of the transactions?"
Melissa, whose grandfather made his living as an independent stock trader, says she knows she could lose money if AMC's stock falls. But she is hoping her small investment will help the AMC movie theatre chain survive - while taking a stand against Wall Street.
"In general we need to rethink a lot of our financial structures," she says.
"After the 2008 crash... it became made it clear that a lot of the financial market was divorced from reality in a way that I don't think is healthy", she said.
"To be specifically concerned with what's going on on Reddit right now and not be concerned about that larger picture I think is specious."