Covid: Two tests for all UK arrivals during quarantine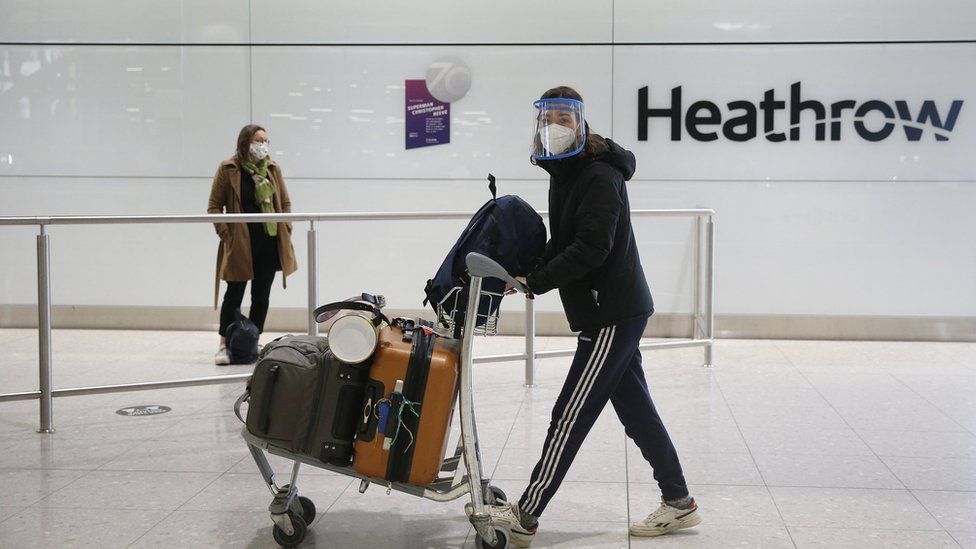 All travellers entering the UK will be required to take two coronavirus tests while quarantining in an attempt to prevent variants entering the country.
Arrivals will be required to get a test on days two and eight of their 10-day quarantine period, whether they are isolating at home or in a hotel.
The Department of Health said the move would enable authorities to track new cases more effectively.
Health Secretary Matt Hancock will set out more details in the Commons later.
It is in addition to the current rules which require travellers arriving in the UK - whether by boat, train or plane - to show proof of a negative Covid-19 test to be allowed entry.
This test must be taken in the 72 hours before travelling, and anyone arriving without one faces a fine of up to £500, with Border Force officials carrying out spot checks.
Travellers must provide contact details and their UK address. They can then travel - by public transport if necessary - to the place where they plan to self-isolate.
The new testing policy comes amid concern about new variants entering the country that are more resistant to existing vaccines.
Prof Andrew Pollard, director of the Oxford Vaccine Group, told BBC Radio 4's Today programme the results were "expected" because the virus is "introducing mutations... to allow it to still transmit in populations where there's some immunity."
"As long as we have enough immunity to prevent severe disease, hospitalisations and death, then we're going to be fine in the future in the pandemic," he said.
On Monday, England's deputy chief medical officer, Prof Jonathan Van-Tam, said the South African variant did not appear to have a "transmissibility advantage" over the one first identified in Kent, which has spread across the UK.
It was therefore unlikely to "overrun" the Kent variant, he told Monday's coronavirus briefing.
From 15 February, UK residents and Irish nationals arriving from certain countries will have to quarantine in hotels.
Passengers will have to stay in their rooms for 10 nights, with security guards accompanying if they go outside.
The rules will apply to UK nationals and residents arriving from 33 "red list" Covid-19 hotspots - mostly in South America and Africa - where it's feared Covid variants may have already spread. Passengers will be expected to pay for the cost of the accommodation.
Non-UK travellers who have been in these countries in the 10 days before travelling are banned from entry.
The "test to release scheme" - where travellers from non-red list countries can leave home isolation after a negative test on day five - will remain under the new testing rules.
Passengers will be expected to use the gold-standard and more expensive PCR tests.
Derek Jones, chief executive of luxury travel company Kuoni, welcomed the testing plan.
"As we have said all along, a robust testing regime is the way to open up travel again but it has to replace or at least shorten quarantine," he said.
'Guesses about the unknown'
It comes as Prof Van-Tam warned it was too soon to say to what extent people could begin to start planning summer holidays.
Speaking at Monday's coronavirus briefing, he said: "The more elaborate your plans are for summer holidays, in terms of crossing borders, in terms of household mixing, given where we are now, I think we just have to say the more you are stepping into making guesses about the unknown at this point," he said.
"I can't give people a proper answer at this point because we don't yet have the data. It is just too early to say."
Work that cannot be done from home
Medical appointments
Educational reasons
People leaving England will soon have to make a declaration on why they need to travel, which will be checked by carriers prior to departure.
Have you recently travelled into the UK? What was your experience at the UK border?
Speaking about the new testing plans, a Department of Health and Social Care spokesman said it was "important the government continues to take the necessary steps to protect people and save lives".
He added: "Enhancing our testing regime to cover all arrivals while they isolate will provide a further level of protection and enable us to better track any new cases which might be brought into the country, and give us even more opportunities to detect new variants."