Holiday giant Tui bets on summer bounce back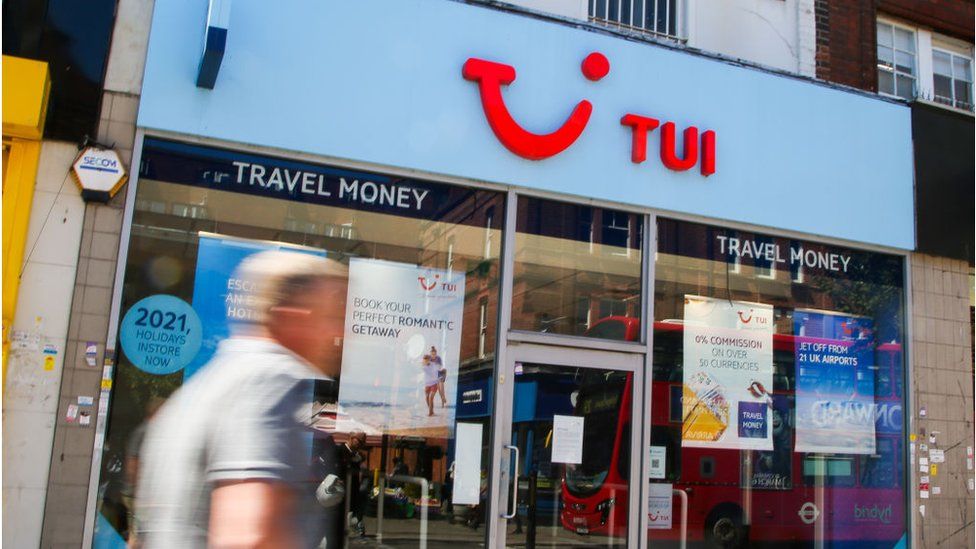 Travel company Tui has said it expects to run 80% of its normal capacity for this summer, with 2.8 million customers already booked for its holidays.
The statement follows optimism from other travel firms that the industry is set for recovery as coronavirus vaccination programmes advance.
Despite the upbeat mood, summer bookings for 2021 are down 44% so far compared with last year, the firm said.
Boss Fritz Joussen said the UK market had "a special significance" for Tui.
"We see an impressive pace and ambitious targets for vaccinations there."
He added: "We should do everything we can to quickly return to basic freedoms and make travel possible again."
Average prices for holidays are 20% higher than for summer 2019.
Although demand for breaks appears to be building, England's deputy chief medical officer, Prof Jonathan Van-Tam, said on Monday it was "too early to say" whether people would be able to have holidays as normal this summer.
Tui's predictions for the summer season came in a trading statement that underlined the scale of the collapse in the tourism market due to Covid curbs.
The firm's winter bookings fell 89% compared with a year ago, with November and December hardest hit.
Income in the three months to the end of 2020 fell 87.8% year-on-year, from €3.86bn (£3.4bn) to €468.1m.
"With strict cost discipline and the realignment of the group, which is being driven forward at full speed, we succeeded in reducing the loss in the past quarter," Mr Joussen said.
"As expected, customers will book their summer holidays much later this year than in normal years. However, demand remains strong, people want to travel - this is shown by the already good number of bookings for the summer."
Tui also disclosed that it had agreed a third coronavirus financing package with banks, shareholders and the German government's Economic Stabilisation Fund, created to support companies hit by coronavirus.
This raised €1.8bn, including €500m from shareholders in a rights issue, which it hopes will tide it over until conditions improve.
"The travel sector has been hammered by the global coronavirus pandemic, with revenues falling off a cliff-edge as travel restrictions have scuppered any holiday plans for consumers," said Julie Palmer, partner at Begbies Traynor.
"Investors will be eager to see if vaccinations can give the business the shot in the arm it desperately needs, having already secured three bailouts from the German government.
"Regardless, Tui needs to reduce its costs and take advantage of the millions of consumers desperate to go on holiday as soon as the restrictions are eased."