US Treasury: Yellen warns of 'explosion' of cybercrime risk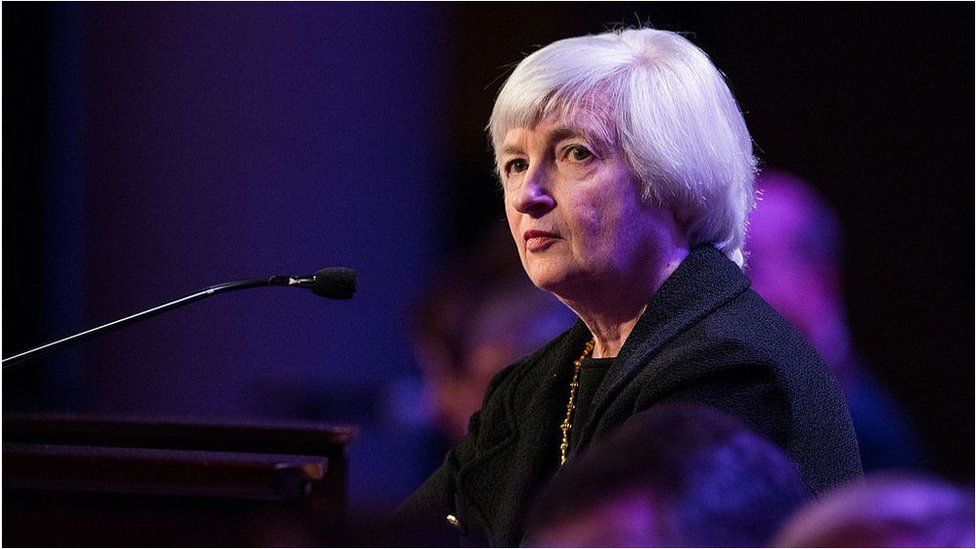 US Treasury Secretary Janet Yellen has warned of an "explosion of risk" from criminals using digital technologies.
The Covid-19 pandemic has made the problem worse, because it has moved more crime online, she said on Wednesday.
Ms Yellen told a US Treasury roundtable that cryptocurrencies held promise, but were too often used for crime.
However, she said new financial technologies could help fight crime and also reduce inequality.
"We're living amidst an explosion of risk related to fraud, money laundering, terrorist financing, and data privacy.
"As the pandemic has moved more of life online, crime has moved with it. We're seeing more – and more sophisticated – cyberattacks aimed at institutions that hold up our society: hospitals, schools, banks and even our government," she said.
The former Federal Reserve Bank chair also warned of the misuse of cryptocurrencies and other virtual assets.
"I see the promise of these new technologies, but I also see the reality: cryptocurrencies have been used to launder the profits of online drug traffickers; they've been a tool to finance terrorism," she said.
Ms Yellen vowed to modernise the Treasury's approach to dealing with financial crimes.
Ms Yellen said financial technology (fintech) should also be used to address persistent inequality in the US.
She said Covid-19 had exposed massive inequality, which she described as "one of the worst subplots of this pandemic".
Ms Yellen said policymakers need to address "broadband deserts" where access to high-speed internet is patchy, and also "financial services deserts".
"Just as much as we need responsible innovation, we also need equitable innovation; tools that can help bring the benefits of the financial system and modern IT to more people," she added.