Wetherspoons calls for pubs to reopen 'to save jobs'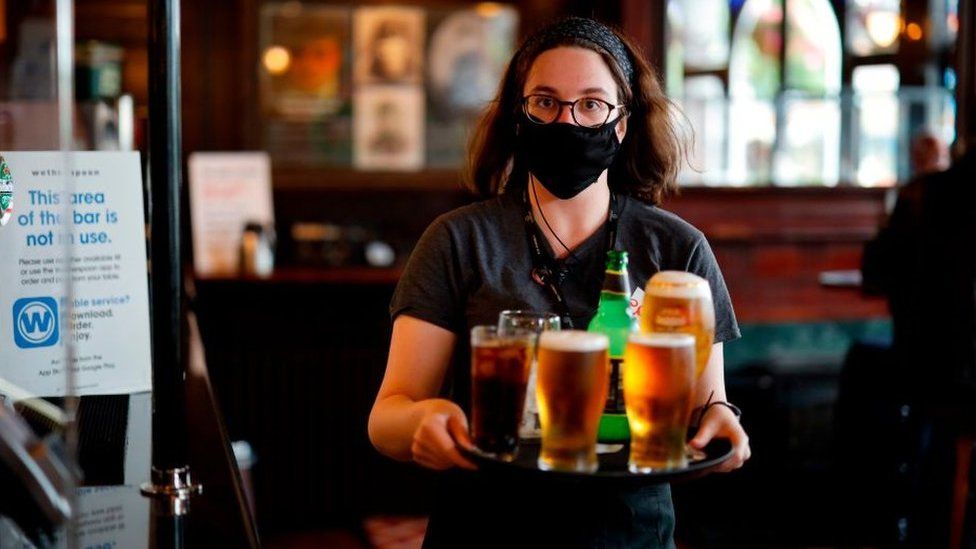 The chairman of JD Wetherspoon is calling for pubs to reopen at the same time as non-essential shops.
Tim Martin warned that the pub industry was "on its knees" and needed to reopen to save jobs.
He said pubs made a massive contribution to the economy, with the Wetherspoons chain paying about £10 of tax for every pound of profit it made.
His call comes after the boss of rival pub chain Young's said pubs should be reopened by April.
Pubs, bars and restaurants across most of the UK are currently closed, although they can offer takeaway food and drink within certain restrictions. Scientists have said talk of reopening them is premature.
But Mr Martin argued that pubs and restaurants were "Covid-secure environments", having invested in safety measures such as plastic screens in front of tills, table service-only and floor markings to illustrate one-way systems around pub venues.
"Surely it is possible for the hospitality industry to reopen at the same time as non-essential shops, now that a vaccine exists, on the basis of the social distancing and hygiene regulations," he said.
He also suggested that various lockdown measures imposed on pubs since March last year could spell a "disaster" for the public finances.
In the financial year to July 2019, before the coronavirus crisis started, JD Wetherspoon, its customers and employees generated £764m of taxes, he said.
"The amount of tax paid by Wetherspoon is replicated, according to the size of the company, throughout the pub industry, and shows just how important pubs are to the economy," he said.
He said major pub chief executives, including himself, were leaving an industry forum set up by small business minister Paul Scully. He declined to name the executives.
He said the industry needed a "road map" to reopening with social distancing restrictions in place, but that these should only last for a few months.
Mr Dardis suggested during an interview with the BBC's World at One programme on Monday that pubs should reopen for Easter weekend, "accepting that there would be social distancing" measures in place.
However, Dr Bharat Pankhania, senior clinical lecturer at the University of Exeter medical school, said talk of reopening pubs by April was premature.
"What the executives of pubs need to know is that failure to get it right equals back to square one. And back to square one equals much more pain economically, much more hardship."
He said people drank alcohol to relax and "one of the consequences of relaxing is that you drop your guard".
Prime Minister Boris Johnson has previously said he is "optimistic" he will be able to set out plans on 22 February for a "cautious" easing of England's lockdown - despite scientists' warnings against measures being rolled back too quickly.
On Saturday, he said "huge progress" had been made with the rollout of vaccines, with ministers hopeful that schools can reopen from 8 March.
After this, the government would look to open non-essential shops, followed by the hospitality sector, he said.
Industry figures released last week show the plight the sector is facing, with a net loss of almost 6,000 licensed premises last year, triple the tally in 2019.
Mr Martin also sold more than £50m worth of shares in the company in January.
It came amid "significant buying interest" following a previous share placing announced by Wetherspoons, the company said. Some of those funds will go towards buying new pubs, which it expected to produce higher returns when they are allowed to reopen.