HSBC shifts focus from west to east as profits dive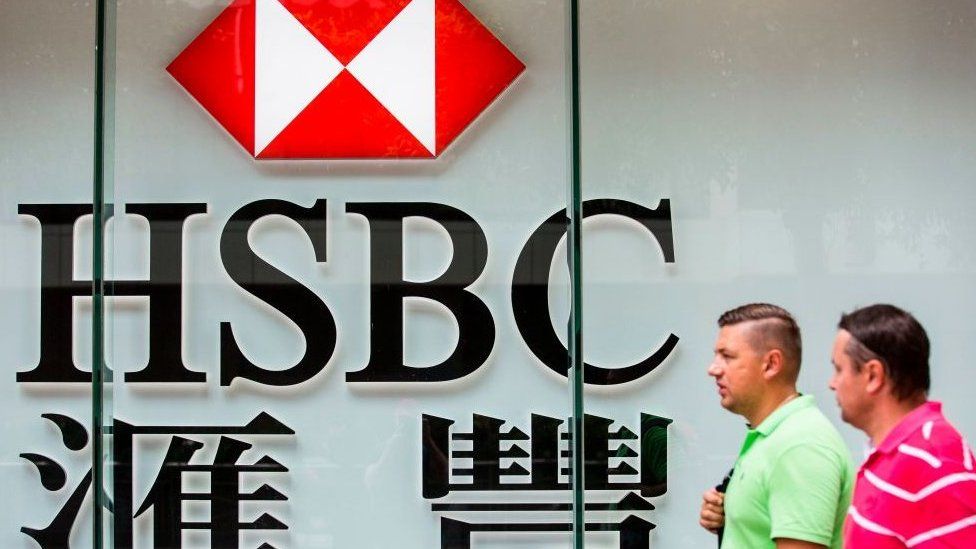 HSBC has signalled its "pivot to Asia", outlining plans to invest about $6bn (£4.3bn) in the region.
It is targeting wealth management and commercial banking to drive "double-digit growth" and has singled out Asian markets such as Singapore, China and Hong Kong.
The strategy update came as HSBC reported a 34% drop in profits for 2020 partly due to the impact from Covid-19.
The UK-based bank already generates the bulk of its revenues from Asia.
During its results announcement, Europe's biggest bank said it would resume paying a dividend of $0.15 a share in cash, the first payout announced since October 2019.
HSBC's pre-tax profit fell to $8.8bn for the year ending 31 December, down from $13.35bn a year earlier.
While annual profits slumped by slightly more than one third, they are marginally better than analysts expected.
HSBC chief executive Noel Quinn said in a statement that the bank had a "solid financial performance in the context of the pandemic - particularly in Asia", which lays "firm foundations for our future growth".
Analysts had expected the Hong Kong-founded bank to announce plans to scale back its US retail banking operations.
HSBC has a 150-branch network in the US and has already closed 80 branches in the last year.
On Tuesday, the bank said it is "exploring organic and inorganic options" for its American retail banking franchise.
Last month HSBC chairman Mark Tucker told the Asian Financial Forum conference in January that there were "real opportunities to grow our wealth business and expand across South Asia".
"While the economic backdrop is still uncertain, we think Asia - especially China - will act as the primary engine and vital stabiliser of the global economy," Hong Kong-based Bruce Pang, head of macro and strategy research at China Renaissance Securities told the BBC.
"A strategy shift to this region, which is the largest contributor to the world's economic momentum, may be welcomed and favoured by markets," he added.
HSBC has been gradually shifting its focus towards Asia, although the transition has not been smooth-sailing.
In September, HSBC came under fire for its endorsement of a controversial national security law that China has imposed on Hong Kong.
And earlier this month, HSBC was severely criticised by British MPs and US politicians for closing the accounts of pro-democracy activists.
Founded in 1865 as the Hongkong and Shanghai Banking Corporation, HSBC moved its base to London in 1993 after buying Midland Bank in the run-up to the colony's 1997 return to China.