Covid: 'People are tired of working from home'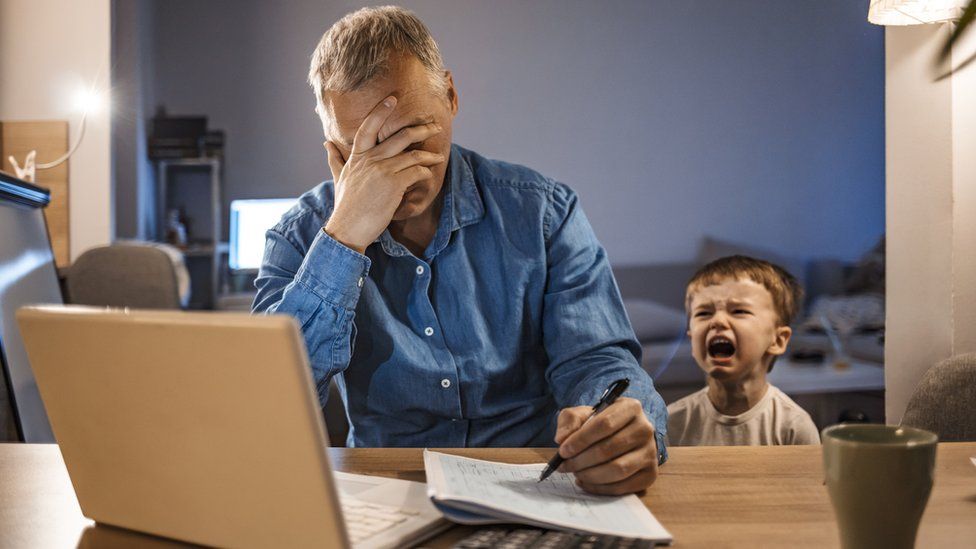 People are keen to return to the office because working from home has left many "fatigued", says a boss at Britain's biggest office and retail complex.
Howard Dawber, head of strategy at Canary Wharf Group, said people will still want to divide time between the workplace and home.
But they are missing office and city-centre life, he told the BBC.
The Canary Wharf financial complex, in London, has only about 6,000 people on site, against 100,000 pre-Covid.
Canary Wharf Group is the developer behind roughly 7.5 million square feet of office space and would stand to benefit financially if there is a surge in demand once lockdown restrictions ease.
But Mr Dawber argued on the BBC's Today programme that people will be eager to get back in the office after so long away from the workplace.
"We've got to the point where there is a lot of fatigue out there," he said.
"Working from home for the first couple of months of last year when the sun was shining and people were enjoying perhaps a more flexible environment, there was a sense that this was going to be a short-term process.
"I think now people are really missing that opportunity to collaborate with and just see their friends in the office, to get your hair cut, to go and get a good coffee at lunchtime, and to do all the life admin things you can do in a city centre."
It is hoped, however, that all legal limits on social contact can be removed from 21 June.
While Mr Dawber said Canary Wharf expects occupancy levels to return to where they were before the pandemic, the increase will be gradual and people will still want to work from home on some days.
"I think it is going to be more socially acceptable for people to take the occasional day working from home," he said.
"So it may well be that people have a desk at Canary Wharf but some people will choose to work at home one day a week or a couple of days a month and that's a good thing."
Some companies expect home working to continue once coronavirus restrictions have been lifted.
Lloyds Banking Group is set to reduce its office space by 20% over two years after a staff survey found that nearly 80% wanted to work at home for at least three days a week.
Last month, Barclays' chief executive Jes Staley said that working from home was "not sustainable". At a virtual meeting of the World Economic Forum, he said: "It will increasingly be a challenge to maintain the culture and collaboration that these large financial institutions seek to have and should have."