New York cinemas reopen but will people come?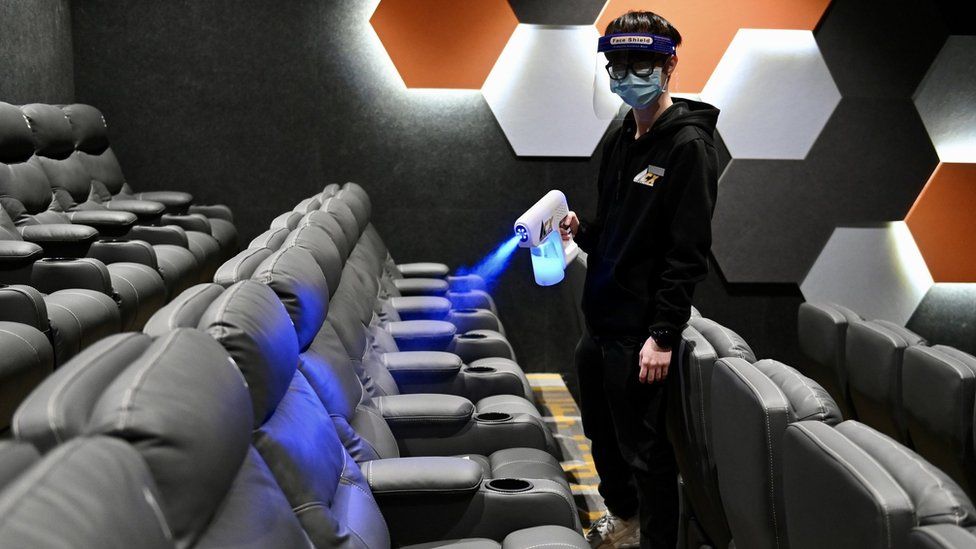 As soon as authorities announced that New York City cinemas could reopen on 5 March, Eric Thirteen was at his computer, ready to book tickets for the first film he could find.
Before the pandemic, the 34-year-old, an independent film director and producer, went to screenings three or four times a week. But he's been largely homebound for nearly a year.
"It's a huge vacuum," he says. "I could see almost anything right now and I'd probably be thrilled."
As cinemas reopen in New York - a key cultural capital in the US and one of its biggest movie markets - the film world is watching to see just how widely shared Eric's enthusiasm is.
The industry has been devastated by the pandemic, which drove down box office sales by more than 70% globally last year - and more than 80% in the US and Canada, historically the world's biggest market.
The pressure has pushed dozens of smaller cinemas out of business, and forced others into bankruptcy.
Although many places in the US have allowed theatres to reopen in some capacity, audiences have largely stayed away, put off by health concerns and the limited titles on offer for the big screen.
But now virus cases in the US are dropping and the vaccination campaign is gaining momentum.
With New York reopening after a nearly a year, cinema operators hope that Los Angeles will follow. The moves are seen as key to convincing film studios to stop postponing the releases of the big Hollywood movies that are such a draw for audiences.
"New York theatres opening is huge," says Paul Serwitz, president of Landmark Theatres, a chain of 45 theatres focused on independent films, which will reopen its New York venue, Quad Cinema, on Friday.
Mr Serwitz is not expecting an instant rebound - especially with current rules in New York limiting capacity to 25%, or less than 50 people, per screen.
The company closed its other New York location last summer, without clear plans to reopen. In other cities, traffic at the company's open theatres remains "paltry" - down 90% or more compared to what it was before the pandemic.
"The hope is to start driving business and to get people back in the habit and enjoying the experience and realising that it's safe and keeping our losses to a minimum until business conditions allow for a more sustainable operation," he says.
"We've had a lot of false starts and hopes being thwarted around people returning to leisure activities and the movie theatre specifically," he adds. "I have hopes that by the time we get to mid- to late-spring, we will see a different reality."
Already the signs are encouraging, says Scott Rosemann who oversees theatres in several US states for Reading International, which runs cinemas in the US, Australia and New Zealand, including three in New York under the Angelika brand.
"In other markets when we first opened, we knew people were reluctant to come back," he says.
But some of his upcoming screenings in New York have sold out.
"It's exciting," he says. "We just feel like there's strong pent-up demand."
After a year of fairly limited activity, bartender and actor Dave Marr agrees. Though he has has held off buying tickets to see how reopening goes, he's planning to book in the next few weeks.
"Obviously there's more important things than going to the movies," the 28-year-old says. "I'm just ready to go do something and this to me seems reasonably safe and inexpensive."
Until now, the closures in New York City and Los Angeles have held up any chance of recovery for the industry, says Paul Dergarabedian, senior media analyst at Comscore, which tracks movie-going around the world.
Together, the two markets account for more than 10% of North American ticket sales - and as powerhouses of film production and media buzz, they cast an even longer shadow. Their absence from the scene has even hurt the business overseas, where Hollywood movies drive sales in many markets, he says.
"The percentage [of sales] that they represent belies the fact of how important symbolically and culturally they are," he says. "It's just incredibly essential to the industry that these markets open in order for the business to come back."
But the challenges facing the cinemas go beyond the shutdowns.
Since the announcement that New York City theatre restrictions would lift, several operators - both major chains like Cineworld's Regal Cinemas and small independent venues like Film at Lincoln Center and the Spectacle, a tiny collectively-run cinema in Brooklyn - have opted to stay shut or announced a later start date, citing health risks.
The pandemic has also spurred changes that will be difficult to reverse, boosting the streaming services that threatened before the virus and pushing companies like Disney to explore new ways of releasing movies that bypass cinemas altogether.
Eric booked tickets for Nomadland, which stars Frances McDormand and just won best drama at the Golden Globe awards. Though it's available to stream online, he says for him, that's no replacement for sharing the viewing experience with friends - and strangers - on the big screen.
And while he's been cautious about lockdown, he says the capacity limits and other precautions have convinced him the risks aren't much more than indoor dining, which also recently reopened in the city.
"We're getting stir crazy and after a year you start to ask yourself some hard existential questions," he says. "A life without film is not something I would have signed up for."
Phil Contrino, director of media and research at the National Association of Theatre Owners, says it's clear that for many of his members the pain is not over.
But he is confident that audiences are interested in returning, pointing to recent movie releases in the US, like Tom & Jerry, which have garnered millions more sales than expected.
In markets where control of the virus has allowed for fewer restrictions, the signs are even more encouraging he says, noting that China reported record-breaking box office sales over its New Year holiday last month.
"China shows us that people are itching to get off their couches," he says. "There's definitely going to be a boom ... but who knows how long that boom is going to last?"