Goodbye to the original celebrity private jet
By Justin Harper
Business reporter, BBC News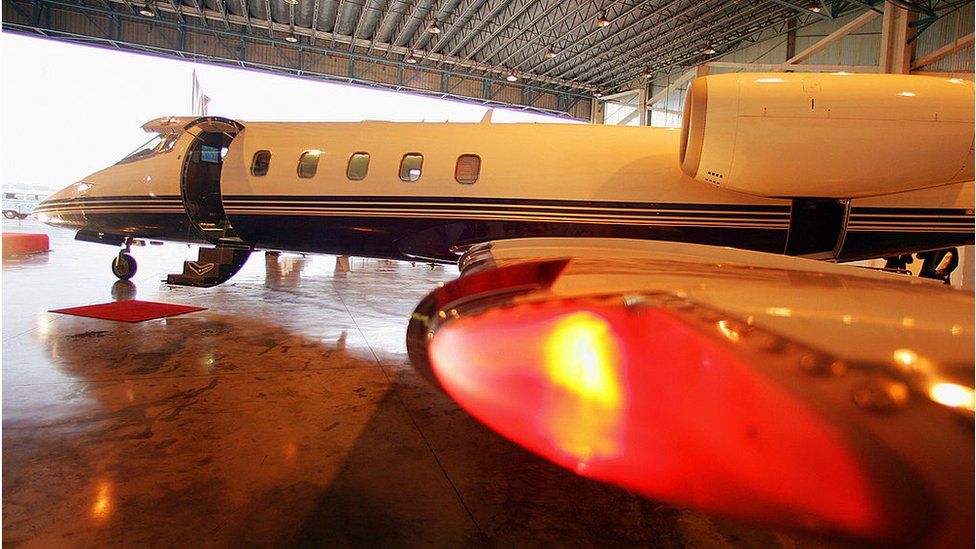 Learjet, once synonymous with private jet travel for the super-rich and famous, will stop production this year.
Its owner Bombardier has seen sales decline among its wealthy customers who are now demanding bigger, more comfortable private aircraft to carry them around the world.
The Learjet, created by US inventor Bill Lear, allows up to eight people to travel in relative luxury, and was championed by the likes of Frank Sinatra, James Brown and Arnold Palmer.
Having first flown in 1963, Canadian manufacturer Bombardier said the Learjet would be discontinued to focus on its other business jet models, the Global and Challenger series.
"Learjet is iconic in that the very name was interchangeable with 'business jet' for decades," says Greg Waldron, Asia editor of aviation magazine FlightGlobal.
"Ultimately, though, the market evolved and moved on and without the right commitment it is difficult to keep an aviation brand relevant over the longer term."
Wealthy buyers are increasingly looking for jets with larger cabins, like General Dynamics' Gulfstream, the Embraer Phenom 100 and Bombardier's own Global series. These come with showers and beds, and connect passengers to cities across the globe without the need to refuel.
Learjet's demise, which has not been helped by the pandemic, follows that of the equally iconic Boeing 747, which will cease production next year.
Bombardier's chief executive Eric Martel says the "difficult decision" was part of a cost-cutting plan designed to save $400m (£290m) a year by 2023.
It includes the loss of 1,600 jobs in Canada and the US when production finally ends in the last quarter of 2021.
The Learjet also includes some parts manufactured in Belfast, Northern Ireland.
Having sold more than 3,000 Learjets during its six-decade run, the aircraft's heyday was the 1960s to 1980s when it created the business jet market.
"It started an industry and was the chariot of choice in the booming 1960s - made for the Mad Men of the day," says Aircraft Owners and Pilots Association (AOPA) magazine editor Thomas Horne.
"To many, any business jet is a' Learjet' - even if it's a Falcon 8X or something else."
The Learjet is just one of the casualties of an aviation industry battered by tough travel restrictions, but some feel it may not completely disappear.
"Bombardier has tried to sell LearJet on numerous occasions but it never happened as production sites and jobs needed to be preserved in Wichita and Belfast," says Christophe Chicandard, a director at private jet consultancy Jet8.
"China, India and Russia come to my mind as potential buyers of Learjet as they all have large domestic markets and no manufacturing of such aircraft type. The brand remains very strong."
Bombardier says it will continue to support and maintain existing Learjets, and offer upgrades to aircraft and interiors after the production line closes.