Money launderers 'prey on generation Covid'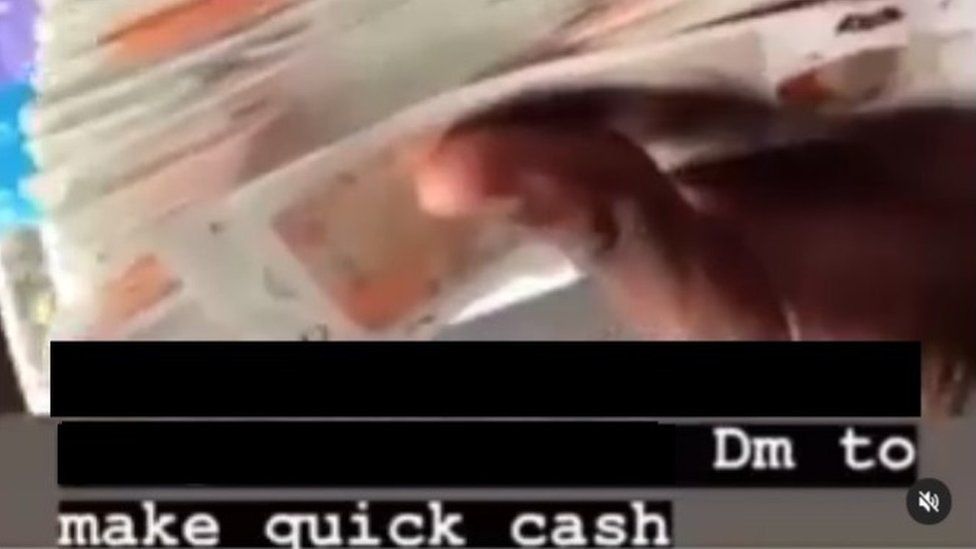 Criminals are seizing on young people's Covid-related financial troubles to hire them to unwittingly launder money, experts say.
More than four in 10 cases of money mules involved victims aged 21 to 30, with the numbers rising last year, fraud prevention service Cifas said.
Banks said criminals posted fake job adverts on social media, targeting "generation Covid" struggling for work.
It is part of a wider trend of fraudsters exploiting the crisis.
Criminals want to move money through accounts to make it look less suspicious to banks. Money mules are given a cut for allowing their account to be used. Often they ask no questions over the source of the money.
Most are young men. Those who try to quit may be threatened with violence by the criminals who recruited them.
If they are caught, they could face prison, as well as future difficulties with their finances, such as having their bank account closed and finding it difficult to apply for credit in the future, such as mobile phone contract.
There were 17,157 cases of suspected money muling activity involving 21 to 30-year-olds in 2020, a 5% increase on the previous year, according to the latest figures from Cifas.
Katy Worobec, managing director of economic crime at UK Finance, which represents banks, said: "Criminals are cruelly preying on 'generation Covid' and those struggling to find work at this difficult time, by using fake job adverts online to recruit people as money mules.
"We would urge everyone to remain cautious. At the same time, online platforms must take swift action to detect and take down content being used to promote money muling activity."
The figures also show that cases among the under 21s had dropped, possibly owing to the fact teenagers have spent less time out and at school, where they could have been recruited.
This helped to push down the total number of reported cases slightly compared with 2019.
'I was a teenage money mule'
"Have you ever held £2,000 at once in your hand?" That was the line used to tempt Holly into becoming a money mule.
At the age of 17 and still at school, Holly (not her real name) was approached on Instagram, then Snapchat, by a person who promised to pay her a decent sum, if she let him use her bank account to move money.
"I just eventually gave in," she said.
Other scams seen during the pandemic include impersonation fraud, in which con-artists pretend to be from broadband providers, TV streaming services, or energy suppliers to trick victims into handing over money.
Romance scams have exploited the lonely, scam adverts have had a Covid theme, and fraudsters have posed as banks' fraud departments to gather personal details, according to TSB, which has a guarantee to refund blameless victims.
"Throughout the pandemic, we have seen an increase in sophisticated attacks on the public. Banks and other businesses need to step up their efforts to protect their customers and help catch the criminals," said Ashley Hart, head of fraud at TSB.