Greggs to open shops despite first loss in 36 years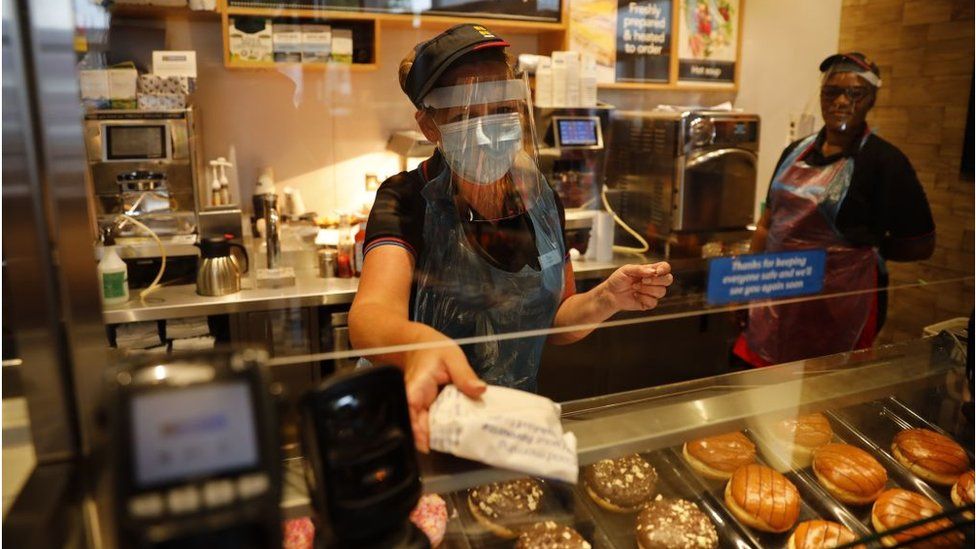 Bakery chain Greggs is to open 100 new shops in 2021 as it bets on a post-pandemic recovery.
This is despite the chain reporting its first loss for 36 years in 2020 after sales fell by a third amid coronavirus lockdown measures.
Greggs said it had ramped up deliveries, wholesale, and click-and-collect as High Street sales fell.
Chief executive Roger Whiteside added that Greggs had "made a better-than-expected start to 2021".
He added that the chain was "well placed to participate in the recovery from the pandemic".
Sales at company-managed shops fell by more than 36% last year as footfall in city centres and travel hub sites fell substantially during lockdowns.
This was partly offset by deliveries through Just Eat, which is one of the world's biggest food delivery platforms.
Greggs reported a pre-tax loss of £13.7m, its first since listing on the stock market in 1984.
Nevertheless, the chain is planning to open about 100 net new shops this year, adding to the 2,078 it already operates.
Susannah Streeter, senior investment and markets analyst at Hargreaves Lansdown, said the pandemic "tore a huge chunk off business as it turned once bustling city centres into ghost towns".
"Although the crisis is likely to prove a temporary interruption to our insatiable demand for sausage rolls rather than a sign of dramatically changing tastes, it is quite a sustained break, and it's going to take a toll. Greggs has previously said it doesn't expect a return to pre-Covid levels of operations until 2022 at the earliest."
John Moore, senior investment manager at Brewin Dolphin, said: "The High Street is likely to be a very different place when lockdown restrictions are fully ended, with many empty spaces and chains such as Pret re-focusing on suburban areas - the traditional heartland of Greggs.
"While these factors cannot be underestimated, the company is in good shape, with a solid balance sheet, and has a great record of rising to the challenge."
Greggs chairman Ian Durant said 2020 was "not the year that any of us planned for".
He said the firm had started the year strongly but then temporarily closed its shops in March due to the Covid outbreak. It then reopened shops in the middle of the year.
To get through the pandemic, Greggs arranged financing both from the government, which it has since repaid, and from lenders.
"Government support has been essential to mitigate the impact of Covid and protect as many jobs as possible through this period," Mr Durant said.
He said it had been "sad to say goodbye" to staff whose roles had been cut by the firm "to reflect the reality of the trading environment".