Hundreds disappointed by Mother's Day bouquets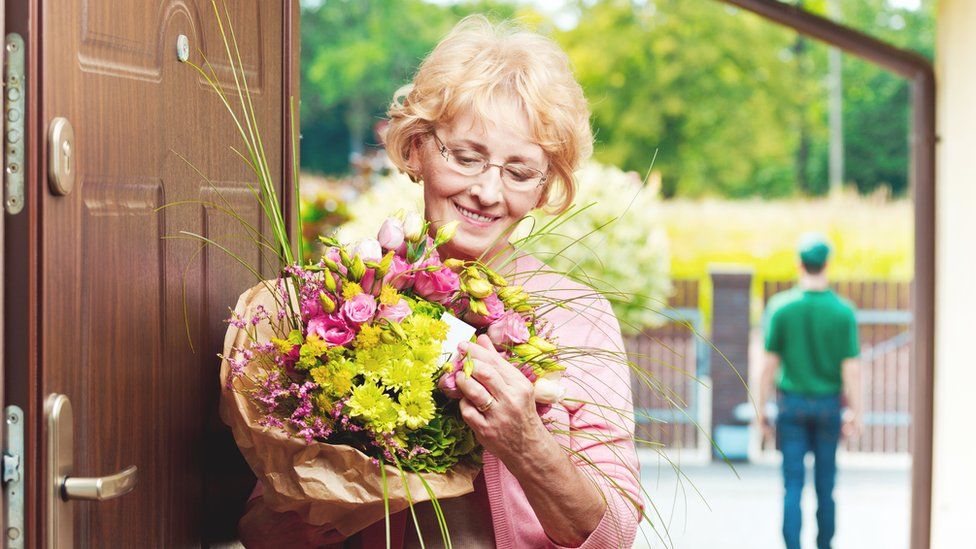 Hundreds of Mother's Day bouquets ordered online have either failed to turn up or been of very poor quality, the BBC has been told.
Angry customers have taken to social media and review websites to complain.
One of those is Nikki Warburton, from Newport in Shropshire, who ordered her mum a £23 bouquet from the site Lovely Flora World on 11 March.
"I'd left it a bit late, and lots of other sites were not offering delivery, but this site was," she said.
"But when I called my mum on Sunday evening, she said nothing had come."
Nikki had signed up using her email and paid extra to track her order. She received an order confirmation and the money left her account but no tracking or shipment emails arrived. Now the company website says it does not recognise her email or order number.
After failing to speak directly to the business, Nikki went to its Facebook page and found dozens of customers in the same situation. The page has now been taken down.
Consumer affairs correspondent Sarah Corker
In the era of coronavirus when we can't visit our loved ones - flowers arriving late, damaged or not at all on Mother's Day is especially disappointing. Under the Consumer Rights Act, if you order a bouquet and it arrives wilted, damaged or looks completely different to the pictures online, then you should be entitled to a full refund.
Contact the retailer to complain as soon as possible, and remember to take a photo of the flowers as proof of their condition. Even if the problem lies with the courier company, you should still complain to the company you purchased the product from.
They may offer you a credit or replacement bunch, but you can refuse and ask for your money back. Retailers usually have 30 days to deliver your order, but if you specified and paid for a particular day or time and the product didn't arrive in time, then you should get a full refund.
And if the retailer stops answering the phone or responding to emails when you complain, you can raise the issue with Trading Standards.
Nikki is shielding and hasn't seen her mum since before Christmas. "It's a totally different Mother's Day this year. You've not been able to see your family, and my mum does so much for me, I wanted to say thank you. It just feels horrible."
The BBC has contacted Lovely Flora World, and sister company Delightful Flora for comment.
It was not the only company that failed to deliver.
High street favourite Marks and Spencer's social media feed contained dozens of complaints about limp, browning or even dead stems in bouquets, alongside delayed and damaged deliveries.
Warren Oakins placed his £30 order on the M&S website 10 days before Mother's Day. But the evening before, he received an email from the company saying the flowers would not be delivered due to "exceptional circumstances".
Warren said it was "absolutely outrageous" customer service, especially from a well known brand and in difficult circumstances. He has not been able to see his mum for six months.
An M&S spokesperson said: "We know how important Mother's Day is to our customers and this year we successfully delivered hundreds of thousands of flowers to mothers up and down the country.
"While instances are extremely rare, our customer service team are able to support any customers that are unhappy with their flower delivery."
Meanwhile, more than 50 customers have taken to the internet to complain about late deliveries and dying, wilting blooms from another website Fleur de Luxe. The BBC has not been able to reach the company for comment.