ATM withdrawals drop by £37bn during year of Covid
By Kevin Peachey
Personal finance correspondent, BBC News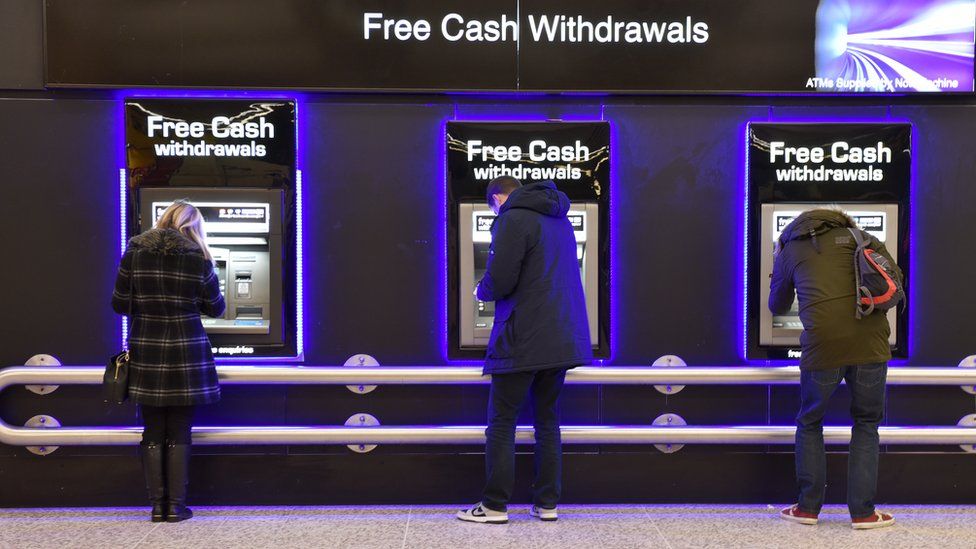 Withdrawals from cash machines in the UK have fallen by £37bn during the 12 months of the Covid pandemic, renewing the debate over the future of cash.
Link, which oversees the UK's cash machine network, said the number of visits to ATMs had fallen by 43% compared with the previous 12 months.
But the amount withdrawn on each cash machine visit has gone up, from an average of £67 to £84.
Less demand and Covid restrictions mean 4,000 fewer free ATMs are in operation.
Some may be restored, such those at a busy supermarket which may have temporarily cordoned off for social distancing, but other cost pressures will still exist for providers.
It still remains likely that further cuts to the 41,000 free-to-use machines will come in the next few years, prompting concern that some vulnerable people will be unable to access their favoured way to pay.
The first national lockdown starting in March 2020 led to a massive cut in cash machine use, according to the Link data.
ATM visits were down by 80% in some areas.
This recovered to a degree when restrictions were eased, and particularly when some hospitality venues such as pubs reopened.
However, there is little doubt that shops, consumers, and venues have become more accustomed to taking cards rather than cash.
This was met with a mixed response, ranging from those celebrating the added convenience to warnings about theft and fraud.
She said that much would depend on whether old habits will return to places such as pubs and hairdressers, which have traditionally seen high cash use.
"It is crucial to understand that cash remains vital for millions of people. Not everyone has a bank account and not everyone can use digital," she said.
"Cash allows you to budget to the last penny. Fewer ATMs, bank branch closures and shops going cashless may be seen as progress to some, but there are still a lot of people out there where it makes life more difficult, expensive and uncertain."