Deliveroo shares tumble on stock market debut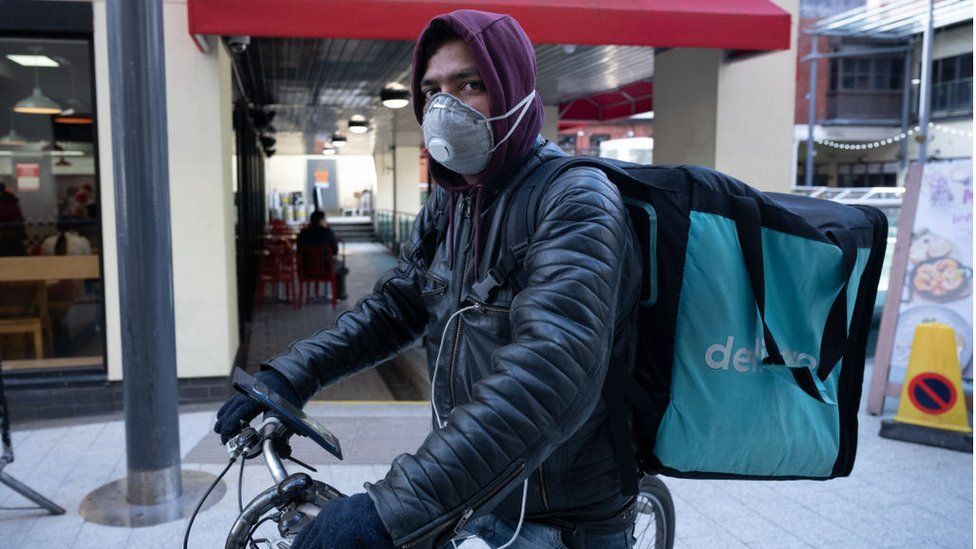 Deliveroo shares have plummeted on its stock market debut after a number of major UK investors expressed concerns about its gig economy worker model.
Shares in the food delivery business had been offered to investors at 390p each, but closed 14% lower at 284p per share, having fallen 30% initially.
The company had initially hoped for a share price of up to 460p.
The Deliveroo share sale is London's biggest stock market launch for a decade and the sharp fall on its first day of trading is a blow to the UK's ambitions to persuade more big tech companies to list in the UK.
Chancellor Rishi Sunak said earlier this month that the listing of the Amazon-backed company was a "true British tech success story" that could clear the way for more initial public offerings by fast-growing technology firms.
'Shares go up, shares go down'
When ITV political editor Robert Peston asked on Wednesday whether he was embarrassed by the plunge in Deliveroo shares,Mr Sunak said: "Gosh, no... share prices go up, share prices go down."
Mr Sunak cited Facebook's mixed start after its initial public offering in 2012, and its subsequent success.
But some analysts were not so complimentary. AJ Bell investment director Russ Mould said:
"Deliveroo has gone from hero to zero as the much-hyped stock market debut falls flat on its face.
"Initially there was a lot of fanfare about the Amazon-backed company making its shares available to the public, including the ability for customers to buy stock. Sadly, the narrative took a turn for the worst when multiple fund managers came out and said they wouldn't back the business due to concerns about working practices."
Deliveroo, which has not yet made a profit, said on Monday it had chosen to "price responsibly" and sell its shares at the bottom of its planned price range at 390p due to "volatile" market conditions.
Some of the UK's biggest investment fund managers, including Aberdeen Standard, Aviva Investors, BMO Global, charity fund manager CCLA, Legal and General Investment Management and M&G said recently they would not buy shares in Deliveroo, citing concerns over including the working conditions of its riders and lack of investor power.
This was supposed to be a landmark day for Deliveroo, the wider UK tech sector and the London Stock Exchange. A British business founded just eight years ago had shown it could grow and prosper here without falling into overseas hands and by choosing London rather than New York for its stock market debut, setting an example for others to follow.
But the sharp fall this morning in shares - already priced at the conservative end of the planned range - showed that faith in Deliveroo's prospects was somewhat shaky. It was as if investors had suddenly woken up to something which should have been obvious all along - Deliveroo might have grown rapidly during the pandemic but it is still racking up big losses in what is a competitive food delivery market,
Then there's the question of whether the company might have to improve pay and conditions for its delivery drivers following Uber's defeat before the Supreme Court. However loudly Deliveroo insisted that the Uber ruling had no relevance to its business, some investors weren't so sure, worrying that the path to profitability might be even tougher.
As the Chancellor, Rishi Sunak, has said, pointing at Facebook, a shaky debut does not mean the shares won't soar in the longer term. Then again, Facebook didn't have to compete with Uber Eats and Just Eat in a market that looks a far more challenging place to make money than online advertising.
Founder Will Shu will have shares that give him 20-times the voting power of other investors.
Chief executive Will Shu said he was "very proud" that Deliveroo was listing in London.
"In this next phase of our journey as a public company we will continue to invest in the innovations that help restaurants and grocers to grow their businesses, to bring customers more choice than ever before, and to provide riders with more work," he added.
Deliveroo's self-employed drivers have seen a boom in demand during the Covid-19 pandemic, bringing food from restaurants to housebound customers.
Initially, Deliveroo hoped to see that value as high as £8.8bn, based on a share price of 390-460p. It scaled that back to £7.6bn, but the share price drop wiped £2.28bn off that.
The firm is making a portion of its stock available for customers, with delivery riders and restaurant partners also able to buy shares.
Deliveroo is selling just over one-fifth of the group, while institutional investing trading started on Wednesday, the general public can start trading in its shares from 7 April.
What is an initial public offering?
Private companies, as a way of raising cash, can start a process to list on a stock exchange.
In an initial public offering (IPO) companies offer shares to investors before listing.
The price of the shares is typically set by investment banks hired by the company to run the process.
But once the shares start to be publicly traded, prices are set by supply and demand.
The value of the shares, multiplied by how many there are, gives the market value of the company.
Sophie Lund-Yates, equity analyst at Hargreaves Lansdown, said the biggest concern from investors was about worker rights: "The flexible employee model of Deliveroo's riders is a huge pillar of the group's plans for success.
"If forced to offer more traditional employee benefits, like company pension contributions, Deliveroo's already thin margins would struggle to climb, and the road to profitability would look very tough indeed."
She said it was difficult to value the firm as it had yet to turn a profit.
Neil Wilson, chief market analyst for Markets.com, said that "even pricing the initial public offering at the bottom of the range, Deliveroo was demanding too high a price tag for a loss-making delivery platform in a very competitive space with a questionable path to profitability.
"The books were covered, it was just plain mis-priced."
Please include a contact number if you are willing to speak to a BBC journalist. You can also get in touch in the following ways:
If you are reading this page and can't see the form you will need to visit the mobile version of the BBC website to submit your question or comment or you can email us at HaveYourSay@bbc.co.uk. Please include your name, age and location with any submission.