US jobs creation surges in March as recovery gains steam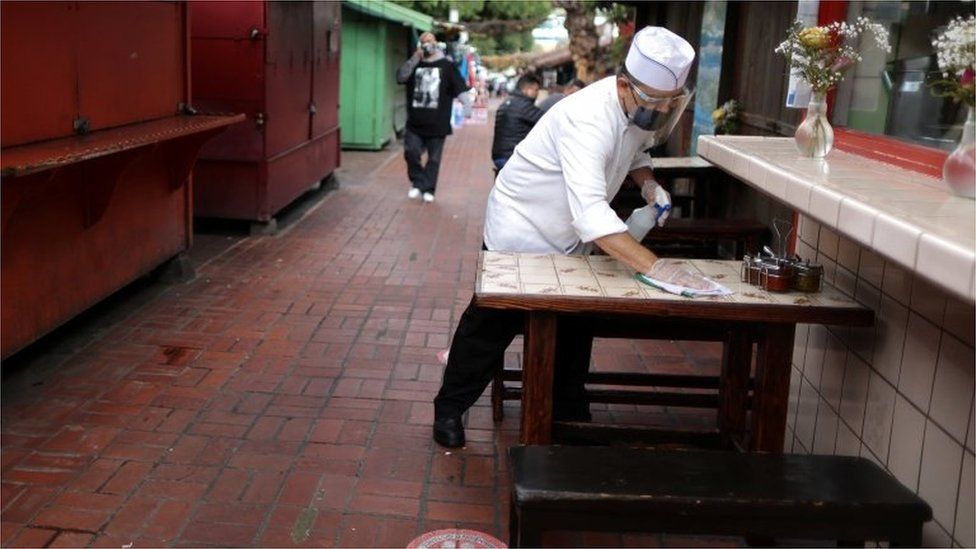 The US economy saw a surge in hiring in March as vaccination increased, officials eased restrictions and people pushed to return to their pre-pandemic activities.
Employers added more than 900,000 jobs driven by re-openings at restaurants, bars, construction sites and schools.
The gains were the biggest since August and helped lower the unemployment rate to 6% from 6.2% in February.
However, overall employment remains far lower than before the Covid pandemic.
Speaking on Friday, US President Joe Biden said people must remain vigilant when it comes to taking precautions against coronavirus. He said that millions have not yet been vaccinated and that many parts of the economy hit by closures remain weak.
"I plead with you, don't give back the progress we've all fought so hard to achieve," Mr Biden said. "We need to finish this job. We need every American to buckle down and keep their guard up."
"That's how we're going to beat the virus and cast off the weight of the pandemic that's holding our economy back."
The US lost more than 20 million jobs last spring as the virus led to widespread lockdowns. It has regained more than half, but the number of jobs is still more than 8 million down from February 2020, the US Labor Department said.
In response to the crisis, Washington has approved trillions of dollars in recovery aid, including a $1.9tn (£1.4tn) package last month that contained $1,400 stimulus cheques for many Americans, extended unemployment benefits, and funded the re-opening of schools.
Analysts are expecting a strong rebound later this year, as families emerge from lockdowns with pent-up demand and, in many cases, savings put away during the pandemic.
Estimates suggest the growth rate in 2021 could hit 6% or higher. US Treasury Secretary Janet Yellen has said she is hopeful that near full employment could return next year.
'Real light at the end of the tunnel'
"The better than expected 916,000 rebound in non-farm payrolls in March still leaves employment 8.4 million below its pre-pandemic peak from just over a year ago, but with the vaccination program likely to reach critical mass within the next couple of months and the next round of fiscal stimulus providing a big boost, there is finally real light at the end of the tunnel," said Paul Ashworth, chief US economist at Capital Economics.
The jobs report showed nearly every sector in the economy adding positions in March.
More people entered the labour force, encouraged by the signs of rebound, and jobless rates fell for most groups.
Officials also said employers added 156,000 more jobs in January and February than previous estimated.
"The broader re-opening of the economy, growing optimism that the end of the pandemic is in sight and a reversal of last month's unseasonably cold weather generated broad gains in hiring," Wells Fargo economist Sarah House said.
"While there is still a lot of ground to make up, the labour market is on track for a relatively quick recovery," she added.