Pandora says laboratory-made diamonds are forever
By Jonathan Josephs
Business reporter, BBC News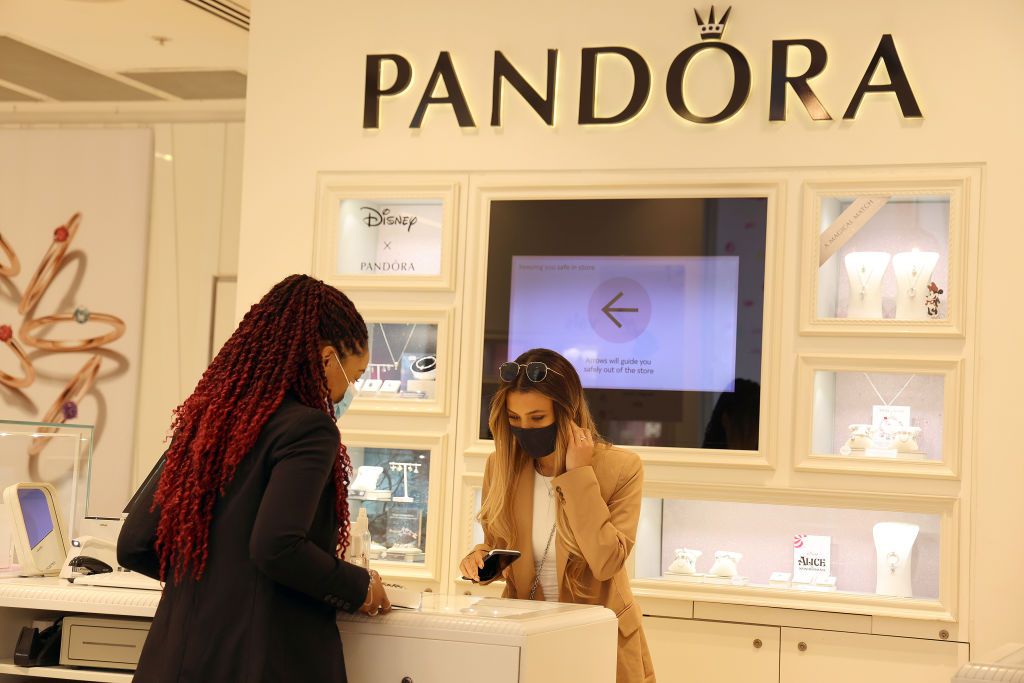 The world's biggest jeweller, Pandora, says it will no longer sell mined diamonds and will switch to exclusively laboratory-made diamonds.
Concerns about the environment and working practices in the mining industry have led to growing demand for alternatives to mined diamonds.
Pandora's chief executive, Alexander Lacik, told the BBC the change was part of a broader sustainability drive.
He said the firm was pursuing it because "it's the right thing to do".
They are also cheaper: "We can essentially create the same outcome as nature has created, but at a very, very different price."
Mr Lacik explains they can be made for as little as "a third of what it is for something that we've dug up from the ground."
In 2020, worldwide lab-grown diamond production grew to between 6 and 7 million carats.
Meanwhile the production of mined diamonds fell to 111 million carats last year, having peaked at 152 million in 2017, according to a report from the Antwerp World Diamond Centre (AWDC) and the consultancy Bain & Company.
Production fell most in Russia, Canada, Botswana and Australia.
The coronavirus pandemic has had a major impact on the diamond industry. De Beers, which produces about one-fifth of the world's mined diamonds, says production fell 18% last year.
Economic uncertainty and lockdowns led to a slump in demand and falling prices, although there has been something of a recovery since.
Pandora's lab-made diamonds are being made in Britain, and the UK is the first country where they will be sold.
The new diamond jewellery will start at £250 ($350). Although diamonds have traditionally only been a very small share of the 100 million pieces Pandora sells worldwide each year, Mr Lacik believes that will be boosted by lower prices.
"Pandora jewellery today is much more of an everyday type of jewellery, even though a large proportion of it is gifted. The way the diamond industry has kind of been created to a large degree has been very much about gifting, and in particular around when people get engaged or married".
"We're trying to open up this playing field and say, you know, with the type of value equation that we offer, you can use this everyday if you want."
He expects people to buy gifts more often for themselves instead.
"What might very well happen is actually that the total demand for diamonds is going to increase. So it may actually not be a question of, we steal somebody else's lunch".
Olya Linde, the lead author of the Bain report, agrees that there is room for both.
"I believe that natural diamonds and lab grown diamonds can wonderfully coexist and grow the overall diamond market. There's clear demand for each type of product."
Better design and lower prices are, says Ms Linde, the top reasons why customers pick lab-made diamonds over their naturally occurring counterparts.
Concerns about the environmental, sustainability and ethical impact of mined diamonds didn't make the top five.
However, Bain's survey found that concerns about sustainability were more important to "Millennials" and "Gen-Z" than older age groups when buying diamond jewellery.
One problem with lab-made diamonds, though, is that they can take a lot of energy to produce.
Between 50% and 60% of them come from China, where they are made in a process known as "high-pressure, high-temperature technology". The use of coal powered electricity is widespread.
However in the United States, the biggest retail market for lab-grown diamonds, there is a greater focus on using renewable energy.
The largest US producer, Diamond Foundry, says its process is "100% hydro-powered, meaning zero emissions".
Both types are chemically and physically identical to mined diamonds.
But conflict-free production is still a big concern for customers across different age groups, according to Bain.
It's now more than 20 years since the Kimberley Process came into force. The UN-backed process aims to stop diamonds being used to fuel conflicts after years of that happening in countries such as Angola, Ivory Coast, Sierra Leone and the Democratic Republic of the Congo.
Last year, a report by Human Rights Watch found that some major jewellery companies were doing better at sourcing mined diamonds, "but most cannot assure consumers that their jewellery is untainted by human rights abuses".
It found that Pandora was one of the best performers, having taken significant steps towards responsible sourcing.
But for the World Diamond Council (WDC), which represents the mined diamond industry, lab-made diamonds are not the answer.
It says any suggestion they "would have a role in preventing trade in conflict diamonds is spurious and not based on fact".
The WDC adds that for people living in artisanal and small-scale diamond mining communities stopping the mining of diamonds "would remove a primary source of income" and "would have devastating impacts on their livelihoods, causing poverty and further unrest".
Pandora chief Mr Lacik says the long term is what matters when it comes to the company's approach to sustainability.
"Whether consumers are buying more or less today, right now is actually not the key driver," he says.
"We want to become a low-carbon business. I have four children, I'm leaving this earth one day, I hope I can leave it in a better shape than maybe what we've kind of created in the last 50 years or so."