End of an era for Debenhams as final shops set to close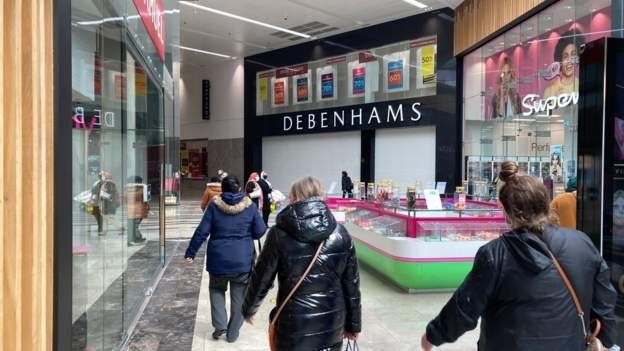 Debenhams has announced it will shut its remaining stores by 15 May, closing the door on more than 200 years of trade on UK high streets.
The move means 49 more shops will go, on top of the 52 due to close on 8 May.
The Debenhams brand will continue online after being bought by retailer Boohoo for £55m in January.
The company traces its roots back to 1778 when William Clark opened a shop in London's West End, selling fabrics, bonnets and parasols.
In 1813, William Debenham invested in the firm and it was renamed Clark & Debenham.
Debenhams has already announced that 52 shops will close on 8 May. The remaining sites will shut on either 12 May or 15 May. Some 12,000 workers will lose their jobs.
In 1950 Debenhams had the distinction of being the biggest department store in the UK with 110 stores.
Over the years, Debenhams expanded at a rapid rate. In 2006 it announced plans to double its number of stores to 240 and was opening new shops as recently as 2017.
However, the chain had struggled for years with falling profits and rising debts, as more shopping moved online. It called in administrators twice in two years, most recently in April 2020.
But the coronavirus pandemic - which saw the enforced closure of non-essential retail outlets - proved to be the final blow for Debenhams and other rival retailers including Top Shop-owner Arcadia.
Businessman Mike Ashley, who founded Sports Direct and also owns House of Fraser, had already made an offer for Debenhams after it was initially put up for sale in April of last year.
However, the takeover offer, thought to be in the region of £125m, was rejected as being too low.
Then in December final hopes of a rescue were crushed after the last remaining bidder JD Sports withdrew.
Administrators announced they would start closing the remaining 124 stores, after the last ditch attempts at saving the business failed.
Then in January Boohoo stepped in to buy the brand but not the shops, signalling the end of Debenhams on the High Street.
Announcing the final closures, Debenhams said: "Over the next 10 days, Debenhams will close its doors on the High Street for the final time in its 242 year history.
"We hope to see you all one last time in stores before we say a final goodbye to the UK High Street."
Debenhams stores closing on 8 May
Blackpool
Bury St Edmunds
Crawley
Derby
Hemel Hempstead
Leeds City Centre
Lincoln
Luton
Middlesbrough
Northampton
Norwich
Nuneaton
Redditch
Scunthorpe
Southend-on-sea
Stevenage
Stockport
Sunderland
Telford
Torquay
Uxbridge
Wakefield
Westwood Cross
Wigan
Woking
Debenhams stores closing on 12 May
Ballymena
Banbury
Barrow-in-Furness
Bath
Beverley
Blackburn
Bournemouth
Carlisle
Chester
Chesterfield
Doncaster
Gloucester
Guildford
Harrow
Hereford
Hull
Lichfield
Mansfield
Preston
Scarborough
Warrington
Debenhams stores closing on 15 May
Basildon
Basingstoke
Belfast
Birmingham Bullring
Brighton
Bristol
Bromley
Cardiff
Chelmsford
Cheshire Oaks
Colchester
Coventry
Exeter
Hanley
Lakeside
Leeds White Rose
Liverpool
Manchester
Manchester Trafford
Meadowhall
Merry Hill
Newcastle
Newry
Plymouth
Romford
Rushmere
Sheffield
Swansea