Passengers refused boarding amid testing confusion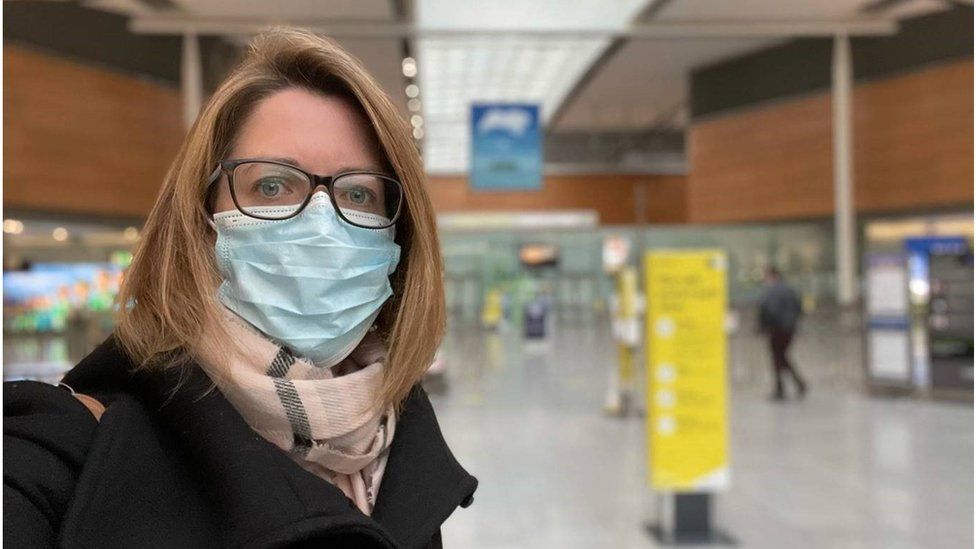 "Even when you triple check the rules, you could be refused to board - it put me out of pocket, distressed me, and distressed my elderly parents who I was visiting."
Sally Shiels was due to fly from Birmingham airport to Dublin on Friday 21 May to visit her parents.
She says she, and about 30 other passengers, were not allowed to board the plane because they had the wrong type of negative Covid-19 test result.
Ireland, like many other countries requires people to present a negative result for a RT-PCR test before departure. PCR tests need to be sent away to a lab to be checked, and you are later informed of the results.
Sally works for the NHS, and in her role she is offered regular asymptomatic PCR testing. This means staff are regularly tested even if they don't have symptoms.
She believed her latest test result from work could be used for travel, because it met the testing standard required by the Irish authorities. However, Sally was refused boarding.
This is because she later learned that the UK government advises that only private providers can be used for PCR tests for travel.
Sally says: "On my arrival at the front of the queue, the ground staff said I was not allowed to board. I asked why and she said it needed the letters PCR.
"And when I explained that this was a valid test, it even said exactly what PCR test it was, while it didn't say the letters P, C and R, I couldn't convince her, and myself and 30 other passengers were refused boarding for a variety of reasons that day."
The flight was operated by Ryanair, which told Radio 4's You & Yours programme: "Ryanair fully complies with government restrictions.
"A number of passengers on this flight from Birmingham to Dublin were denied boarding as they failed to present a negative Covid-19 RT-PCR test result, as required by Irish regulation."
The airline also referred to the Department for Transport guidance that private testing should be used, and that NHS Test and Trace cannot provide the required documents.
Sally Shiels says some of the passengers refused boarding had tried to use negative test results obtained from NHS Test and Trace. Tests through NHS Test and Trace are free, but you must be showing symptoms and book an appointment at a test centre.
Sally thinks some passengers may have sought NHS tests to avoid paying the costs of a private test which can cost between £50 and over £100.
"I completely understand why we shouldn't be using this [Test and Trace] system, otherwise everyone will be using the free NHS system, saying they had a cough or a cold to get their negative swab to travel."
Sally Shiels referred to the Irish government guidance that does not mention the use of NHS tests, and she says she checked the Ryanair website which only warned against NHS Test and Trace testing, not other types of NHS tests.
"It was so poorly managed by Ryanair ground staff, there was dismal customer service, there was no way we could speak to anybody, and we were treated like criminals."
Sally later booked another flight to Belfast which didn't require a test and travelled to Dublin from there.
Simon Calder, travel editor at the Independent newspaper, says: "I do sympathise with so many people like Sally who have just tripped up.
"Semantically, Ryanair can mount an argument for why they denied her boarding, and they of course will be fined if they take people into a country and those people are not properly tested according to the authorities of a destination."
He added: "If you haven't paid for a test then assume it's not valid."
Imogen in London had a similar experience at Luton airport on Saturday 22 May. She wasn't allowed to board her EasyJet flight to Porto in Portugal.
"I had been nervous about the whole thing as there was so much paperwork. It seems to me they're trying to dissuade people from flying by making it as complicated as possible."
Imogen is an NHS worker and had taken a PCR test that was available to her in her workplace. She had an email document that showed her name, date of birth, date the sample was tested and the negative result.
However, the member of airline staff that she dealt with told her there was no proof of when she'd taken the test, so it wasn't acceptable.
"I was surprised I wasn't allowed on the flight. I can see that it's a massive amount of work for the airline, at the gate you can see that it's tripled their workload. I know it's not the airline staff's fault."
Imogen was travelling to Portugal to see her boyfriend who lives in Porto. After being refused boarding on the flight she had to pay £249 for a private PCR test with a fast result and £130 for a replacement flight to Portugal.
EasyJet told You & Yours: "Passengers travelling to Portugal are currently required to present a negative Covid test on departure, which includes providing documentation from a private provider with details of the passenger and the date the test was taken.
"Should passengers be unable to provide this unfortunately we are unable to carry them. We are sorry for any inconvenience caused however we do require passengers to have the correct documentation as required by the authorities."
For more information on the tests you need to travel to green, amber and red destinations click here
Related Internet Links
The BBC is not responsible for the content of external sites.